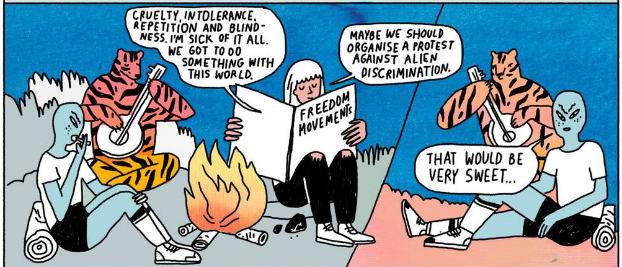 ELCAF WEEK!
Lithuanian artist Akvile Magicdust's Lucy the Confused Girl strips first appeared on Vice.com (who also initially presented Anna Haifisch's art world satire The Artist, recently collected by Breakdown Press). The following thoughts are based on Magicdust's short self-published collection of a selection of those strips but you can also read the comics online here. The artist may also be known to kuš! comics fans as Akvile Miseviciute for her work for the Latvia-based micropublisher.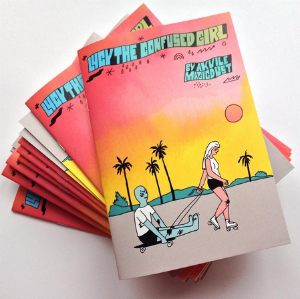 These short tales follow the misadventures of the titular Lucy and her friends Alien and Tiger – not so much the odd couple as the very odd trio – as they travel from location to location on the strangest of road trips in the van they call home. The thin veneer of the comic's idiosyncratic slacker comedy peeling away as it progresses to reveal its own form of understated social commentary beneath.
As their journey continues the three characters confront alien discrimination, the realities of the job market, issues of artistic self-expression, police brutality and the divisive actuality of social media; all delivered with a laidback wit that skewers the trivial minutiae of modern living with a refreshing lack of contrived ostentation.
There's a deliberate naivety to Magicdust's visuals here that is not without its own distorted charm. Cluttered, with a shifting sense of perspective, its irregular panel layouts and gorgeous use of colour enhances mood and theme, with visual characterisation being supplemented by the emotional response her distinctive hues evoke in the reader.
Each short strip acts as a little capsule of connectivity between artist and audience – ephemeral and fleeting on the most superficial level but with a surprising existential depth on further consideration. Lucy the Confused Girl tackles the familiarity (and sometimes futility!) of our own day-to-day lives with a quiet shrug of shoulders and a wearily raised eyebrow, and is perhaps all the more entertaining and effective for it.
For more on the work of Akvile Magicdust visit her site here and her online store here. Lucy the Confused Girl is also available to read on VICE here.
Akvile Magicdust will be at Table 48 at ELCAF on Saturday and Sunday.
For regular updates on all things small press follow Andy Oliver on Twitter here.