An enthralling journey to an epoch in which stories permeated every aspect of life, Ben Haggarty and Adam Brockbank's epic tale of Poika of the Kansa tribe is modern myth-making at its finest.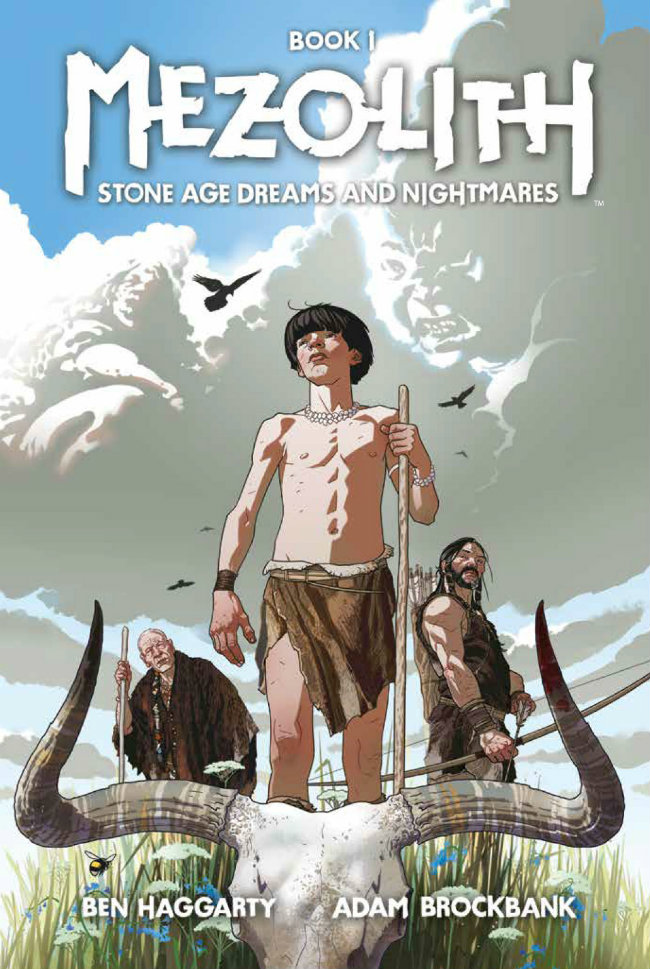 Stories are powerful things. In one form or another, they inform virtually every aspect of our lives. From our day at work to the commute home to the dreams we dream at night, stories permeate our lives.
It's too bad we don't celebrate this fact more often (binge-watching TV notwithstanding).
Ten thousand years ago, stories had even more intrinsic power than they do today. And people knew it. Stories weren't convenient luxuries back then, packaged in easy-to-consume segments. Media platforms weren't a thing yet, so people had to tell stories to one another, often around a fire but just as often during the course of daily activity.
Acclaimed performance storyteller Ben Haggarty has made a living recreating some of the world's oldest, most potent tales, both live and on the comics page. In Mezolith, he and illustrator Adam Brockbank embark on a journey into Britain's ancient past to remind us of just integral to our lives stories really are.
Originally published in the UK in 2010, Mezolith follows a boy of the Kansa tribe named Poika, who is so desperate to reach adulthood and become a man of his people that he'll literally risk life and limb to prove his worth. After a grievous hunting accident nearly kills him, Poika must struggle even harder to prove himself a capable member of the Kanso tribe.
His journey towards manhood is fraught with danger and adventure, the often brutal nature of his people's existence constantly threatening their survival. Throughout it all, there is one constant: the power of stories to heal and educate and entertain.
Stories are embedded into the fabric of Haggarty's narrative structure. Not only do they provide context and weight to Poika's world, they reveal insightful truths about his character and perhaps even his future.
They teach life lessons ranging from simple survival to understanding such high concepts as love and loyalty and respect for the natural order. They are anchored to rituals and rites of passage. They even heal, their power more than sufficient to literally beat back death.
Haggarty's layers of story have the cumulative effect of enriching Poika's journey, unveiling the magic and mystery of the ancient past. Even as Poika matures and comes to realize that stories aren't just for entertainment, so too the reader is reminded of the role they play in their own lives.
Bringing Poika's story to life is film and storyboard artist Adam Brockbank, whose accomplished work on big-screen franchises such as X-Men, Captain America, and Harry Potter serves him extremely well in bringing Haggarty's script to breathtaking life. His pages have a distinctly cinematic feel. Panoramic vistas provide the backdrop to kinetic action sequences, made all the more exciting by his use of dynamic camera angles.
Each character and set piece is meticulously designed and packed full of textured detail. Brockbank's lush illustrations infuse the book's ancient setting with a sense of continuity and verisimilitude, allowing readers to submerge themselves into Poika's world with relish. Fair warning, though: you might not want to come up for air.
Mezolith is a truly immersive experience. Its cinematic visuals and layered narrative structure combine to create a new mythology that harks back to a time when the power of stories went uncontested, even as it reminds us of how important they are to the world right now.
Ben Haggarty (W), Adam Brockbank (A) • BOOM! Studios/Archaia, $24.99