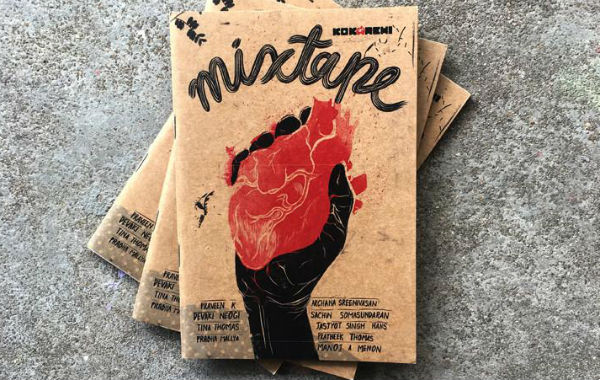 Last year at Thought Bubble I had the pleasure of meeting the team from the Indian comics storytelling and publishing house Studio Kokaachi who gave me copies of their flagship anthology title Mixtape as well as their tactile and rather fun Matchbox Comix. With Kokaachi recently celebrating five years of existence, and the soft relaunching of their blog, it seems an appropriate moment to do our small bit in attempting to raise their profile by looking at the first issue of that ongoing Mixtape series which has published three editions to date.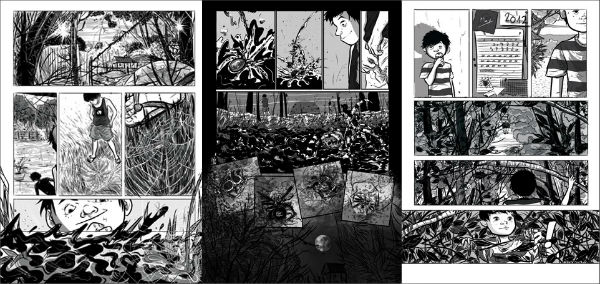 What immediately strikes the reader about Mixtape #1 is how little the four stories within rely on narration, exposition or even dialogue. There's the purest kind of visual storytelling on show here across multiple genres in tales that are unpredictable in their delivery. The first entry 'The Silver Spider' (below) written by Praveen K Nair, illustrated by Devaki Neogi and with an opening cover image by Manoj A Menon, is a silent horror story with an arachnophobic bent as a young boy has a horrific transformative encounter with the titular creature. Neogi's black and white art is claustrophobic and highly atmospheric, and while Nair's story speaks of ages-old primal fears its brooding, nightmarish qualities and body horror make for an intense experience.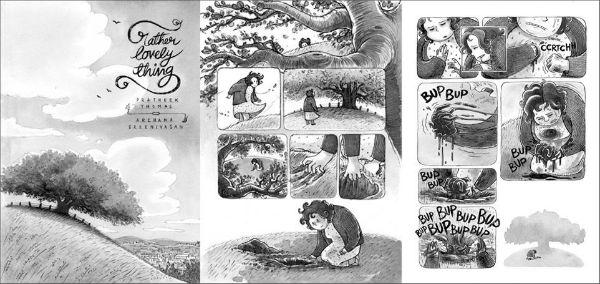 The second story 'Rather Lovely Thing' (above) by Pratheek Thomas and Archana Sreenivasan is perhaps the most oblique in presentation; an allegorical piece that asks the reader to find their own meaning in its haunting account of a woman burying her heart in the countryside, with Sreenivasan's visuals creating a tangible sense of environment to this short. Tina Thomas and Jasjyot Singh Hans's 'My Beloved' (below) meanwhile is a complex, expectation-defying story of relationships that perfectly showcases the fluid clarity of Singh Hans's art.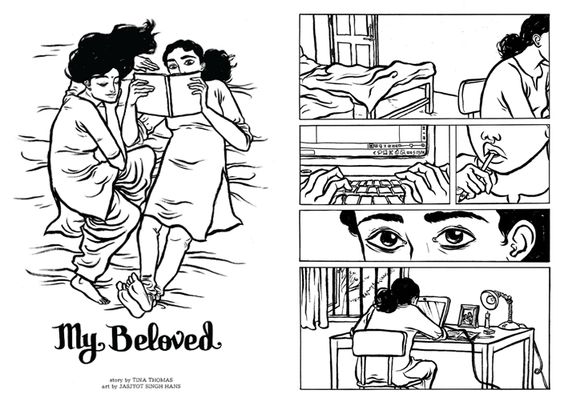 The final tale 'The Voyeur' is written by Pratheek Thomas, drawn by Sachin Somasundaran and lettered by Prabjha Mallya; a twisting mini-narrative that cleverly frames the unseen events on one side of an apartment wall in darkness and speech balloons while allowing us to experience the life of the voyeur in a fuller sequential form on the facing page.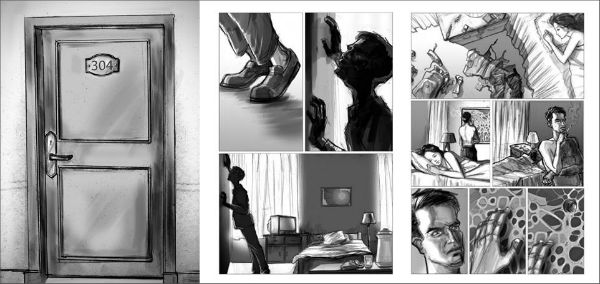 Mixtape is both an excellent introduction to the creators involved and an entry point into their individual styles. Give Studio Kokaachi a follow on Twitter here and on Instagram here and discover more about their comics for yourselves. You can also visit their site here for lots more information about their publications.
Review by Andy Oliver
For regular updates on all things small press follow Andy Oliver on Twitter here.