It's endlessly fascinating to see how varied the approaches to pandemic comics have been over the last couple of years. From the earnest and the profound to the metaphorical and the allegorical, and all things in between, artists have been inspired in a seeming myriad of ways to recount their experiences in sequential art form. Emily Cullen's Monologues of Shite is the latest addition to our resource list of pandemic-inspired practice, documenting the time she spent in lockdown having returned to her parental home for three months in early 2020.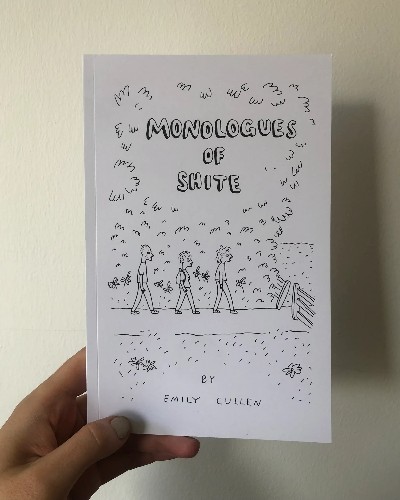 Cullen describes Monologues of Shite as "the conversations, rants, arguments and musings of my parents" during that time. It begins in March 2020 with Emily returning home from her job in Italy and finding herself in the thick of that atmosphere of uncertainty and existential angst that suddenly, from nowhere, had permeated every aspect of our lives in that period. Our principal cast here are, of course, Cullen herself plus her Irish parents – father Leo and mother Mary – whose reflections and observations on lockdown and the developments around it were recorded in comic strip form as an exercise in boredom-busting.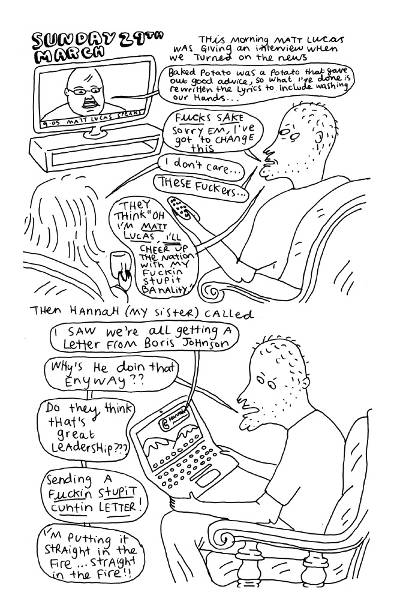 Recently on social media I was bemoaning the lack of angry comics on the UK small press scene given we are at a point where shop shelves should be swimming in them. Monologues of Shite is less angry and more fondly observed but it does feature a "character" whose justifiably furious digressions make for very entertaining topical reading. Cullen's father Leo quickly becomes the focal point of her strips with his thoughts during their walks on the opportunism of Boris Johnson, nepotism, the treatment of key workers during the pandemic, the Brexit disaster, and the Conservative party's history of oppression and self-interest likely to have many readers nodding along in agreement. Cullen recounts this all with a humorous wink at the audience, finely balancing humour with a degree of pathos.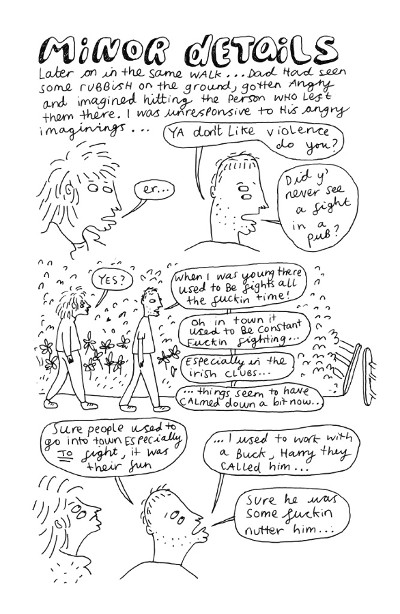 Monologues of Shite, then, is another example of comics that in the future will be vital social documentation of these turbulent few years. But outside of social commentary it's just as much about the impact that lockdown had on family life, with frequent forays into gastronomic adventures, anecdotes about walking barefoot in cowpats, and stories about fights in Irish clubs. Cullen has an innate talent for panel-to-panel comedic timing and the reader leaves Monologues of Shite wanting to spend much more time with this small but colourful cast.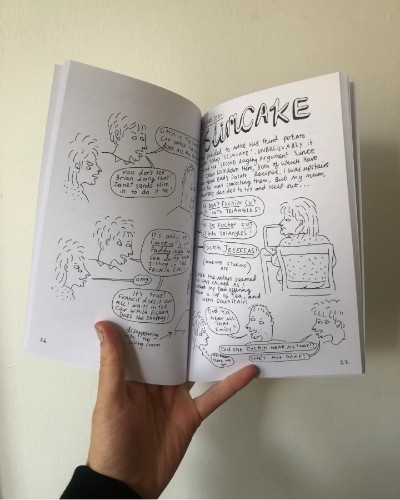 Visually Cullen adopts something of a faux naïve visual style with some endearing eccentricities including dialogue spilling out of word balloons and characters' eyes usually always both being in vision no matter what perspective we are looking at them from. There are pages so text heavy that occasionally they are more illustrated prose than sequential art but this all adds to the feeling that Cullen is capturing the immediacy of the moment rather than reconstructing it to fit a more cosy presentational style or edited version of reality. Substance over style and all that.
Another hugely worthwhile entry into the pandemic comics sub-genre for those following this important strand of graphic storytelling.
Emily Cullen (W/A) • Self-published, £7.00
Review by Andy Oliver