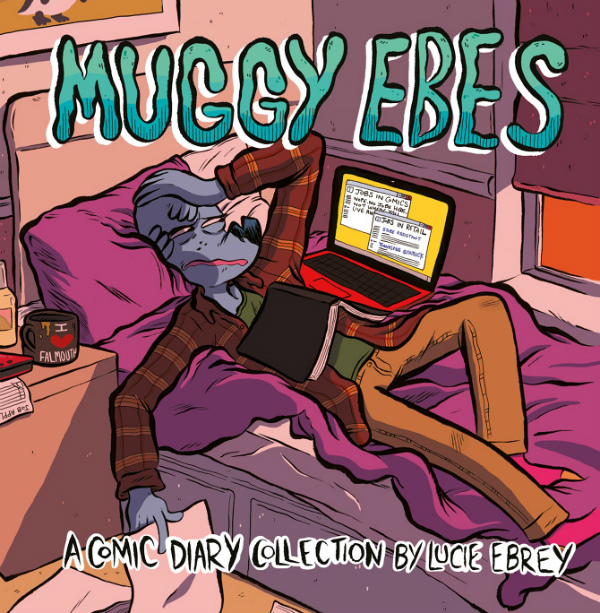 If there was one name that kept coming up post-ELCAF this year as an exhibitor whose comics had truly excited people it was that of Lucie Ebrey. The Birmingham-based artist's work has been featured here at Broken Frontier in the past in relation to her contributions to Comic Book Slumber Party's British Comic Awards-nominated Fairytales for Bad Bitches and to anthology Dirty Rotten Comics. But it's her online diary comics for which Ebrey is best known.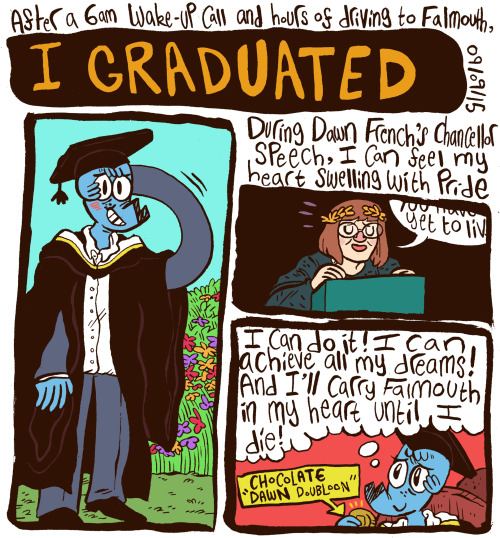 Since 2012 she has been drawing those diary strips on a daily basis and those following her on Twitter will no doubt be aware of that feature's welcome regularity. Last year Ebrey collected a selection of that work in an initial volume of Muggy Ebes comics that quickly went out of print. This second volume collects around 40 entries from 2015-16 that detail her life from graduation until this Spring.
Ebrey's approach is often held up to that of American Elf creator James Kochalka – indeed it's a comparison Ebrey herself makes – but as understandable as that is it's also vital to emphasise that Muggy Ebes is very much its own entity and no slavish homage. Ebrey draws herself in the form of an anthropomorphic blue dog which may be a device to avoid the self-conscious awkwardness of a more direct representation on the page but that in no way diminishes or masks the raw but very likeable candour of her strips.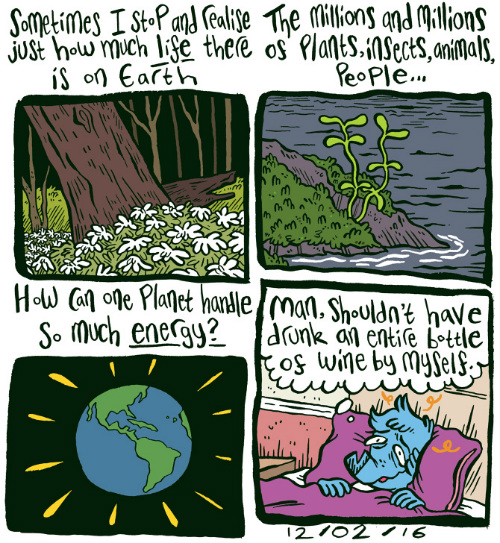 Given the recurring themes and motifs of this collection I am reminded in no small part of Rachael Smith's House Party published by Great Beast a couple of years back. Beginning with a sense of achievement and celebration at her graduation ceremony, Ebrey's account of the months after that day poignantly captures that strange wilderness period that we all experience post-university – the uncertainty, the aimlessness and that indefinable sense of near bereavement that engulfs us thereafter.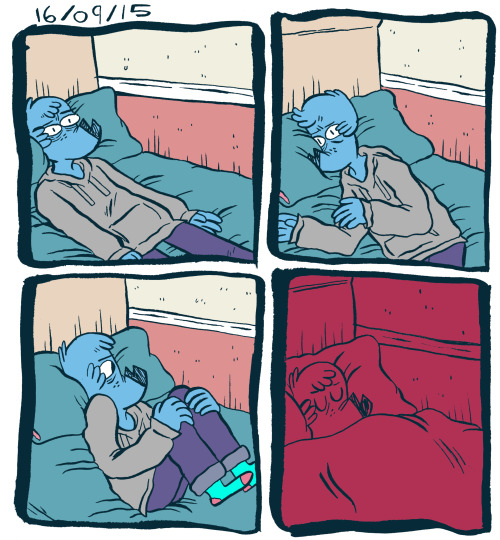 That's never better symbolised than in the strip that follows directly after the euphoria of the degree ceremony (above); one that silently portrays a sense of angst, listless ennui and anticlimactic post-uni reality. Eight months of ups and downs, highs and lows follow as Ebrey muses on missing her friends, job hunting and her own artistic practice. But those deeper ruminations are punctuated and balanced by wonderfully observed moments of endearing good humour: her first time tabling at Thought Bubble, a charmingly self-deprecating Laydeez do Comics appearance, or a truly delightfully crafted page about finding simple joy in a new pair of glasses (below).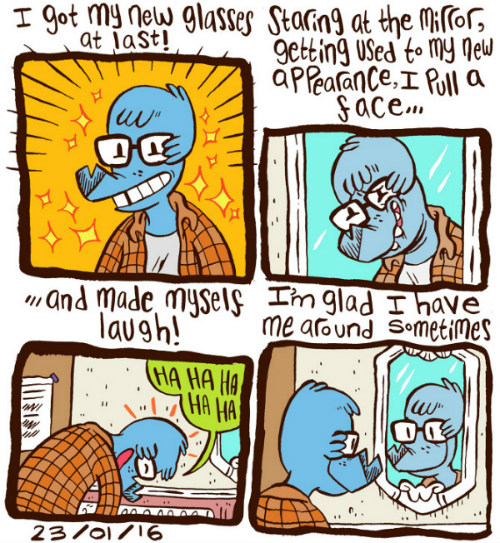 Much of the pull of Muggy Ebes is that it appears to be created as much as an exercise and journal for its author as it is for a potential audience. When Ebrey is building up to a punchline of sorts, or a culminating visual gag, the rhythm of her pacing is perfection but she never feels bound to a single strict structural framework. Some of the more effective comics herein are those that are quieter and more reflective, ensuring that the contents of the book are all the more human and relatable as a result.
Animated, lively cartooning and vibrant visual characterisation bring the world of Lucie Ebrey to the comics page with a flair and a flourish of which few diary comics can boast. Engaging, amiable and ever so slightly eccentric these are comics that, once followed, will enrich and reward on a daily basis.
You can read the full archive of Lucie Ebrey's diary comic here. For more on her work visit her site here and follow her on Twitter here. You can buy the latest volume of her diary comics in print online here priced £7.00. Her Patreon page is here. 
For regular updates on all things small press follow Andy Oliver on Twitter here.