THOUGHT BUBBLE FORTNIGHT! Mereida Fajardo's Naglalamay was originally very briefly covered here at Broken Frontier as part of our Hackney Comic + Zine Fair Month event when, in minicomic format, it was included as part of the Lucky WIP anthology. That collection was presented as a lucky dip grab bag of five random print comics alongside a digital download of all the 40-ish publications that made up the set.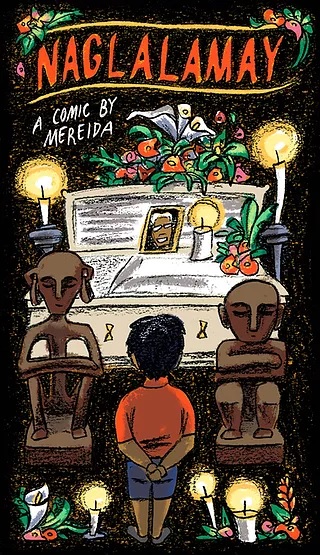 Naglalamay is "an exploration of Filipino funeral rites and superstitions", looking at those traditions and last farewells told from a child's perspective. When I originally spoke about the comic I was commenting on the digital version without fully appreciating how much its physicality brought to the reading experience. That mix of conventional comics pages and fold-out, reversible, concertina-style presentation allows the reader to feel that they are too are taking the same journey its protagonist takes.
Told not to take food away from his grandmother's wake (because custom dictates that wandering spirits may follow him home), young Anak nevertheless chooses to ignore his mother's warning. The folly of this decision is soon underlined when he later realises there are supernatural presences quietly pursuing him. What follows is a lesson in listening to the wisdom of one's elders, redemption and understanding, and ultimate closure.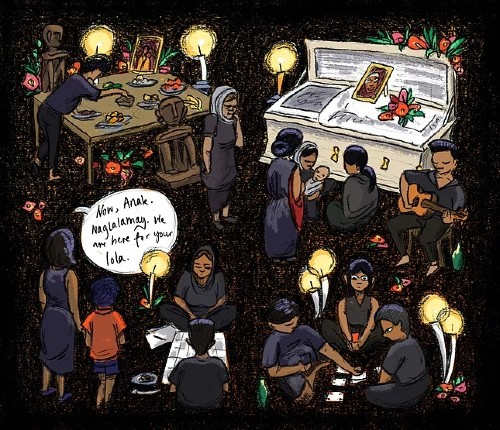 I previously described Naglalamay as "a mini-masterpiece on every level from composition, use of colour and darkness, message and narrative structure." Its print edition makes me feel I may well have actually underestimated it! If you have been following my previous commentary on Mereida's work you will be aware of how much I have admired her versatility and continuing interrogation of, and experimentation with, the possibilities of the form. Here she again uses the tactile qualities of print to emphasise certain aspects of the story – the rhythm of conversation in the traditional page-to-page storytelling for example, and a sense of otherworldliness in the long, fold-out landscape sections that invite us to dwell on the eeriness of the scenes depicted.
Earlier this summer I described Mereida as "without a doubt, one of the most promising new creative prospects I have ever had the privilege to introduce you to at Broken Frontier." Every year for Thought Bubble I pick one publication as my comic of the festival. For 2021, Naglalamay (in a new larger format) is definitely my choice. Discover Mereida's work for yourselves at Table 156B in the ComiXology Originals Hall at Thought Bubble.
Mereida (W/A) • Self-published
Check out Mereida's online store here
Review by Andy Oliver