Returning across the planet to find a world on fire, a world contained, and the time to stop, listen to nature and try to hear what it has to tell us. Niki Bañados on her new comic Return and global and local perspectives on small press.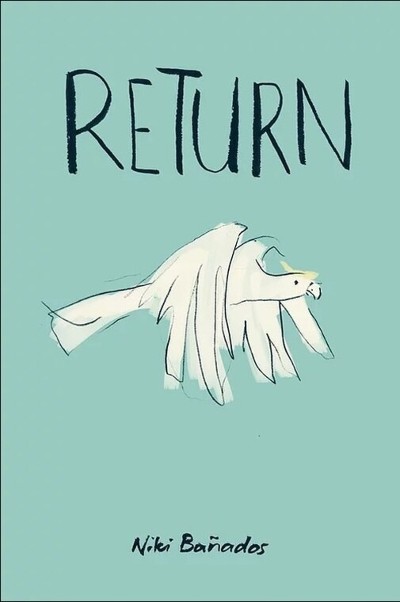 After moving to London from Sydney in 2015, graphic designer by trade, Niki Bañados entered wholeheartedly into London's small press comics scene, from WIP Comics to #GoshBFDD. Her star was on the rise after winning the Laydeez do Comics Award in 2019 for her comic Shivers in London,  a lusciously inky and strange book "about moving across the universe, about how new people and situations can change the way you are, and about figuring out whether you'll let them."
She collaborated with two of her esteemed fellow shortlistees Sophia Luu and Maria Fowler on a short comic Grandmothers' Tales telling multi-generational stories, now distributed by Good Comics here. When the same publisher approached her about making a further autobiographical book for their 2020 Kickstarter she had already returned to live in Australia, and this became the subject for Return, a lyrical and far-ranging meditation on Niki's life in the last year, and some related ecological issues facing Australia and the world.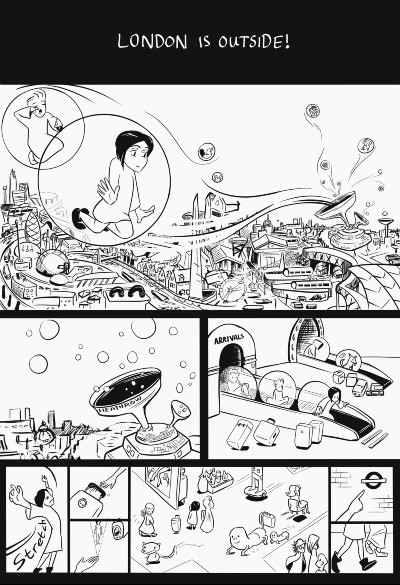 The genius of Niki's work is its deadpan refusal to be real or unreal. She combines metaphor with observation in a sort of total poetry of contained emotion. It evokes so perfectly the feeling of being within one's own life, trapped by banal existence, and at the same time being aware of layers around and beyond our immediate selves, and the noisy barriers of culture and concrete that come between us and that awareness. Return examines our broken connections with nature, and with ourselves, and asks if they are so remote after all. Jenny Robins caught up with Niki to talk process, inspiration and eel migration.
BROKEN FRONTIER: Please can you briefly introduce your book and explain the title?
NIKI BAÑADOS: Return is the story of coming to terms with heading back to my adoptive hometown of Sydney after a dreamy, life-changing, four-year stint in London.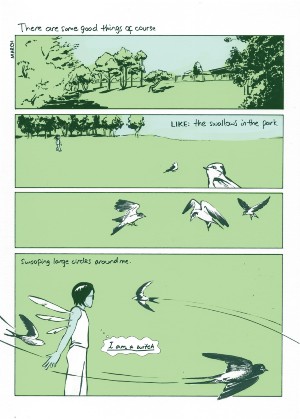 BF: How did this project start and what was its journey to becoming a print book?
BAÑADOS: I had spent a few months writing and drawing various somewhat disparate pages of comics when Good Comics approached me and asked if I might have a short comic ready in about 6 months time? They were running a Kickstarter and wanted to include my work in the pack. In a typical fit of overcommitment I said yes. There was so much going on at that time that I didn't have the mental space to steer the story into the complex social fantasy that I wanted to do, so it ended up steering itself into being autobiographical. The Kickstarter was successful and here we are! Without Good Comics I very likely would not have finished it, or perhaps just had 20 copies printed for friends and family.
BF: What was your relationship with comics growing up, and were there any titles that had a big impact on you?
BAÑADOS: We didn't have many comics in the house at all – just a few ancient Peanuts compilations and some others that I can't even remember the names of. I'm a bit embarrassed to admit it (though I don't think it's a bad thing necessarily) but I think what properly got me interested in comics were popular internet webcomics like Penny Arcade, SMBC and Broodhollow. They were fun, free, accessible and delivered in easy to digest bite-sized chunks.
You asked me when I met you at the Gosh! Comics and Broken Frontier Drink and Draw about 3 years ago if I read a lot of comics. The answer is no. At that time I had probably read less than 10 graphic novels in my life.

BF: When you left London, I know you were also reaching out to small press/comics scenes in Australia and the Philippines, how does it feel to have your toes in several scenes around the world? What are those scenes like? Any recommendations?
BAÑADOS: There is a strong culture of creative DIY and making-do in the Philippines that is conducive to rampant zine-making. They're good at keeping things fast, cheap, easy, low effort and accessible. Get it done, cut the middleman, cancel the service fees. The operations are mostly local: made by Filipinos in the Philippines for Filipinos in the Philippines, and I think this focus is partly what makes it so rich and unique. Unfortunately for me, this also means that it's difficult to get anyone to send things overseas. If I want stuff it's probably best if I go to them rather than getting them to send anything to me. ev.yu is a favourite. mako.micropress does a lot of local grassroots organisation and activism. gantala press is a feminist publisher. studiosouplibrary.ph has a good range to browse.
I have no toes in the Australian scene yet: we got locked down as I was about to take a dip.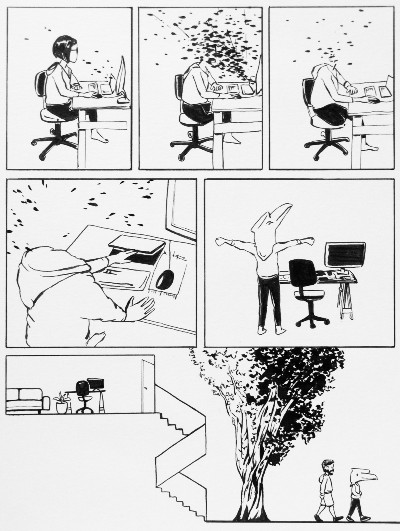 BF: I hope you get to have many more toe dipping adventures soon! Having won the LDComics Prize while you were here, and now working with a UK publisher, is the UK scene the one you feel most connected to? Any recommendations there?
BAÑADOS: It is. Feeling most connected to the scene physically furthest away sometimes makes me doubt if I'm connected to anything at all. Regarding recommendations, I was lucky to meet Mereida Fajardo just before I left London, because she is going places. Most recently I just read Idiot Corpse by Dylan, Aled, and Shehzad, which I love because it reminds me just how wild and playful the process of comics can be once you strip away unnecessary agendas, highfalutin bullshit, and… flesh.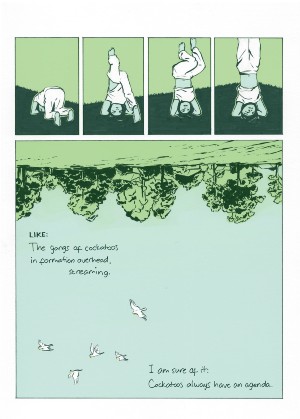 BF: Thank you for all these! Let's talk about Return a bit more. It begins with you and Chris laden down with belongings, on your way across the planet. Did you really bring a kitchen table back to Australia with you?
BAÑADOS: It wasn't made to be dismantled but we dismantled it nevertheless so it would fit in a box. My dad put it back together for us. It came from underneath a pile of junk in a second-hand store near Brockwell Park. It's yellow.
BF: How did you choose the evolving colour schemes?
BAÑADOS: The colours are based on how those months felt. First we have airport colours. There are a huge variety of airports but they mostly feel the same. They're basically a giant funnel to another city, lined with as many shops as possible. The second page is about the fire. The months in the suburbs after that were made of blue skies and lawns. The inner suburbs in the second half have deeper colours that come from living in an urban area with more shade, and from having a large balcony window that looks out into the night.
BF: There are some beautifully poetic moments in Return, the pacing of the text and images in your pages has such strong rhythm – did that take a lot of tweaking, or was it more instinctive?
Did you start with the text? Or did the images come with it?
BAÑADOS: I think it was a matter of writing and rewriting really intentionally, and drawing the more difficult pages over and over, to lay down a structure and the ideas, and to pare them down to the essentials. And then hoping that this effort was enough tribute the muses that they'd visit and help with The Good Stuff when it came to the actual execution on the expensive paper.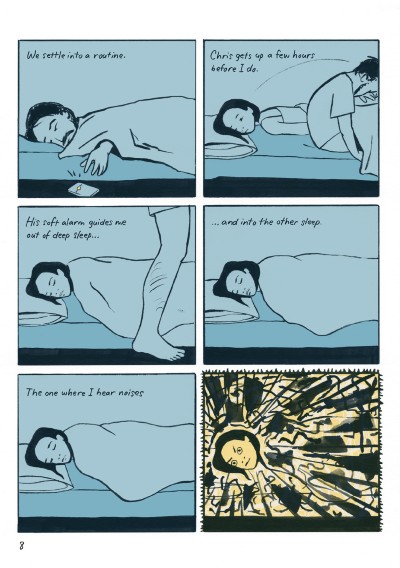 BF: The bird, eel and amphibian visitors to your comic all seem to have something to tell you. Do you think humans are capable of hearing what nature needs to tell us?
BAÑADOS: I'm almost sure we're not smart enough to understand it but that's no reason not to try our best to listen.
BF: Do you know that European eels swim way further than Australian eels to spawn? Not that that's like, better or anything. 
BAÑADOS: I didn't know this. The fact that evolution would have some species propel themselves through the vastness of the oceans to reproduce is outrageous.
BF: In one of the most memorable parts of Return, it explores the idea of excess noise in our contemporary culture – both real and imagined. Does making comics and other art help with the noise in your head? Or does it sometimes make it noisier? 
BAÑADOS: It depends on the stage in the process, but mostly making comics is good noise. I find the easiest way to clear my head is to be doing something active but not too mentally taxing. Drawing doesn't come naturally enough to me to make pencilling a fluid conversation between my head and hand, but once that hard thinking bit is done I can ink, and inking is the best, most meditative part.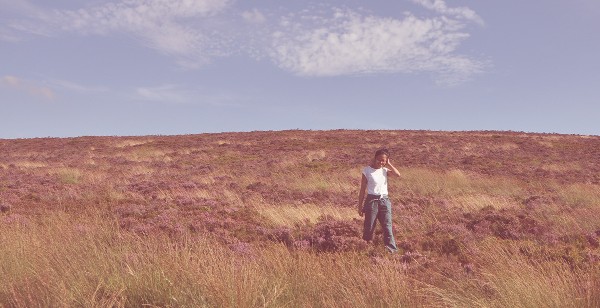 BF: What are you working on next/now?
BAÑADOS: I'd like to do some environment-related comics but it's going to take a lot of work to get my three decades of intellectual negligence even vaguely up to speed, so mostly I've been doing a lot of groundwork in the form of reading. I have been cramming concepts and information into my head like you might do before an exam, except I'm doing it to make comics, which I'm sure will be more rewarding. I've also been trying to build connections with people smarter than me who I hope will help to sense check my work when the time comes, and maybe write stories with me in the future.
You can order Return here and see more of Niki's work here.
Follow Niki on Instagram here. You can also visit the Good Comics site/store here. 
Interview by Jenny Robins