News broke this week that One Beat Zines, the creative collective championing women and non-binary creators and responsible for such acclaimed publications as the Broken Frontier Award-nominated anthology Identity, are shutting up shop after over four years of bringing some hugely talented writers and artists to wider audiences. Effectively both a micropublisher and a distro, One Beat Zines were fronted by Sarah Broadhurst and Jules Scheele and burst onto the small press scene back in 2014 with their Riot Grrrl-inspired anthology zine Double Dare Ya.
You can read the full announcement on the One Beat Zines site here but, as anyone involved in comics activism will be able to empathise with, the reasons revolve around logistics and those dual resources of time and finance. In those four years OBZ have put out memorable books like Identity (wherein Sabba Khan's autobio work first took significant shape and Amneet Johal, below, produced one of the finest and most inventive short comic strips I've ever covered), the Sleater-Kinney collaborative zine Not a New Wave and the explorations of gender and performativity that made up the excellent anthology Performance. They've also acted as a distro for the comics and zines of countless self-publishers.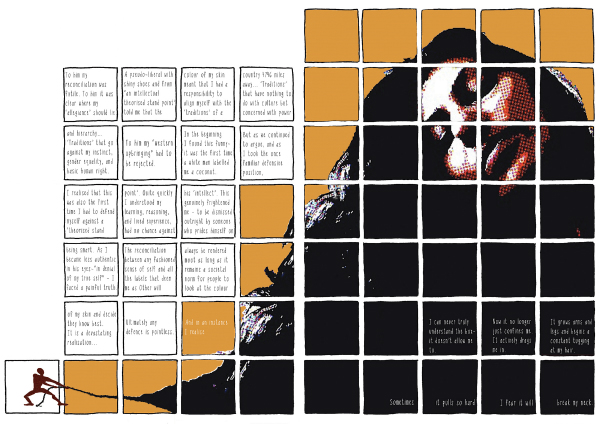 The creators they've worked with in that time include Lizz Lunney, Sammy Borras, Jem Milton, Rachael Smith, Lucie Ebrey, Sarah Graley, Lize Meddings, Katie Skelly, Donya Todd, Brigid Elva, B. Mure, Sally-Anne Hickman, and our own EdieOP and Jenny Robins. Check out the One Beat Zines site to see just what a who's who of small press movers and shakers they've brought to new readerships over the years. When I was asked to select panellists for the 'Championing Comics' panel I chaired at ELCAF in 2016, involvement from One Beat Zines was at the top of my list and I was delighted that Jules Scheele agreed to take part.
So today we want to take a very quick moment at BF to mark the end of an era of small press publishing, wish Sarah and Jules all the best for their new projects and thank them for the last four years of making a tangible difference to our grassroots comics community. It's important to acknowledge those who work tirelessly to provide opportunities and platforms for other practitioners; they're the lifeblood of the small press scene and One Beat Zines, in particular, will be sorely missed.
The One Beat Zines website remains as an archive of their achievements.