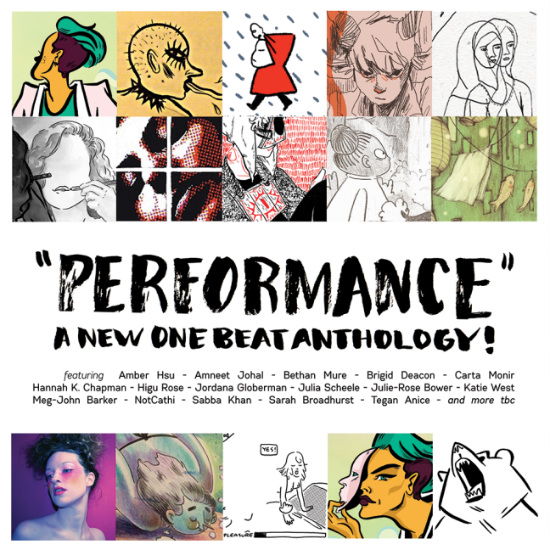 Championing work we believe in, promoting creators with something important to say, and spotlighting publications that are worthy of far wider attention are staples of Broken Frontier's philosophy of coverage. Every so often, though, there's a project that we feel is so important – so deserving of being brought to a greater readership – that it needs an extra push.
I first told you about the crowdfunding campaign for Performance – the new anthology from zine-making collective and distro One Beat Zines – here at Broken Frontier a few weeks back. I gave you a number of reasons then as to why you should back the book including the fact that the last major OBZ anthology Identity was nominated last year for a Broken Frontier Award in the Best One-Shot category and that it also made my annual list of 'Ten UK Small Press Comics You Need to Own!' here.
Performance is described as including "a diverse group of talented contributors, ranging from comic artists, photographers, illustrators, fine artists, and academic writers, all making work themed around gender, performance, and performativity." With just three days to go the Indiegogo total for Performance is at around the 60% mark. It's a flexible funding campaign so the closer the book gets to its target the bigger and better it will be. And don't forget that in this case crowdfunding means that contributors will be paid.
Today I'm going to give you half a dozen very good reasons to back Performance by looking back at some of the past work and comics-related contributions of just six of the creators involved.
There's just three days left so get over to that Indiegogo campaign here and let's get this one as close to its target as we can…
Amber Hsu
Editor of acclaimed graphite arts anthology Tiny Pencil, zine-maker and One Pound Poet, Amber Hsu's multi-disciplinary practice was most recently covered at Broken Frontier when I interviewed her here earlier this month.
Her minicomic There Was Once… (above) originally appeared in Richy K. Chandler's Tempo Lush Tales of the Tanoox anthology where I described it here as the book's show-stealer saying "the reality she creates here is simultaneously alien and familiar in appearance, and her rhythmic use of language contributes significantly to the appeal of this entrancing allegory. We don't see nearly enough comics work from Amber and I hope this is indicative of more to come in the near future."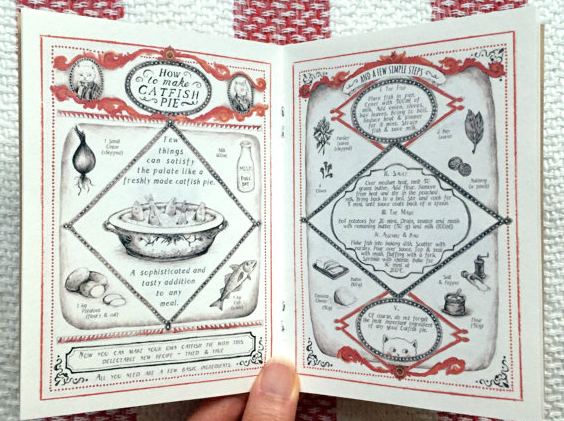 I also recently looked at a number of Amber Hsu's zines including How to Make Catfish Pie (above) here. The fifth issue of Tiny Pencil (below) is also currently open for pre-orders.

Amneet Johal
A leading light of the Alternative Press and one of my co-organising colleagues on the Small Press Day team Amneet Johal contributed the story 'Other' (sample beow) to Identity.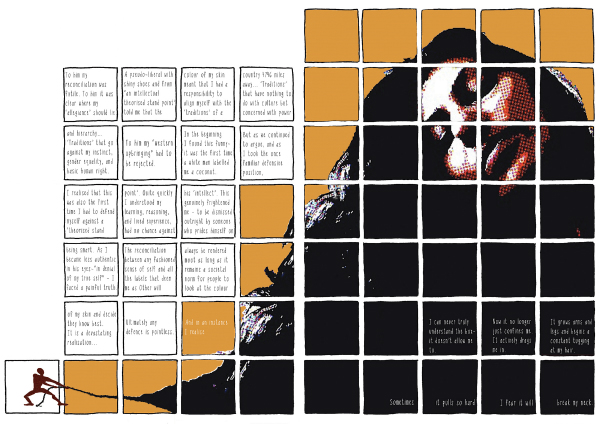 I said of it when I reviewed Identity here at Broken Frontier that it investigated the titular theme of the book "in terms of culture and ethnicity but from the perspective of analysing that in the projections of others. Johal subverts the traditional comic strip by placing text/lettering in individual panels and only sparingly using illustrative elements for much of her piece. It creates a somewhat claustrophobic atmosphere that echoes the themes she is expounding, and when imagery is used it's done so with an almost dissected resonance. This is a stunning piece of graphic design and the standout entry of the entire book for me, with an articulacy that is visual as well as textual."
Brigid Deacon
Brigid Deacon is one of our 'Six Small Press Creators to Watch in 2016' and a contributor to anthologies like Eyeball Comix, Bimba and Off Life. She was also a featured artist in the Comix Creatrix exhibition at the House of Illustration earlier this year where art from Coma Deep (below) was on show.
I've spoken in the past at BF as to how, for me, her work "not only subverts the perceived traditions of panel-to-panel storytelling but has also done the unthinkable in that it has even challenged me to consider my traditional conceptions of the very definition of sequential art."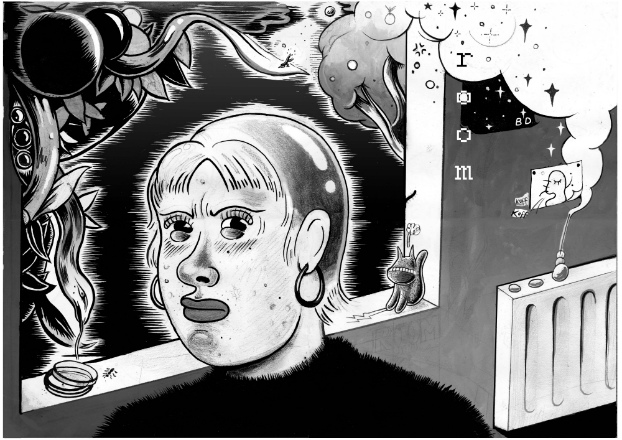 You can read my review of her Coma Deep here and her most recent offering, the zine-comic Room (above) here.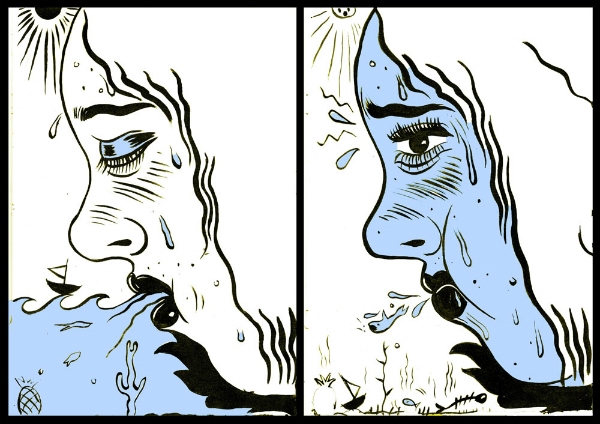 Hannah K. Chapman
Hannah K. Chapman is the co-founder of Comic Book Slumber Party – a collective with the aim of promoting the work of women creators from across the globe – and the editor of the various CBSP anthologies. In 2015 their Fairytales for Bad Bitches was nominated for a British Comic Award.
I reviewed the follow-up Greasy's Guide to Nookie here earlier this year at BF and said then "Comic Book Slumber Party's role in showcasing international women creators, and providing a platform for newer creative voices, has been invaluable over the last few years and proved just how effective collectives can be in bringing deserving talent to an expanded audience"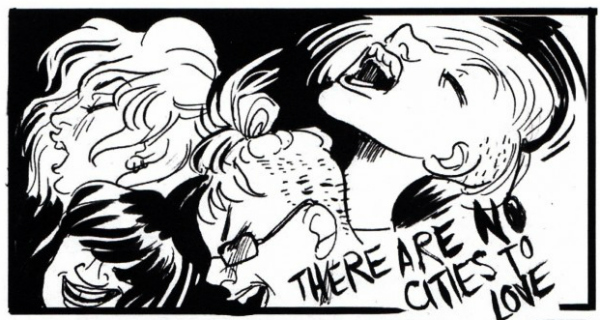 Hannah has also contributed to anthologies including Bimba, Ladies Night and Not a New Wave (above, art by Jess Milton) and is a co-organiser of the Bristol Comic and Zine Fair.
Julia Scheele
One Beat Zines co-founder Julia Scheele has been a mainstay of the UK small press scene over the last few years with her work appearing in anthologies like Solipsistic Pop, The Strumpet, Steak Night, Paper Science and Greasy's Guide to Nookie. She's the artist on Avery Hill Publishing's Metroland and has self-published comics like I Don't Like My Hair Neat and I Wished I Was Married to the Sea.
The communicative power of Scheele's art on Metroland is readily apparent in the subtlety of her visual characterisation but it's her resonant use of visual metaphor and grasp of the mechanics of sequential storytelling that has most impressed me about her work over the years. Check out the examples from Identity and I Don't Like My Hair Neat below.
Julia is also the illustrator of the upcoming Queer: A Graphic History written by Meg-John Barker (below).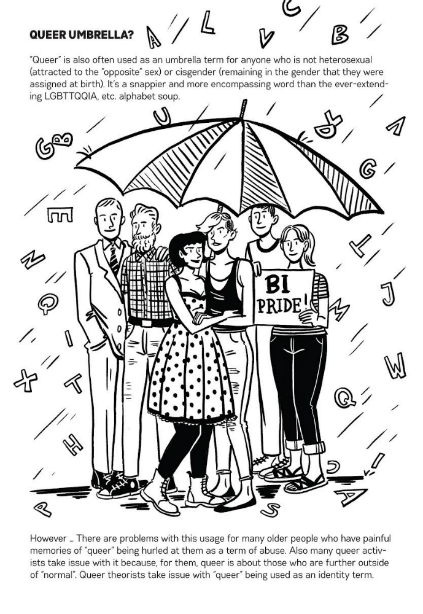 Sabba Khan
Sabba Khan is a creator who I first discovered via One Beat Zines. Her story 'The Box of Contradictions' (below) in Identity was one I described as "an autobio comics six-pager that utilises moments of quieter symbolism with some compelling visual metaphor as Khan gives the reader an insight into the conflicting pull of two cultures on her sense of self. The final page, in particular, is unforgettable in its portrayal of a reconciliation and acceptance of the two."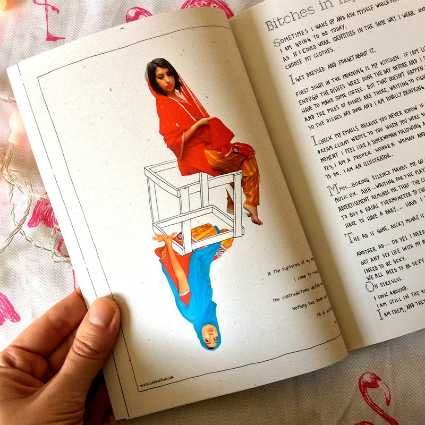 This year she also created 'Determination' (above) a beautifully resonant piece on her relationship with Ramadan that underlined the promise in her thoughtful and pensive comics narratives. Read the full strip here. A newer voice in UK comics who we should all be keeping a very close eye on.
Performance also includes work by Bethan Mure, Carta Monir, Higu Rose, Jordana Globerman, Julie-Rose Bower, Katie West, Meg-John Barker, NotCathi, Sarah Broadhurst and Tegan Anice.
For regular updates on all things small press follow Andy Oliver on Twitter here.