The good old days are back as Philippe Berthet's clear line does what he does best: illustrating curvaceous babes in late-fifties Cuba. Meanwhile, Hans van Oudenaarden's captivating and dynamic linework delineates the dazzling Rhonda on the run from the mob.
Perico by Philippe Berthet & Régis Hautière
Behind Belgian artist Philippe Berthet's shapely silhouettes and nostalgia-fueled realistic clear linework lies a fun but straightforward crime story that gains all its attractiveness from the artist.
Cuba, 1958. While the army hunts Castro's rebels, the streets of Havana keep on swinging. Joaquin is a nice chap and works in one of the city's biggest casinos: Sans Souci. Quietly in love with the enchanting but disillusioned singer Elena, an opportunity arises when he comes into possession of a suitcase full of money, stolen from a murdered customer.
He runs away to the promised land with Elena, who is lured away by a chance of escape from a life of slavery and drudgery. However, the owner of the casino is mob boss Santo Trafficante, and nobody has ever robbed Trafficante of his money and lived to tell the tale…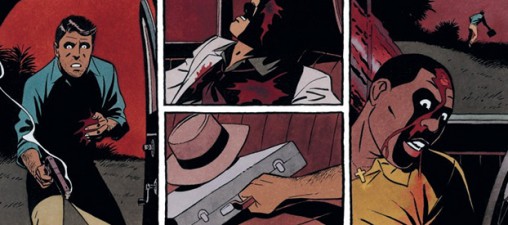 Probably best known for his Pin-up series, set in the fifties and a homage to both model Betty Page and legendary newspaper artist Milton Caniff, Philippe Berthet saw his popularity wane a bit after some sidesteps into series with less commercial success.
He is now back to doing what he does best: retro pin-up art with an almost fetishistic emphasis on dames and cars. His stark black-and-white contrast work, in combination with his fluid brushwork, transforms Hergé's and Edgar P. Jacobs Blake & Mortimer 'clear line' approach into a sexy and retro noir style.
Perico vol. 1 (of 2) by Philippe Berthet and Régis Hautière is not a return to greatness yet: the script is too by-the-numbers, as the story progresses exactly as the set-up in the first 20 pages suggests.
The album ends on a Jack Kerouac/On The Road beat, as our opportunistic couple on the run picks up a tourist while they drive into the American heartland, unaware that they are being hunted by a pair of assassins from Cuba.
The main attraction of Perico is therefore Berthet's art, which hits all the right notes, even though it is sometimes overcrowded with expository dialogue by Hautière.
Help Me, Rhonda! by Hans van Oudenaarden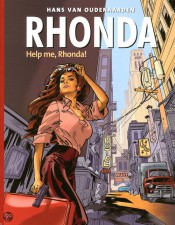 Originally published in Eppo Comics magazine, Rhonda was an idea proposed in the 1990s by famed artist Hanco Kolk – also resident in the Netherlands. But , as John Lennon said, life is what happens to you while you're busy making other plans, and Rhonda only got a proper start when van Oudenaarden launched the serial in Eppo Comics in 2013.
In 1964 Chicago, Rhonda is on the run with a case containing $500,000 that her mafioso ex-boyfriend would really like back. After a few narrow escapes, she sees a way out after meeting publicity agent Edward Villafranca, who asks her to double as disappeared movie star Dana Dane. But things are never what they seem, and Rhonda is soon in even deeper than before.
Despite its rather classical trappings, van Oudenaarden scripts and draws an engaging crime thriller. As straightforward as it is story-wise, the script plays it rather smart, injecting a few mysteries and a cryptic background for Rhonda – seemingly a former aerial acrobatic with a violently deceased father. The information is released rather sparsely, adding an extra layer of enigma to the protagonist.
Don't mistake Rhonda for your typical bad bimbo-type, though: she is sexy, plucky and shows personality from the start, and is already a fairly rounded character (no pun intended).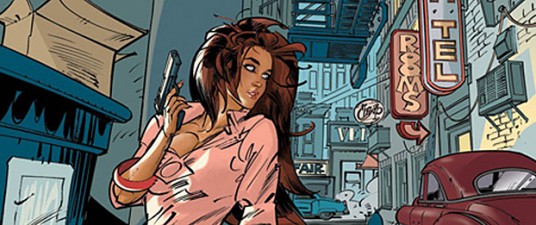 Hans van Oudenaarden's only English-language publication prior to this was Lethal Orgasm from the NBM Publishing imprint Eurotica (link NSFW), featuring the awesome power of mind-controlling orgasms. So we know he can draw some killer females.
Rhonda succeeds in being sexy and voluptuous, whether she's jumping out of windows, putting  on her shoes or just lounging around in tight pants and a loose shirt, without the typical "broken back" approach prevalent in a lot of US superhero comics.
Van Oudenaarden's brushwork is a superb example of classical newspaper art, but is inked with a very dynamic and loose brush, amalgamating the academic stylings of European comics with the looser dynamics of US comics. It works brilliantly, I must say.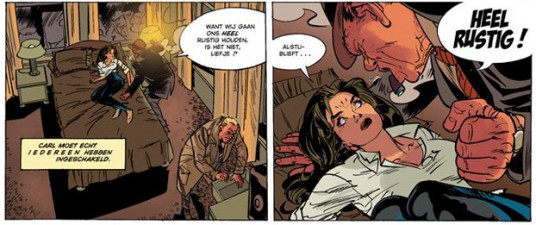 You can buy Help Me, Rhonda! straight from the publisher, and make sure to visit van Oudenaarden's blog, which is just packed to the gills with behind-the-scenes artwork.
Perico Vol.1 (of 2), by Philippe Berthet & Régis Hautière, is published in French by Dargaud. It is a 64-page full-colour softcover and retails for €14.99. This review was based on the Dutch edition, published by Ballon Media.
Help Me, Rhonda! Vol. 1 (of 3) by Hans van Oudenaarden is published in a Dutch and French edition by Eppo and appears in German in ZACK Magazine. It is a 48-pages full-colour book available as a softcover (€8.95) or hardcover (€16.95).