Celebrating 75 years of Spirou and a review of the heartbreaking story of Lea by Zidrou and Springers.
75 Years Of Spirou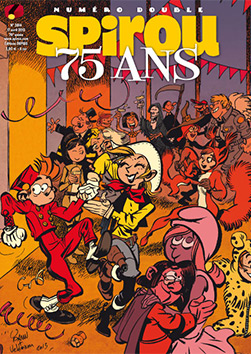 The first character created explicitly to promote a comics magazine has turned 75 years old together with the Spirou magazine. Created by Rob-Vel whose main job was waitressing on a cruise ship, it's no coincidence that Spirou is a bellhop. The waiters on the cruise ship Rob-Vel was working on were all wearing bright red uniforms and served as the inspiration for Spirou's timeless look. His trusty companion, the squirrel Spip, was added because the publisher felt that every decent comics hero needed an animal sidekick (but I suppose this divine insight was mostly gleaned from the then already popular Tintin and his  sidekick dog Bobby).
Jijé, Belgium's second most famous comics artist after Hergé in those days would take over the weekly pages almost straightaway, gave him a human sidekick – Fantasio – and set Spirou on the road to stardom. This road was further build on by Franquin who would draw the series for a stunning 22 years, leaving the series only because he wanted to concentrate on the further adventures of his universal miscreant Gaston Lagaffe.
The publisher knew it had a gold mine on his hands and further commissioned stories from a variety of artists leading up to now over 22 artists who have drawn the adventures of Spirou. After a decline in popularity, new paths were trotted in terms of style and storytelling and slowly, Spirou's star on the comic firmament rose once more and is still going strong.
Happy birthday, Spirou!

Here are some pictures from the exhibition in the Belgian Comic Strip Center.


A Beautiful Trip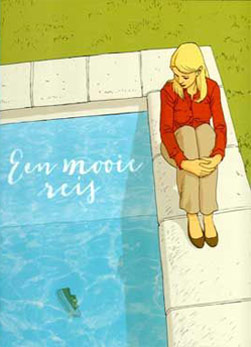 Life is not about the end result, it is about enjoying the trip while it lasts. And this adage is even more so for Lea. Named after her drowned brother Leo, Lea has for as long as she can remember functioned as the substitute child. A replacement youngster for her beloved older brother who drowned at a young age before she was born. A poor substitute haunted by a disapproving father and mother, denigrating all the values she holds important in life – however raunchy they turn out to be. And now that father is dead.
Writer Zidrou dives into the soul of a daughter tormented by her family's past. As a VJ, nude model and lesbian, one can't say Lea followed the easy path in life but on the other hand, her existence in this world is purely depended on being an ersatz progeny. Zidrou crafts an exceptional, concise and moving life story for Lea. Though it does embark on some well-trodden paths, Zidrou's tale never wavers and stays focused on Lea's inner turmoils, externalized by her actions. This focus allows Lea to grow from an overly rebellious child into a fully realized human beng as the story progresses.
Benoît Springer obviously had a lot of fun with this graphic novel and his drawings ground the story, lending the characters a human face and mannerisms. It lends a bit too much from Paul Rabaté's line drawings to be truly exceptional but it certainly is a nice style to look at. It presents a sort of raw realism with its wavering lines and elongated figure work that Zidrou's story complements.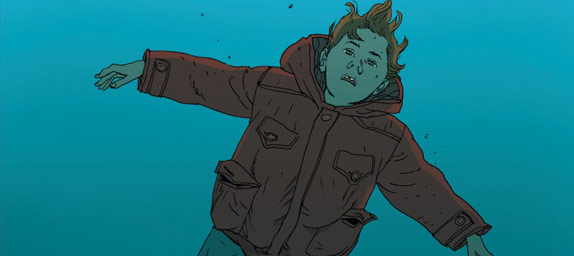 Zidrou and Benoît Springer's A Beautiful Trip is a story about belonging in world that did not ask for you to be born. It is about belonging in world where your only right for existence is a tragedy that no-one has completely recovered from. It is about fighting for a place to belong. It is about family. Well done, I'd say.
A Beautiful Trip is an oversized hardcover counting 56 pages. It is published by Dargaud / Ballon Media and retails for €14.95.