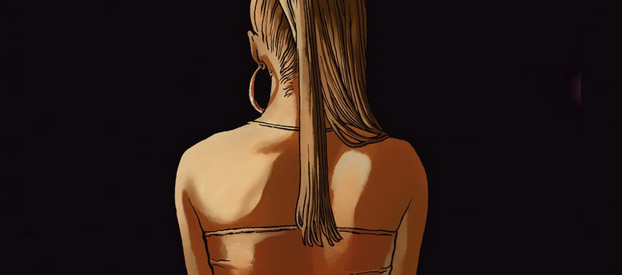 Falling in love with a prostitute and kidnapping the pimp's daughter to locate her after her disappearance is on top of the list of humongously bad ideas. Especially if you have a rock hard belief that everything will end happily ever after.
Writer Zidrou is starting to specialize in these one-shot stories. Previously spotted in Crossing Borders with the magnificent psychological tale A Beautiful Trip, he now explores the crime drama with The Client. A teacher falls in love with an Ecuadorian prostitute and embarks on a desperate plan to locate her after her disappearance. Like A Beautiful Trip, The Client hangs on a one sentence premise and Zidrou's main interests are in creating atmosphere and intriguing characters. The Client however suffers a bit from this approach since everything depends too much on the tale and not on the characters.
Though there is some mystery involved, the main protagonist is just not strong enough to keep our focus away from the story and setting. Set in the world of clandestine prostitution, strip bars and the mob, the location and crime angle get too much attention therefore laying bare the weaknesses of the story which is fairly straightforward and not terribly captivating. Protagonist Augustin Mirales stays too unfocused a character to really suck the reader into this criminal vortex he created to find his fallen angel. Some plot threads are left dangling and the resolution also feels a bit off.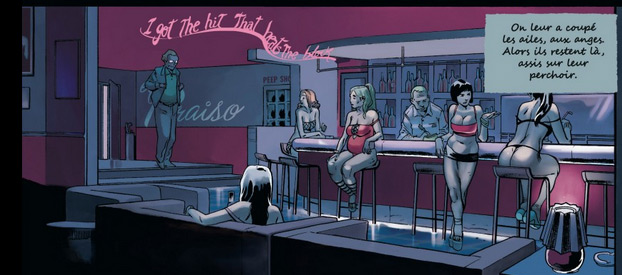 The drawings from Man reflect the gritty crime feeling and permeate the book with a haunting atmosphere though a lot of this also comes from the colouring. I would have liked to see Man use more spotted blacks and being a bit more versatile in his brushwork in order to enhance the noir ambience. There's a real 'US comics' feel to the pencils and I can see some early Frank Miller and Lee Weeks in there but for a crime drama, his brushwork feels a bit too empty and devoid of atmosphere. He has a lot of potential but needs to work on his backgrounds and his approach to the story.

That is not to say The Client is a bad comic book. It's quite enjoyable and Zidrou does manage to keep the story tight despite its flaws. It serves perfectly as a light snack in between heavier reading material. It's a nice shot but it hits just off target.
The Client by Pierre Zidrou & Man is published by Dargaud. It is a full colour hardcover counting 56 pages and retails for €14.99. This review was based on the Dutch edition, published by Ballon Media.