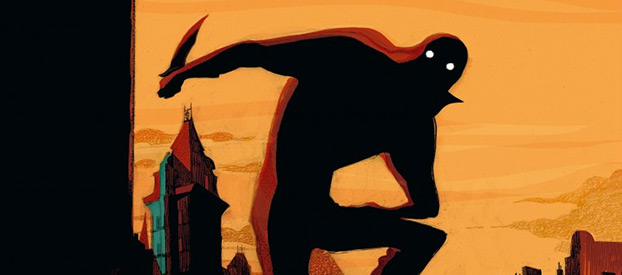 We travel from the classical child drama of Michel from Zidrou & Roger to the crime ridden sewers of turn of the century Paris in The Fury of Fantomas by Olivier & Rocheleau.
Michel by Zidrou & Roger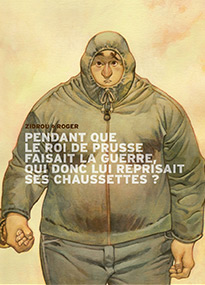 Is there any genre Zidrou can not handle? From crime to teen horror to drama, Zidrou keeps digging into the human soul and keeps coming up with little gems of one-shots. This time up, Zidrou lets us glimpse snapshots of the pensioned widower Catherine Hubeau but for this mother, retirement is still a long way since she takes care of her 43-year-old son Michel who became mentally handicapped after a car crash.
The strength of the album lies in the fact that Zidrou does not turn the subject into a tearjerker. He gives us slight insights into the lives of Catherine and Michel in the form of a collection of short stories. These mundane little events grow in importance because of Michel's handicap: she lets him win at his favorite game Four-in-a-row, does his laundry every day so he can wear his treasured t-shirt, dealing with his violent moods, renting over and over again his one favorite porn movie, etc. 'I am living his life', Catherine says in one of the shorts. It is a statement said with a smile. A statement that speaks of hardship and love coming from a mother whose love knows no bounds even though the road is not easy.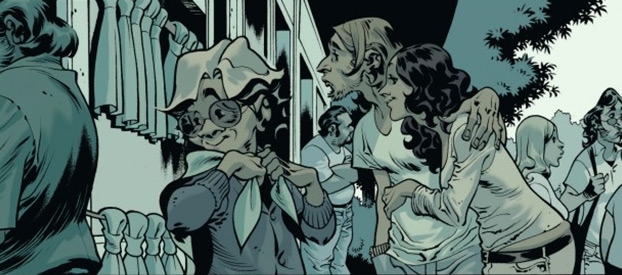 Zidrou's characters are real people, they come to life on the page and we feel for both mother and son as they live their lives, interconnected and apart. Artist Roger (Jazz Maynard) enhances this feeling with excellent character work. The realistic backgrounds coupled with the slightly cartoony look he gives the characters makes sure that Zidrou's script does not become an emotional anchor, drowning this graphic novel in self-pity. That is not to say that both creators tone down the difficulties Catherine encounters, she simply refuses to see herself as a martyr.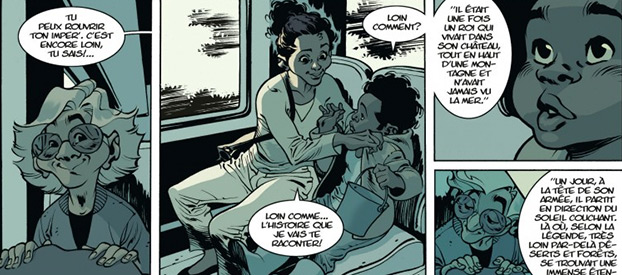 Zidrou and Roger's tale of a pensioned widow taking care of her handicapped son is a small gem amongst the many graphic novels that are being published today. Script and art work together to create a real human experience and there is no greater accomplishment than that in any medium. Highly recommended.
Michel (in French Pendant que le roi de Prusse faisait la guerre, qui lui reprisait ses chaussettes ?) by Zidrou & Roger is published in French by Dargaud . It is a full colour hardcover counting 56 pages and retails for €14.99. This review was based on the Dutch edition published by Ballon Media.


The Fury of Fantomas by Bocquet Olivier & Rocheleau Julie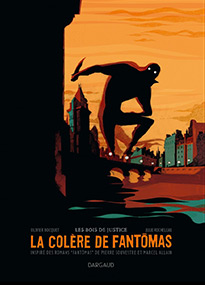 Fantomas is the quintessential psychopath, emerging from the minds of Marcel Allain and Pierre Souvestre and the pulp heritage of Diabolik and Arsène Lupin. But where the previous gentlemen drew the line at murdering the innocents, Fantomas has no such petty quibbles, gleefully masterminding extensive and ingenious traps to capture, torture and murder his prey. Created in 1911, he spew forth over 32 books and numerous film and TV serials. This graphic novelisation goes all the way back to the first original novels.
On the eve of the murder trial of the greatest criminal of turn of the century Paris, events conspire to set Fantomas free to reclaim his mantle as the greatest and most ruthless criminal in the history of France.
Fantomas' trail of murder and terror is witnessed through the eyes of police detective Juve who is obsessed with Fantomas. Storywise, the graphic novel hops around a bit, skipping over many details and painting the novel in broad strokes. It's not a bad approach but it does leave the reader without a firm hold on the proceedings, scenes jump forward rather fast and it's hard to get a feel for the characters due to this approach. A bit more time could have been spend with the involved players since it is their point of view which secures a good anchor to the the feeling of inhumanity Fantomas' deeds should inflame.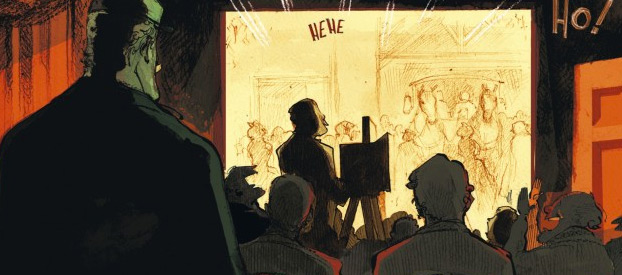 The real star of the show here is Julie Rocheleau's art. Being the artist and colorist at the same time, she firmly dives ahead into turn of the century Paris, obviously taking immense delight in putting the era with all the requisite costumes and ornamental details to paper. Her approach to comics feels very 'animated' with very cartoony characters and detailed, almost painted, backgrounds. She also fore goes on panel borders, creating an open anything-can-happen atmosphere. It's a unique look for what is essentially a turn-of-the-century detective/horror story. It stands to see whether or not Rocheleau can make the horror come real on the page with her quite unique look and feel.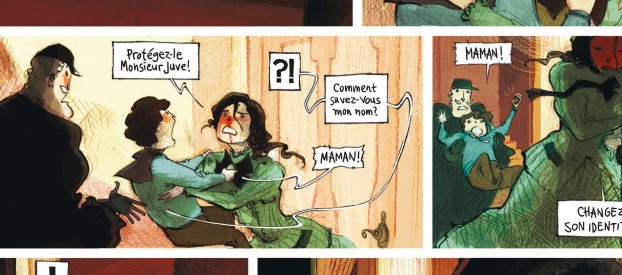 The first volume of The Fury of Fantomas sets up the scene rather nicely but mostly stands out by the beautiful artwork of Julie Rocheleau. The true horror of Fantomas is yet to come and it will be there that this series will pick up steam and hopefully more readers.
The Fury of Fantomas Volume 1 of 3: The Forest of Justice by Bocquet Olivier & Rocheleau Julie is published by Dargaud. It is a full colour hardcover counting 56 pages and retails for €13.99. This review was based on the Dutch edition published by Ballon Media.