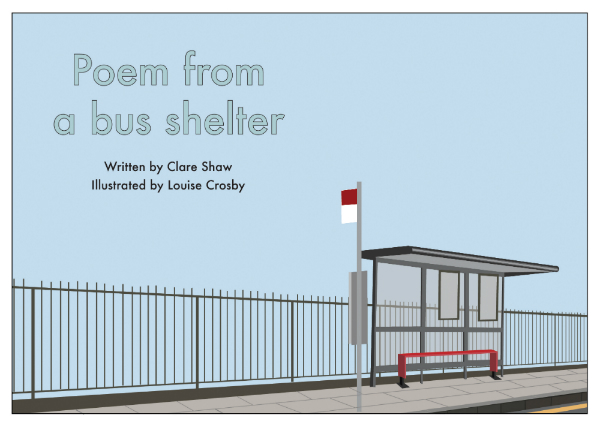 Coverage of poetry in comics is hardly unheard of here at Broken Frontier – in the last year I've given mention to projects like Ravi Thornton's HOAX Psychosis Blues and ILYA and Paul B. Rainey's sequential art interpretation of Shakespearean sonnets after all – but it's hardly as if the market has been deluged by a flood of work in that area. Perhaps that's because the very act of adaptation in this particular case has to be so meticulously considered in order not to detract from the original material.  At what point does the addition of overt visual imagery to a careful and considered use of language cross a line between enhancing the thematic core of a work in a reader's mind and labouring the point to distraction?
Poet Clare Shaw and artist Louise Crosby have collaborated on two comics as Seeing Poetry over the last year – Poem from a Bus Shelter and You'd Start with the Page – and appear together at arts and literature festivals promoting the work with readings, talks and exhibitions. Crosby visually interprets Shaw's words, aiming to give extra nuance and layers of understanding to the original text. In 2014 they were awarded a grant from the Arts Council England allowing them to expand the scope of the project via their website, publications and workshop events.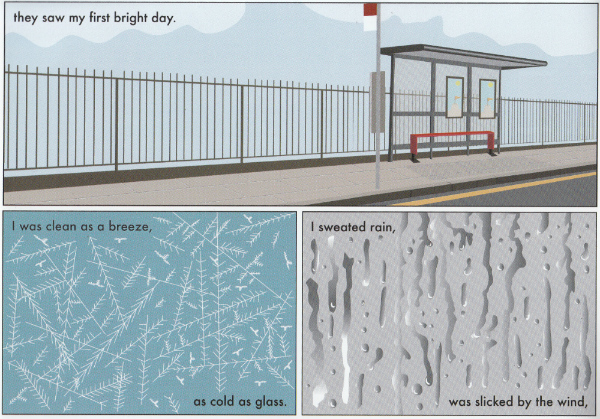 What's immediately obvious about Poem from a Bus Shelter is that it's firmly rooted in the psychogeographical – though perhaps more in the Tim Bird/Grey Area use of that genre than the Simon Moreton/Smoo Comics one. Poem from a Bus Shelter traces the life of the titular transport waiting point lending this stolid construction of glass and metal an anthropomorphic existence of its own as it bears mute witness to the passing of the seasons, the changes in the environment around it, and the ephemeral detritus of human existence. It's both an elegy to the transience of being and a defiant proclamation of self that parallels the reader's own passage through life.
Louise Crosby breaks the poem down into a series of panel-based, largely static images, creating a narrative that is not so much about moving from action to action, or event to event, but rather taking us on a journey that is thematic rather than strictly sequential. The clarity and clean line of Crosby's art lend a visual symmetry that brings an oddly detached yet tangible realism to the pages. Poem from a Bus Shelter is not a free-flowing reading experience, as such, but it is an intriguing and valid exercise in precision that invites the audience to think and consider the form, structure and rhythm of the poem being illustrated.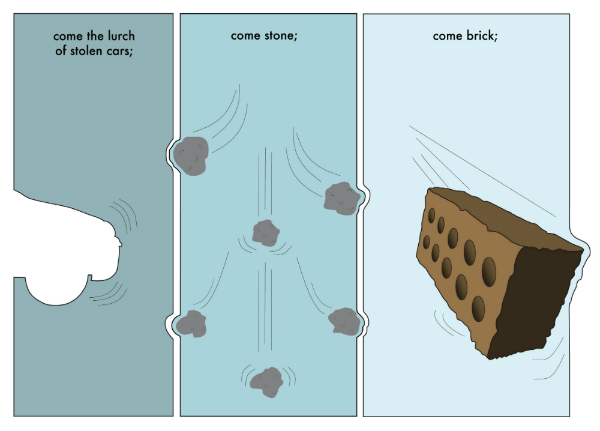 Is this strictly comics in the purest sense of panel-to-panel sequential storytelling then? Or is it another form of graphic narrative altogether? I'm not sure it actually matters one way or the other but, although Poem from a Bus Shelter employs storytelling tricks unique to the comics medium, if pushed I would probably be inclined to say the latter. What is undeniable, however, is that this is a fascinating use of aspects of the form to add an expanded layer of meaning and context to an original work. I'm very interested to see what directions the Seeing Poetry team take this project in the future.
For more on Seeing Poetry and details on how to obtain copies of their books check out the website here.
For regular updates on all things small press follow Andy Oliver on Twitter here.