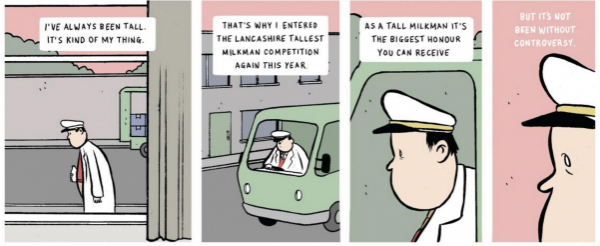 SMALL PRESS DAY IS COMING!
From Dirty Rotten Comics to Off Life through to his Cape/Observer/Comica Short Story Prize win last year, Matthew Dooley has long been a creator whose work has deserved to reach that next level of recognition. It was a post-ELCAF delight then to hear that Dooley has been picked up by Jonathan Cape and is working on his first graphic novel Flake, described as "a story of betrayal, revenge, small-town claustrophobia… and ice cream."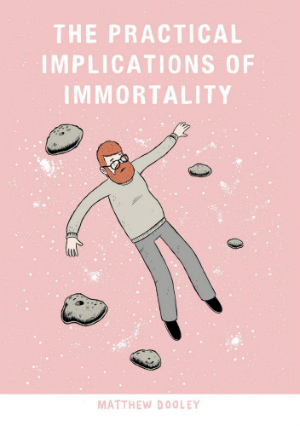 For many, though, it will be his short-form strips from Throwaway Press that will have been their introduction to Dooley's dry wit, either via the ever important and aforementioned anthology Dirty Rotten Comics or in their collections of his work like Meanderings or the latest compilationThe Practical Implications of Immortality.
Dooley's comics combine existential angst, his own self-deprecating explorations of his frailties, the ludicrousness of modern living and the occasional sidestep into the bizarre and the incongruous. He's often at his funniest when laughing at his own foibles, though. Here he presents himself on the page as a kind of slacker philosopher who embraces an almost spiritual indolence as he ruminates on such weighty topics as distracting oneself from the impending demise of humanity by searching social media for inspirational quotes, the upside of the end of civilisation (affordable London property prices!), or a world where everyone else is also Matthew Dooley.
Dooley's humour is an odd hybrid of the obvious and the subtle; juxtaposing contemporary life and its idioms with the nihilistic in a strangely insightful way. Elements of social commentary lurk within the ludicrous in his strips and his often deadpan delivery only underlines the gloriously ridiculous premises of some of his tales. His comic timing is also excellent throughout, especially in his story of a message discovered in a bottle thrown into the sea or his own twisting take on the moon landings conspiracy.
The showcase piece in the collection is, no doubt, the Cape/Observer/Comica-winning 'Colin Turnball – A Tall Story'. It's not hard to see why this account of a man whose lifetime ambition is to win the Lancashire Tallest Milkman Competition so impressed the judges. A deft mix of the silly and the poignant, it's paced to perfection and will pull at the heartstrings of even the hardest reader.
Again, it's that sense of timing that is such a hallmark of Dooley's comics, alongside his clear and accessible cartooning and delicate, subdued colouring. His panel construction sometimes inviting the reader to linger on a slow build-up by making use of uniform larger paneled pages and incremental sequential changes or, conversely, speeding up the action in tighter and more packed layouts.
From statues of 'Heroes of the Future Revolution' ("Jenny has signed almost 70 online petitions") to 17 years of wearing uniforms and the stigma that went with each of them, The Practical Implications of Immortality is a droll and wry compilation of Matthew Dooley's work that showcases exactly why he's in line to be the Next Big Thing in UK indie comics. That Cape book is going to be worth watching out for…
For more on the work of Matthew Dooley visit his site here and follow him on Twitter here. You can buy The Practical Implications of Immortality online here priced £4.00.
For regular updates on all things small press follow Andy Oliver on Twitter here.
Matthew Dooley is part of the Small Press Day line-up at Orbital Comics on Saturday July 8th. More details on the Orbital site here.