Given Broken Frontier's stated mission to spotlight the work of exciting emerging talent in comics and, in particular, our annual 'Six to Watch' initiative (following half a dozen important new voices in comics over the course of each year) it's impossible not to feel invested in the creative journeys of the people we champion. This year, then, has been tinged with a degree of sadness. Some of our favourite artists who should have had a banner year have not had the celebratory 2020 they so deserved. Peony Gent as Illustrator in Residence at House of Illustration or Danny Noble's first graphic novel Shame Pudding being published by Street Noise Books are just two examples.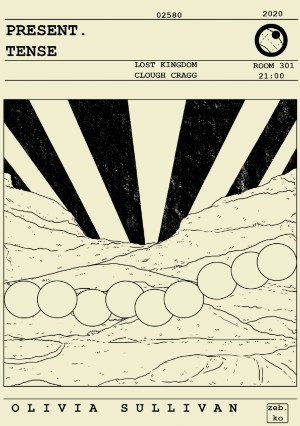 Olivia Sullivan has fast become one of the most exciting voices in UK comics over the last couple of years, managing that all too rare feat of producing comics that create visual narratives in ways that only comics can but also managing to push the form into new territory at the same time. This year would have seen Olivia tabling for the first time at all the biggest events for small pressers to build up their profile in the UK and it's heartbreaking that she, too, doesn't get the opportunity this year to reach the new audiences that her genuinely unique – and I do not use that much overused word without justification here – approach to the form is owed.
Sullivan has still been producing self-published comics throughout this year, though, with her latest Present. Tense now available on her online store. Presumably, in an alternate timeline, this would have been a new release to debut at the Lakes this weekend and it beautifully embodies the abstract comics narratives that have become the central part of her work of late.
Present. Tense is a diary comic or as she describes it on her site a "visual journal", though the newcomer to Sullivan's oeuvre may not realise that at first. "Don't do sequential. Not sequential in thought" reads a line from one of Sullivan's more stream-of-consciousness prose passages, something that feels echoed in her unconventional mix of one-paragraph text passages on the right and corresponding, often non-linear panels and fragmented imagery on the left-hand side when one turns the page.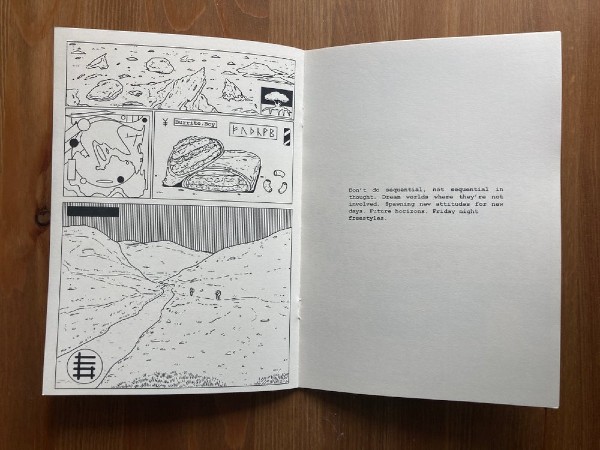 On her store Sullivan describes the content of Present. Tense with an appropriate brevity as being about "science fiction, camping + ants." I say "appropriate" because, like so much of her recent work, definition and meaning is fluid in her relationship with the reader. Sullivan's visual poetry is as much about experiencing the rhythm of her pages and prose as it is about finding a definitive interpretation of her abstract narratives. Those familiar with her previous work, going right back to the very early days of I Drank Holy Water, will recognise recurring themes and motifs but for the uninitiated Present. Tense is also an ideal introduction to her distinctive style.
Present. Tense then is a fractured collection of experiences with Sullivan's written thoughts and  illustrations giving us different perspectives on what she depicts, depending on whether we are reading the text in isolation or perceiving what she relates as a synthesis of words and illustration on the turn of the page. Sometimes they're anecdotal, as in an experience in Japan (presumably on her residency there last year) being rescued from a poisonous caterpillar by two locals. On other occasions they're more detached from direct context, as in the reflections on identity that pepper the comic.
Sullivan's relationship with her audience is always a fascinatingly ironic one. The obliqueness of the work and her reticence to contextually spoonfeed the reader actually fosters a far stronger connection between reader and artist than direct autobio would. I've made no secret of my admiration for Sullivan's practice over the last few years and my belief that there's something very special going on with her comics that is quite unlike anything I've seen elsewhere. Those looking to support self-publishers as we come into what should have been the prime UK festival season this year should be checking out this boundary-pushing talent, especially given the accessible pricing of her work.
Follow Olivia Sullivan on Instagram here and on Twitter here. For more on her work visit her website here and you can buy Present.Tense from her online store here priced just £3.00.
Review by Andy Oliver