Dynamite Entertainment has provided BF with a preview to Uncanny #2, coming to stores July 24, 2013.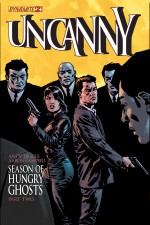 UNCANNY #2
Andy Diggle (w)
Aaron Campbell (a)
Sean Phillips (c)
FC • 32 pages • $3.99 • Teen+
Weaver's uncanny ability makes him uniquely adapted for a life of crime… but also makes him a target. Now, after one grift too many, he finds his list of friends as depleted as his credit rating. Hunted through the mean streets of Singapore, he finds an unexpected ally in the mysterious Maggie, the ticket to a new life… or a one-way trip to the morgue!