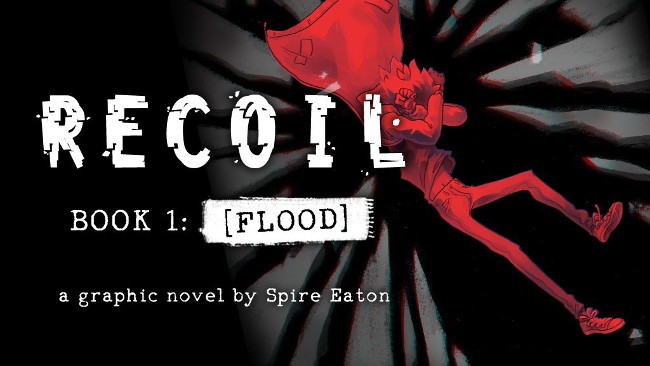 We received news at the end of last week that Broken Frontier Award-winning indie publisher Quindrie Press were expanding their already acclaimed comics catalogue to include bringing webcomics to print. More details about their plans to publish Spire Eaton's Recoil and sample art in the press release below. As is rapidly becoming the accepted norm since Kickstarter announced their controversial move to the blockchain the project will adopt a double funding model that includes both KS and a site pre-order option. Those wanting to know more about the publishing philosophy of Quindrie Press should check out our 2021 interview here.
First book in Recoil webcomic series coming to Kickstarter and preorder
The urban sci-fi webcomic Recoil is being brought to print for the very first time by Edinburgh-based indie comics publisher Quindrie Press.
After causing a terrible accident, Kalo is kidnapped into superpower therapy. He's told it's for his own safety, but something doesn't feel right about the Croft Centre for the Attributed. He's struggling with his guilt, losing time, and soon a dark secret comes to light…
Recoil: Book 1 collects the first five chapters of the genre-defying webcomic Recoil. With creator Spire Eaton's signature dynamic art style and vivid colour palettes, this story deftly explores themes of loss, guilt, and the struggle to navigate a system that is not built for you. Eaton brings a fresh, dark twist to the traditional superpower story that will appeal to readers of all kinds.
The print edition sits at a large 17x26cm and contains over 200 pages of story, with fully re-lettered and refreshed art. Further rewards include a digital copy of the comic, stickers, a large poster, and a comprehensive art book featuring concept and behind the- scenes work.
Recoil: Book 1 is the first webcomic to be printed by Quindrie Press, whose previous books have included When I Was Me: Moments of Gender Euphoria, edited by Eve Greenwood and Alex Assan, Wolvendaughter by Ver, and The Beechwood Helm by Letty Wilson. Quindrie Press is excited to expand its scope to include webcomics alongside its roster of original work and to support these creators at a time when the future of the webcomic medium feels precarious.
The book will be available to preorder through both Kickstarter (at tinyurl.com/recoil1) and the Quindrie Press website (at quindriepress.com/recoil1). For more information, visit quindriepress.com, find Quindrie Press on Twitter at @QuindriePress, or
email quindriepress@gmail.com.
230 pages, US trade size. Appropriate for age 14+. Content warnings: strong language; brief drug use; blood and violence; suicidal ideation and death; forced institutionalisation.