Robert Wells is currently celebrating a whopping three decades as part of the UK indie comics scene in which time he has self-published work, collaborated with fellow small press mainstays like Phil Elliott and Rol Hirst, been shortlisted for the Myriad First Graphic Novel Competition, and had his acclaimed graphic memoir Back, Sack & Crack (& Brain), documenting years of health problems with an appealingly dry humour, published by Little, Brown.
To mark that 30-year anniversary I chatted with an artist I've described in the past as "one of the UK's most under-appreciated cartoonists" about the changing face of the small press scene in that time, the cathartic nature of autobio, and his latest project Love Her Madly & Other Stories…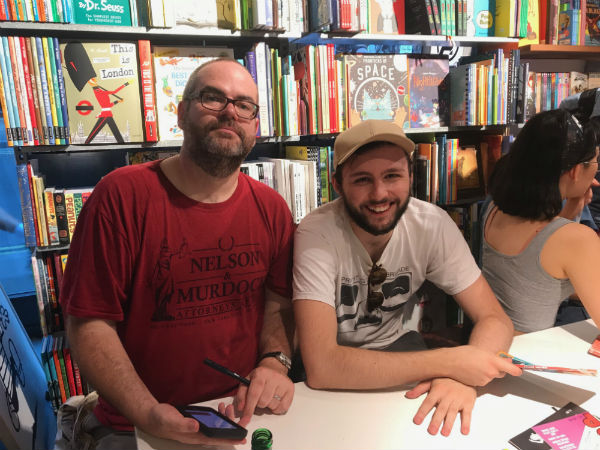 Robert Wells (left) with Josh Hicks at Small Press Day 2018 at Gosh! Comics
ANDY OLIVER: You're currently celebrating 30 years in small press comics. How has the scene evolved in that time? What are the biggest differences between now and 1991?
ROBERT WELLS: I guess the biggest difference between the scene then and now for me is my level of involvement in it. I felt like I was only on the outskirts of the scene in 1991, as that was also around the time my health problems started to get quite bad (2021 is also the 30th anniversary of my first colonoscopy – yay!). I didn't manage to get to that many events and probably seemed very uninterested in getting involved. I did still live in London, though, and at that time there were quite a few comic shops in and around London, so I was able to get my first comic into quite a few shops for the price of a one-day travelcard. I also saw a lot of the comics that other small-press types were putting out, even if I rarely met the people involved.
In 2021, I can't seem to get my comics into any shops but that doesn't matter as much because of Kickstarter, and it's now possible to produce very professional-looking comics with a low print run at an affordable price. In 1991, I had to get 1000 copies of something that didn't look half as good printed and I've still got copies of the bloody thing left! (I guess I could have tried producing a photocopied comic first, but for some reason that didn't occur to 22-year-old me.)
The internet has made it so much easier to stay in touch with people, share work and feel part of a scene. I'm way happier drawing comics now than I was then, sitting in my bedroom at my parents' house, not knowing if anyone would ever see anything I drew, or if anyone had seen the comic I had just put out.
AO: How did you first get into the self-publishing scene? What kind of work were you concentrating on in those early years in terms of genre and format?
WELLS: I've been into comics since I was a kid and always wanted to draw comics but I didn't really put much effort into it until after I left school. Even then, I didn't really know what I wanted to draw. I didn't see myself as a superhero or sci-fi artist and I didn't have any ideas for those sorts of stories, even though I still bought some superhero comics. Getting into Cerebus and Love and Rockets opened me up to other possibilities but I still struggled to get going with anything. Then, in the late-1980s, I worked in Forbidden Planet in London for a year or two. People would come in with their self-published comics, asking us to stock them, and I started to think: I could do this.
It was a while before I actually did do it, because I still didn't have any ideas for stories and still couldn't draw that well, but after a bit of effort I eventually came up with a semi-autobiographical story, very slowly drew it, and surprised myself by actually finishing it. After that, I struggled a bit to come up with another story to follow it with (the couple of stories I drew after this never saw print) and eventually I decided to focus more on my writing and started going to writers' workshops. That gave me a lot more confidence in my writing ability but I still kept gravitating towards humorous autobio stories, which just seemed to be my thing for quite some time.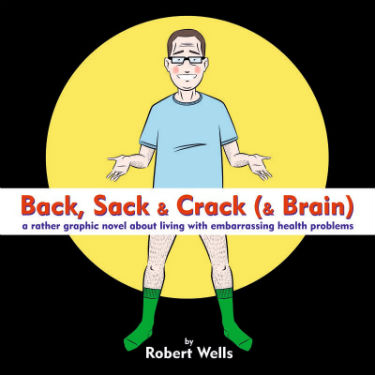 AO: Many readers may know you best from your autobio work in Back, Sack & Crack (& Brain) published by Little Brown, and also a Myriad First Graphic Novel finalist. How would you describe the premise of the book for the uninitiated?
WELLS: It's a book about my long history of mostly-embarrassing health problems, mostly focussing on bowels and balls, and the trouble I had getting taken seriously by doctors. Believe it or not, it's also supposed to be funny.
AO: Back, Sack & Crack (& Brain) (below) doesn't pull any punches in terms of its very candid depiction of your health issues over the years. Was it a cathartic experience putting it down on the page? Were there any feelings of vulnerability in depicting events in such an overtly humorous way?
WELLS: I guess it was cathartic, as I hardly think about that stuff anymore, although that may be because my health isn't that bad at all these days (weirdly, at 52, I'm healthier than I was at 22, and I haven't needed a hospital appointment of any kind for years). It was definitely something I needed to get out of my system, as parts of that book had been stuck in my head for years, and having this story hanging over me was stopping me doing other things. I mainly did it because I thought I could make if funny, so I didn't have any doubts about depicting things in a humorous way (no one would have wanted to read a book about a middle-aged man's testicles if it wasn't funny) but putting my health problems out there was a worry.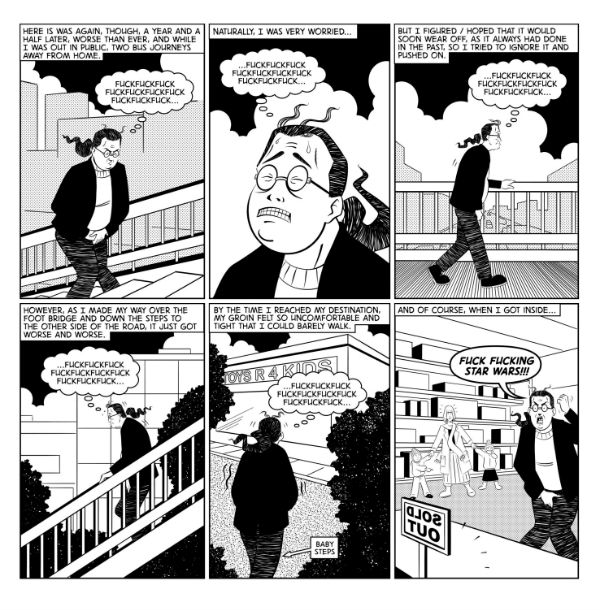 While I was working on it, I guess part of me thought I'd never finish it, so I just plodded along working on it and didn't worry about it too much, but once it was finished I started to get a bit paranoid about it. Initially, I guess the biggest worry was my parents and my in-laws seeing it, but even after they read it and were fine about it, I felt quite self-conscious about putting that stuff out there for a while. I don't want to be defined by my health and I've tried to do work that's quite different since then.
AO: You've contributed to some anthologies over the years. How important are those collective publications in helping to get your work to wider audiences and establishing contacts within the scene?
WELLS: I haven't done that much stuff for anthologies really and it's hard to tell how people react to the stuff I have done, as most of the feedback probably goes to the publishers, but it's always nice to be asked and nice to think that people who haven't seen my stuff before will see it. I should have made more effort to contribute to anthologies and collaborate with other people when I was younger but most of the stuff I have done for and/or with other people has been in the last decade, when I suddenly pulled my finger out and got productive.
AO: Rol Hirst is another UK small presser who was first active back in the 1990s. How did your collaboration on Department of the Peculiar with Rol come about and how does that partnership work creatively in bringing the DOTP to the page?
WELLS: In about 2010, Paul Rainey and I had a blog called Comics On The Ration, where we'd review comics we'd managed to pick up cheap (charity shops, eBay wins, etc.). Paul had drawn something for Rol's comic PJANG and asked Rol to contribute to the blog, but prior to that I was unfamiliar with his work (I still haven't read The Jock). I was keen to collaborate with some writers and focus on drawing for a while so I asked him if he had any stories I could draw for PJANG. I kept pestering him for something and he eventually gave me the scripts for DOTP 1&2, which had been written a couple of years earlier for Nige Lowrey to draw (which I don't think I knew at the time and I didn't see Nige's old character designs until after I'd drawn at least one issue).
The two issues of DOTP Goes POP!, which we did more recently, were written for me to draw. Rol has a full-time job and a kid, while I have neither of those things, so Rol pretty much leaves me to do everything other than write the scripts, but that's fine as he lets me keep any profits (although he might change his mind about that if Netflix ever offer to buy the DOTP TV rights, which they are very welcome to do any time). As Rol lives up north and I live down south, our relationship is confined to emails, but we have a similar sense of humour and a similarly cynical view of the world (unbelievably, I think I am the positive one in this relationship) and I think his scripts bring out the best in me. Rol has written the first part of the next story, DOTP:NY, but typically, I got distracted by something else, so I don't think that will see print this year now, but hopefully next year, followed by a TPB of the first six comics.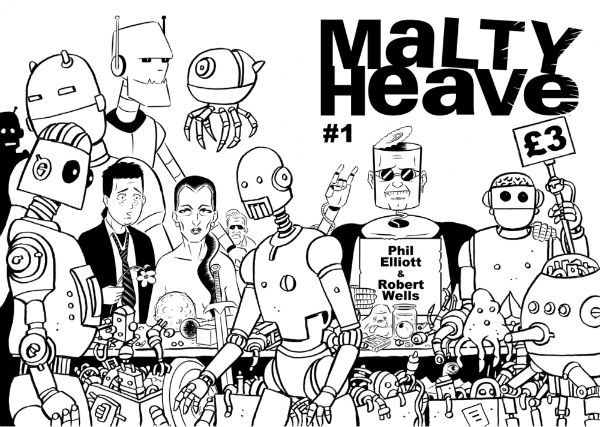 AO: Given those three decades of experience in self-publishing what advice would you have for anyone coming into the scene for the first time about building up a profile and interacting with the small press comics world?
WELLS: Most of my advice is stuff I didn't do when I was younger but wish I had: Study art, table at events, don't be shy about going up to people whose work you like and introducing yourself, collaborate with other writers/artists, contribute to anthologies, etc. Although it wasn't entirely my fault, I was pretty useless when I was younger, had no self-confidence at all, and just sat at home waiting for opportunities to come to me, which obviously didn't happen. For some reason, I had the wherewithal to self-publish several comics but had no promotional skills or ability to push myself forward at all, and you really need to be good at promoting yourself. These days, I guess that's easier, thanks to social media, but even then, with so many self-publishers around, you need to make an effort to stand out. I didn't get a table at an event until about 10 years ago, and I still don't do that many events because I can't afford to, but when I do one now I really enjoy it and make the most of it.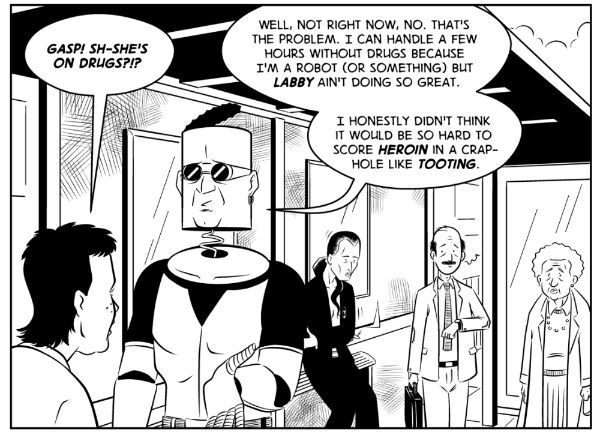 AO: Malty Heave (above) is a more recent ongoing collaboration with UK small press mainstay Phil Elliott. What were the origins of that project? What comics institutions have you paid fond "homage" to so far and can we expect any more Malty Heave-style parodies in the future?
WELLS: I first met Phil in 2014, when I lived in Maidstone, and we've been friends ever since. The first Malty Heave came about when I was due to attend an event (the second Portsmouth con) but didn't have anything new to sell so Phil suggested that we collaborate on something and put it out quickly. Not long before that, we'd been talking about old magazines like Heavy Metal, Epic Illustrated and even Creepy and Eerie, which is how we eventually got around to deciding on a theme and a name (an anagram of Heavy Metal). Somehow, we managed to write and draw the whole thing in just two weeks, and it came out pretty well, considering. The second issue, inspired by Creepy and Eerie, took a bit longer. There will be more and future issues will be inspired by mags like Mad and Savage Sword of Conan (the next one will probably be Mad).
AO: Can you tell us about your artistic process and the mediums you work in?
WELLS: These days I draw nearly everything digitally, on a PC and drawing tablet with Clip Studio Paint (also known as Manga Studio). Back, Sack & Crack (& Brain) was the first thing I drew entirely digitally and I haven't looked back since. I think my work has improved a lot since I went digital, and some of that confidence I've gained has fed back into my non-digital sketches, which have improved in recent years, too.
AO: Love Her Madly & Other Stories is your newest comic offering. What can readers unfamiliar with your work expect from its pages?
WELLS: It's a 44-page, full-colour, landscape format collection of strips and one-panel gags I've drawn over the last decade, most of which hadn't seen print before, apart from a couple of stories that were drawn for anthologies (including one from the 2018 BF Yearbook). The main strip, Love Her Madly, was drawn for David Lloyd's digital-only anthology Aces Weekly in 2018, and that's about a young student/heavy metal fan called Tom who works part time in a fish finger factory in a depressing suburban town and develops a crush on one of his co-workers – a strange woman called Celia Doom. It's mostly chit-chat and gags about how crap it is in the suburbs but I like it a lot, want to do more with the characters, and wanted people who hadn't seen it in AW to see it.
For a book that's 'just' a collection of strips I'd already drawn, I ended up putting a lot of work into putting it together (because LHM was drawn in landscape format for Aces Weekly, I had to re-jig all the other strips to fit a landscape format, several were re-coloured and most were re-lettered) and I'm really pleased with the way it came out. I'm not someone who sits and looks at his own work very often (some things I can't bring myself to look at at all) but I'm slightly embarrassed by how many times I sat and flicked through LHM & Other Stories in the weeks after it came out.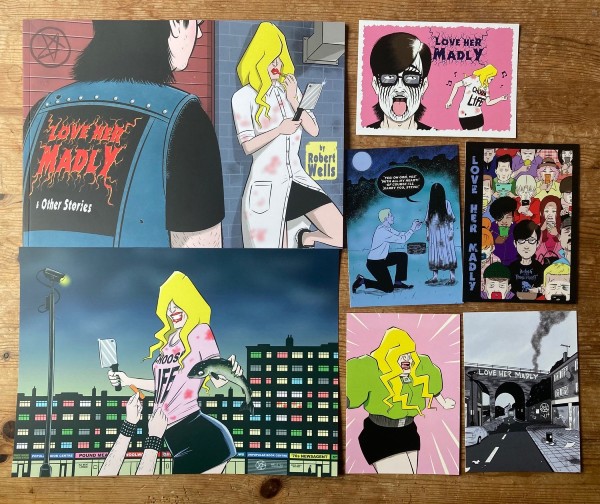 AO: How has the pandemic impacted you over the last 15 months in terms of both your creativity and in getting your work in front of audiences?
WELLS: In creative terms, it was pretty good and I drew a lot last year. In terms of getting things out there, when the pandemic first kicked off, I was about to launch the Kickstarter for DOTP Goes POP! #2, so I decided to put that on hold for a couple of months, as I couldn't face plugging my Kickstarter while people had much more important things to worry about, but when I eventually went ahead with it, it did well. I also had a tables booked for a couple of events that got cancelled, but realistically, not going to any events saved me money, and really my life didn't change that much at all. I don't go out much anyway, my wife already worked from home a lot, and no one I knew died, so I really can't complain at all.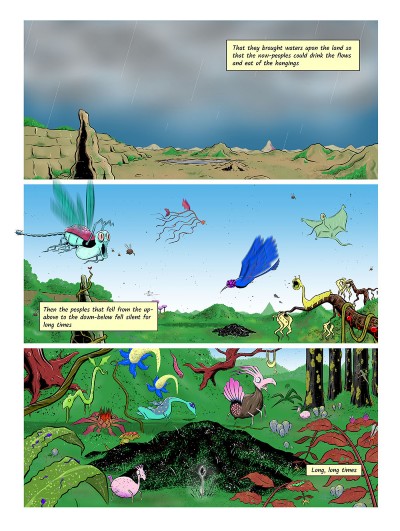 AO: What's next for Rob Wells? Are there any upcoming comics projects you're working on that you can tell us about?
WELLS: The thing I'm working on right now is a 64-page sci-fi OGN (sample art above) written by Paul Duncan (Ark, The Star Wars Archives). Paul and I collaborated on a 6-page sci-fi story for The 77 last year and this story expands on that. And if it does well, Paul reckons he sees it as the first of five OGNs. I am badly out of my comfort zone drawing sci-fi (I wanted to try drawing something completely different) but I think this the best art I've ever done and I can't wait for people to see it!
You can visit the online store of Robert Wells here where throughout July 2021 he is offering a whopping 30% discount on purchases if you use the code 30YOCH on checkout.
Interview by Andy Oliver