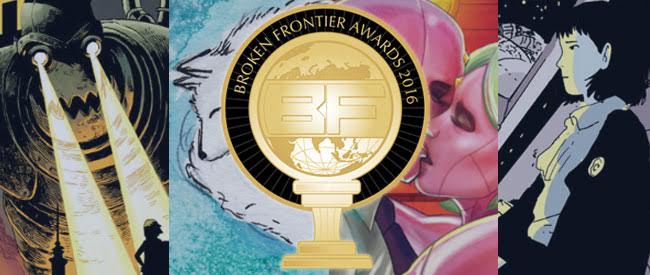 The Broken Frontier Breakout Talent Award is always the most fiercely contested category in BF's annual list of accolades. As a site that actively champions new creative voices, of course, that comes as little surprise to us. But the last couple of years have seen some particularly close-fought contests.
Just look at the names on 2016's ballot – Chris Hunt whose Carver: A Paris Story was so enthusiastically received by our Jason Wilkins here; Grace Wilson who moved from small press autobio excellence to slice-of-life topicality in Saving Grace from Jonathan Cape; Matthew Rosenborg who has been wowing fans with 4 Kids Walk into a Bank; Jade Sarson whose breathtaking For the Love of God, Marie! was one of my books of the year for the Forbidden Planet International Blog; and, of course, our winner Rozi Hathaway who has been something of a constant presence on Broken Frontier this last year.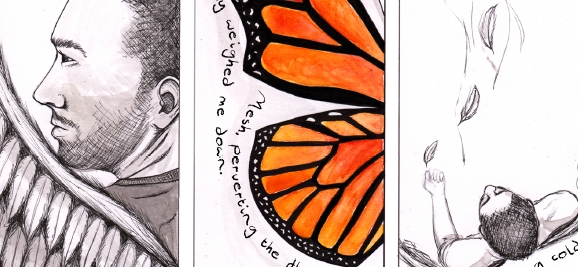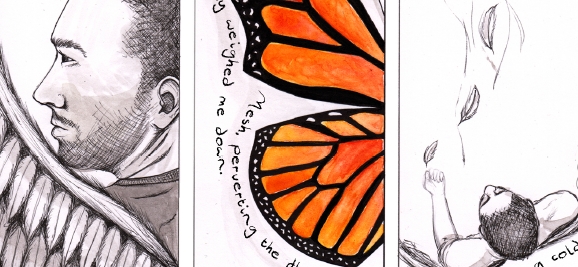 Given her remarkable 2016 it would seem fitting to take a look back at Hathaway's comics history to date. And it could hardly have begun more auspiciously. Back in 2014 she was specifically chosen by writer Ravi Thornton as the new talent who would illustrate the key chapter in her graphic memoir HOAX Psychosis Blues.
That powerful book – itself nominated for a Broken Frontier Award in 2014 – detailed Thornton's brother Rob's battle with schizophrenia through a biographical framing sequence that led into illustrated interpretations of his poetry. No less than the esteemed likes of Bryan Talbot, Karrie Fransman, Mark Stafford, Hannah Berry, Julian Hanshaw and Rian Hughes all worked on those segments of HOAX.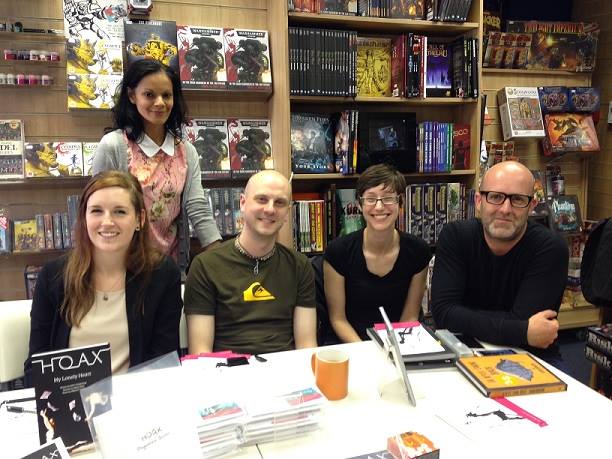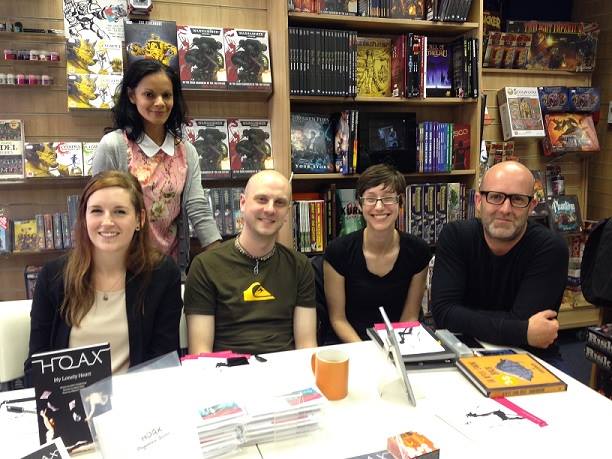 From left to right – HOAX Psychosis Blues team members Rozi Hathaway, Ravi Thornton, Ian Jones, Hannah Berry and Julian Hanshaw signing at Manchester's Travelling Man store
Thornton discussed what appealed to her about Rozi's work in this BF interview on HOAX Psychosis Blues in 2014: "I set out roaming online portfolios and blogs as I often do when I'm looking for collaborators, and came across one of Rozi's paintings. I knew as soon as I saw it that there was something in her style that would work for HOAX.
"I dropped her a line, and she agreed to come on board. It was definitely a challenge for Rozi. She worked long and hard, with more redraws and further directions than all of the other illustrators put together. But it was worth it, and it shows. And I loved working with Rozi precisely because she was willing to work that hard."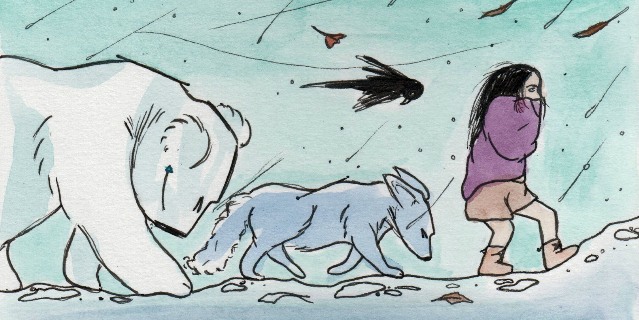 In early 2015 she self-published for the first time, with her first (now out of print) solo comic The Red Road (above) – a spiritual tale of tragedy and destiny – which got very favourable reviews at Broken Frontier and at Forbidden Planet International.
It was immediately evident that something very special was happening here. I described The Red Road as "stunningly rendered, and painfully beautiful in its own way" and as "an outstanding debut print offering". In fact, so taken was I with the book that I selected Hathaway as one of Broken Frontier's first annual 'Six Small Press Creators to Watch' in early 2015.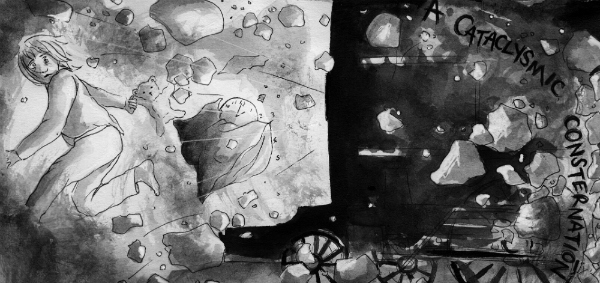 Rozi's 'Locomotion' short from the anthology A Bit of Undigested Potato
Her influences are varied, as she told me in this 2015 interview: "James O'Barr's The Crow got me into comics and graphic novels, which was written and drawn from a place of pure emotional pain. That kind of raw torture is portrayed so beautifully, it's something I definitely strive for in my work.
"Jeff Lemire's storytelling and emotive drawing have also been hugely influential on the way I use narrative. In Essex County he really does tell the story in places with minimum text, and it's heart-wrenchingly beautiful. Outside influences are definitely based on personal experiences and adventures. I don't like being in one place for too long, so I draw a lot on what I see out and about."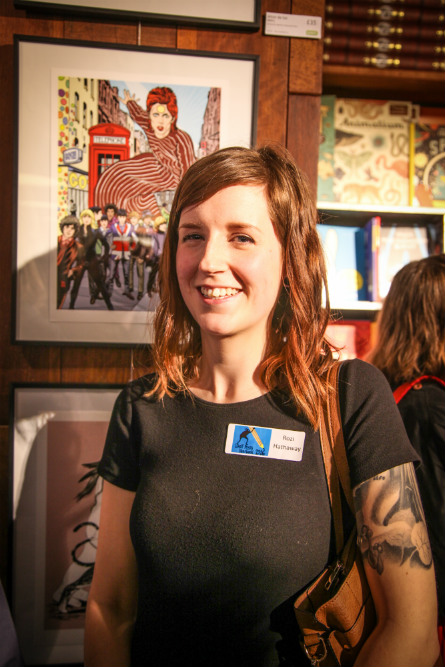 Rozi Hathaway at the Broken Frontier Small Press Yearbook launch at London's Gosh! Comics last year. Photo by Mauricio Molizane De Souza
If you're an aspiring creator looking for advice on how to make an impact in a crowded small press marketplace then look no further than Rozi Hathaway's commitment and dedication to her art. In that first year of self-publishing she contributed to anthologies like A Bit of Undigested Potato, Dirty Rotten Comics and Home, as well as her own anthology venture Sneaky Business, and feminist zine Down to Your Skivvies.
She's been a constant presence tabling at fairs, festivals and shows and has sat on panels, taken part in drawing parades, guested at Drink and Draws, and presented at events like the Broken Frontier edition of Laydeez do Comics in January 2016. Last year she wrote this piece on breaking into the small press comics scene for Broken Frontier – required reading for all potential self-publishers!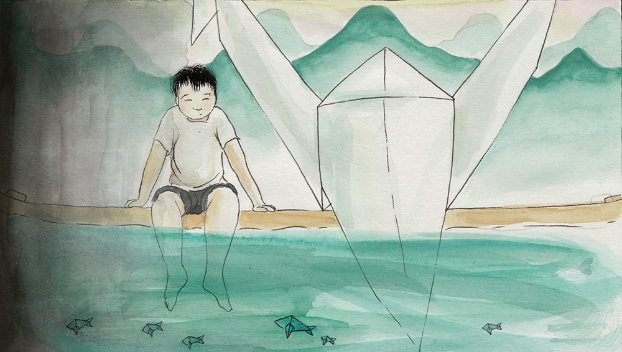 It was 2016, though, when Hathaway's work and profile both took a step up to the next level of recognition. Her strip 'Afloat' (above) in the Broken Frontier Small Press Yearbook – our promotional publication for the work of our first 'Six to Watch' creators –  was a poignant and profound study of childhood loneliness but it was her first Kickstarted longer-form comic Njálla (below) where she really made her mark last year.
The story of Lieđđi, a Sámi girl from a community of reindeer herders and her magical encounter with the titular arctic fox-like sky spirit, Njálla was praised by no less a figure than Warren Ellis as "a remarkably pure piece of fabulist storytelling".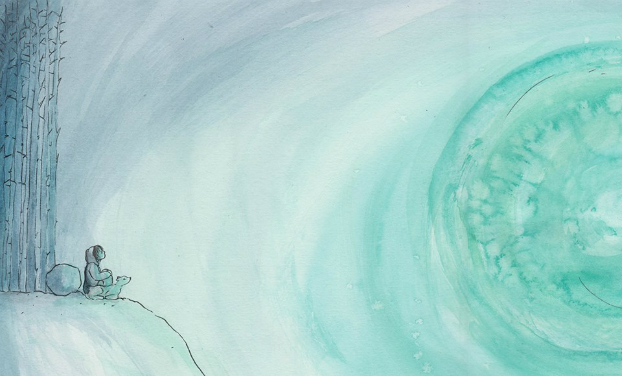 There were also more anthology collaborations in 2016 including Dirty Rotten Comics, Dead Singers Society and a second volume of Sneaky Business. For Thought Bubble she created the enigmatically named short comic Ø (below and reviewed here at BF), a touching story of friendship replete with otherworldly elements that I called "a wistful and tender tale that fuses the everyday and the ethereal into a magical yet familiar examination of childhood affection and loneliness."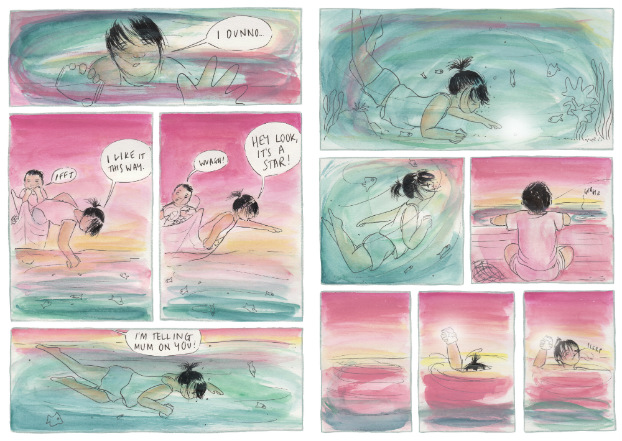 So, as someone who has been covering her work for two and a half years what is that Hathaway brings to the table that marks her out as such an exciting new prospect? Here's what I had to say on just that subject in early 2015…
"Having covered her work so closely over the last year or so, I've observed firsthand Rozi Hathaway's creative development in that time. Her growing confidence as a storyteller, that assured understanding of the mechanics of her chosen medium, and a willingness to experiment with genre and tone are all hallmarks of a practitioner with a commitment to immersing herself in all aspects of her craft.
"But where her work truly stands out is that strand to her practice that concentrates on pensive, very human narratives. She has an astonishing ability to evoke an emotional response in her readership with little or no exposition, pulling her audience into the lives and experiences of her protagonists through both the deftest visual characterisation and that hauntingly empathetic atmosphere to her pages. It's very much in evidence in The Red Road, in 'Afloat' in the Broken Frontier Small Press Yearbook, and in her slice-of-life tale 'Rejsen' in Dirty Rotten Comics #5."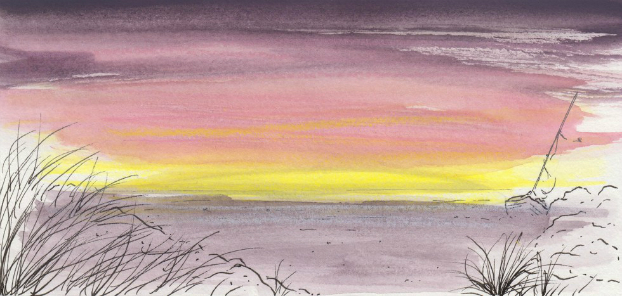 So where next for our latest Breakout Talent winner? Upcoming is a short story collection to be published by Good Comics, that exciting newer crew on the micropublishing scene, which should be on every BF reader's list of highly anticipated releases this year.
On her blog this week Hathaway was as modest as ever about her Award win, deflecting from her achievement and pointing to the comics of one of her fellow nominees instead. It was typically unassuming behaviour from an artist who never rests on her laurels and is always looking at how she can improve her work and push herself forward. Just for a few moments this week, though, I hope she takes a deserved opportunity to reflect on her accomplishments over the last couple of years. She's had an incredible journey into comics since 2014 and we at Broken Frontier have been privileged to be a part of it.
For more on the work of Rozi Hathaway check out her site here and follow her on Twitter here. You can visit her online store here. 
For regular updates on all things small press follow Andy Oliver on Twitter here.