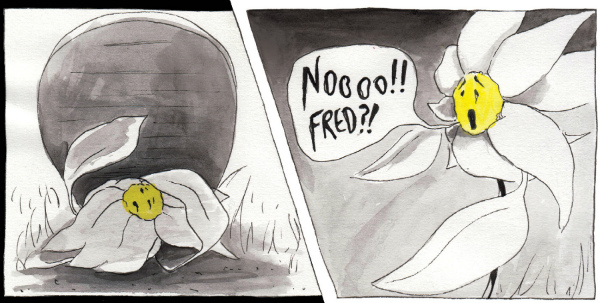 Rozi Hathaway's Sneaky Business could best be described as a mini-anthology of work; one that embraces a refreshingly old school philosophy of self-publishing. I doubt I need to mention it this far into the year but Hathaway is, of course, one of my 'Six UK Small Press Creators to Watch in 2015' who I've been following throughout the year in this column. Her published body of work – as demonstrated in her first full-length comic The Red Road, Keara Stewart's anthology A Bit of Undigested Potato, or her recent contribution to Dirty Rotten Comics #5 – has, to date, had a tendency to consist of more pensive, meditative narratives.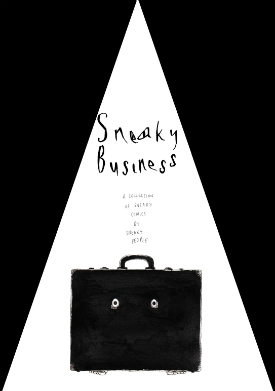 That's part of the reason for her putting together this collection of more light-hearted shorts as, in her own tongue-in-cheek words on her blog "because the majority of my work is quite dark, emotive and serious… how is everybody supposed to know how hilariously funny I am, without me showing them?" It's that self-deprecating, irreverent kind of humour that is very much at the heart of this comics zine project.
Sneaky Business consists of just nine pages of strips: four two-pagers and a one-pager. They're created by Rozi herself, Pete Hindle, Samuel C. Williams, Alex Hahn and Peter James Norman and all of the stories herein revolve around the concept of 'Stealth'. Having taken a particular interest in Hathaway's output this year I was particularly pleased to see how fully she had immersed herself in the broad thematic spirit of things with her two pages (top banner image), a tale of a floral uprising against the heavy-booted oppressors above. It shows a different side of her repertoire entirely, a deft comic timing, and an ability to structure one of those most difficult disciplines in comics – the short story.
Next up is Pete Hindle (below) with an offering that examines the strange workings of the military mind – with specific reference to the practicalities of uniforms for the armed forces – as its tie-in to the 'Stealth' motif. Strictly speaking this one is less sequential art and more graphic narrative in construction. It builds up to perhaps a rather obvious punchline but satirical pieces don't necessarily need to pick hard targets to be effective and biting in intent.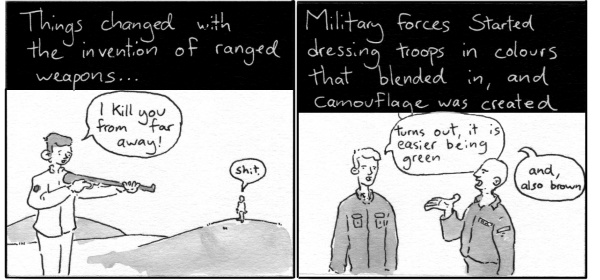 Samuel C. Williams, whose All at Sea I reviewed here earlier this year at BF, gives us a ninja tale with an amiable twist (below). Again, this is very different from the kind of material I've seen from Williams in the past and while his visuals are uncomplicated there's a sense of fluid motion from image to image here that feeds into that final punchline with a witty flourish.

Alex Hahn revisits his alien Blop! character (below) whose spacecraft crashlanding in a dense forest area leads to an encounter with a family of cryptozoological creatures from Canadian folklore. Technically it's by far the strongest offering in the zine in terms of pacing, exploitation of panel-to-panel storytelling and Hahn's wonderfully grotesque character designs. It's also the entry that probably has the most tenuous link to the book's core topic, though.

Conversely, Peter James Norman's one-pager that anthropomorphises negative emotion as a constant inescapable companion does fit into the book's defining principle in terms of subject matter but seems a little ill at ease with the comedic tone of the rest of the comic.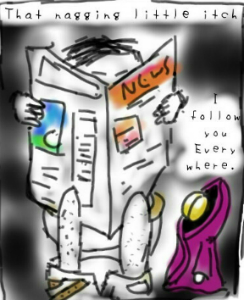 Perhaps we've seen a little too much of a small press shift towards larger scale anthologies as the primary venue for shorter work in the last couple of years. To the possible extent that grassroots collaborative endeavours like this are in danger of being forgotten to a degree. There's nothing groundbreaking or especially challenging about the material in these pages but what Rozi Hathaway has curated here is something that has wonderful potential as an accessible ongoing series of minizines.
There's something incredibly appealing about the almost ephemeral zine-like approach of Sneaky Business; something smaller scale that, nevertheless, acts as a concise showcase for a number of self-publishing talents in one affordable and welcoming package. Let's hope that Hathaway returns to this format again sooner rather than later because this one could run and run…
For more on the work of Rozi Hathaway check out her site here. Sneaky Business debuts at MancsterCon on Saturday and can be pre-ordered from her online store here priced just £2.00. Follow Rozi on Twitter here.
For regular updates on all things small press follow Andy Oliver on Twitter here.