Take a look inside this imaginative and innovative anthology for an exploration of the creative possibilities of slice-of-life comics.
Sliced is a digital-only anthology (released quarterly) edited by Ken Reynolds which describes itself as a 'playground for creators to experiment with the comic book narrative'. Intrigued? Read on…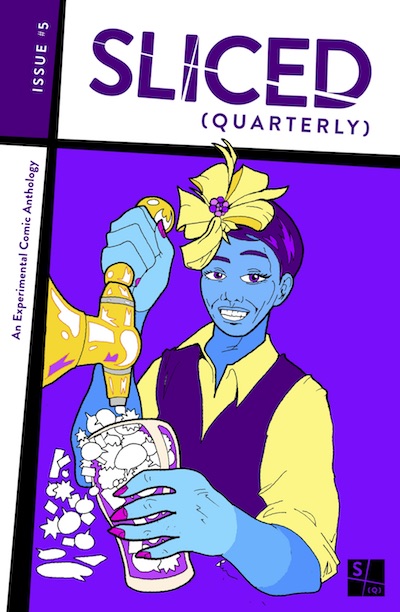 While all the stories in Sliced are, as per its title, 'slice-of-life' comics, they aren't slice-of-life as we might expect to see it. This is a chance for creators to explore the boundaries of the comics medium, and while not all the results might be to everyone's taste, Sliced is providing an exciting place to push the limits of what can be considered as 'comics'.
Sliced #5 focuses on the nebulous theme of 'inspiration, creativity, and collaboration' as the anthology continues to encourage experimentation with not only the content, but also the process, of comics-making.
The most intriguing example of this is a series of one-page comics, scattered throughout the volume like punctuation, by artist Gareth A. Hopkins (below) and a series of different writers (David Thomas, Tony Esmond, Daniel Willcocks, and JP Power).
Each page includes the same highly abstract artwork with different words laid over them, emphasising the nature of the collaboration between artist and writer, and the difference in interpretations of the same set of images. Taken together as a sequence, the pages blur the line between comics and conceptual art, with Hopkins' sensual lines and patterns hinting at the emergence of something mysterious or even divine.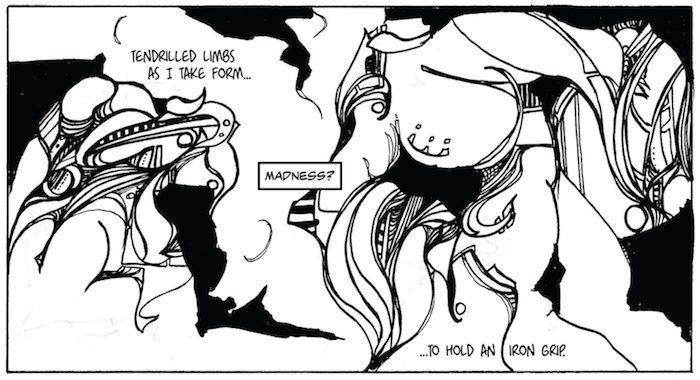 The issue's opening comic, by Bryony Thomson (top banner image), is a much more accessible slice-of-lifer, and downright sweet. The artist muses over her and her father's left-handedness, and shared tendency to be accident-prone. The comic's hand-drawn sketch-like charm is perfect for the moment of quiet family bonding it closes with.
A personal highlight is the art of Julian Adkins in Mikael Lopez's David Loses His Head (below), a short story of artistic escape in a world where writers are held responsible for every act inspired by their words. Adkins' combination of intricate layered graphics backgrounds and simply drawn characters brings an added dimension to an already surreal story. Plus… random llamas.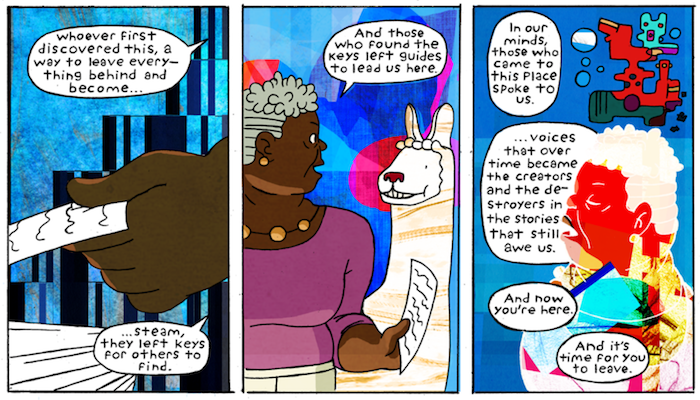 The standard of art in Sliced #5 – from the geometric crammed panels of Bob Schroeder to a beautiful single-page illustration by Saffron Knight – is excellent. The comic is a visual joy in itself, but the best thing about Ken Reynolds' anthology is the space and freedom it gives creators of vastly ranging styles to interpret the 'slice of life' genre. Hopefully future issues will continue to introduce us to new artists and new ideas.
All former issues of Sliced are available to read for free on their website (or if you do want to see more of Sliced in a less-virtual more-physical manner, a Kickstarter is currently running to collect issues #1-4 into a Sliced print volume). By the way – if you do browse through past issues, keep an eye out for the eye-popping Pop Art style of Lukasz Kowalczuk in Sliced #2, and the soft sadness of Kathryn Briggs' tale of immigration and isolation in among the politically savvy works of Sliced #3.
Ken Reynolds (Editor), Various (W/A) • Self-Published, Free (Digital Only)