SMALL PRESS DAY IS COMING!
The UK and Ireland's inaugural dedicated day of celebration of self-publishing, micropublishing and DIY Culture is nearly upon us. This week at Broken Frontier we're breaking down events on the day region by region to give you handy bite-sized guides to the multitude of events scheduled on July 9th. Today we continue with the Midlands and all the shop signings you can look forward to there on the big day…
We'll be collating all our SPD event guides here over the next few days.
The Astral Gypsy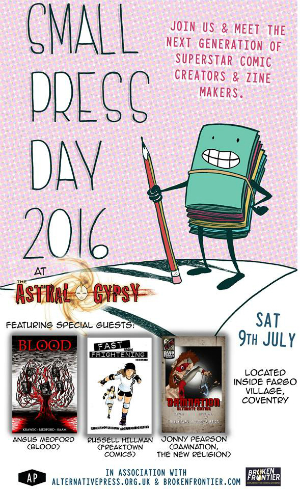 The Coventry shop has three special guests from the small press world signing in store on the day – Angus Medford (Blood), Russell Hillman (Freaktown Comics) and Jonny Pearson (Damnation).
More details on The Astral Gypsy's Small Press Day here
Forbidden Planet Leicester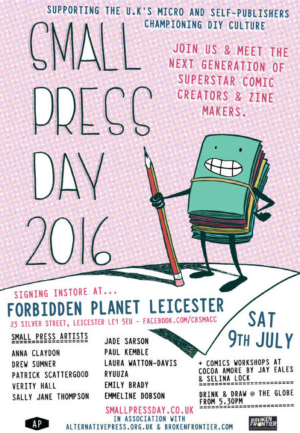 There's a plethora of small press artists to be met at FP Leicester this coming Saturday including Anna Claydon, Drew Sumner (Jupiter), Patrick Scattergood (The Meek), Verity Hall (Like a Shark in a Swimming Pool), Sally Jane Thompson (From!), Jade Sarson (Cafe Suada), Paul Kemble, Laura Watton-Davis (Biomecha), Ryuuza (Soulsnatchers), Emily Brady and Emmeline Dobson (Tempo Lush Tales of the Tanoox).
You can also look forward to comics workshops at Cocoa Amore run by Jay Eales and Selina Lock, plus a Drink and Draw at the nearby Globe pub from 5.30pm.
Full information on Forbidden Planet Leicester's Small Press Day here
Forbidden Planet Wolverhampton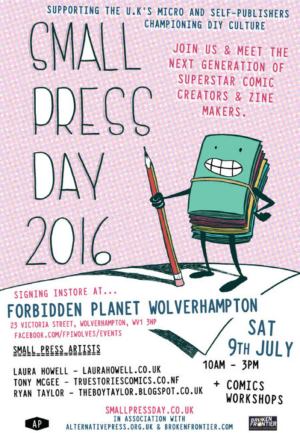 Forbidden Planet Wolverhampton describe their Small Press Day as "a mini small press convention" and you can meet local creators Laura Howell (The Bizarre Adventures of Gilbert & Sullivan), Tony McGee (True Stories Comics) and Ryan Taylor (The Grinning Mask) at their SPD which runs from 10am-3pm.
Full details on FP Wolverhampton's Small Press Day here
Nostalgia & Comics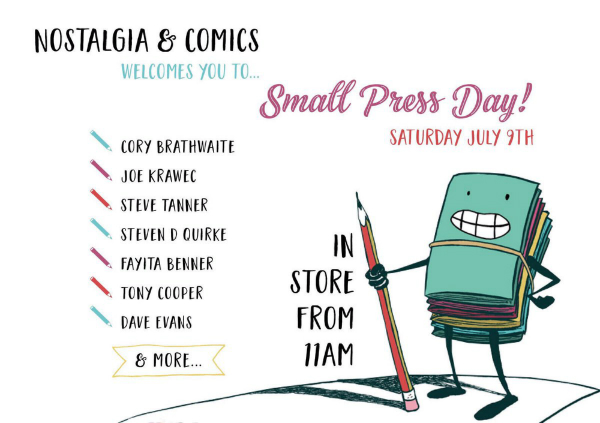 The Birmingham store has hourly signings scheduled between 11am and 3pm.
Announced so far are the following guests: Cory Brathwaite, Steven D. Quirke (The Gee Bees), Joe Krawec (Blood). Steve Tanner (Flintlock), Tony Cooper (Powerless: Some Kind of Hero), Dave Evans (FutureQuake) and Fayita Benner.
More information on Nostagia & Comics' Small Press Day here
Retro Rebel
If you're in the Stratford-upon-Avon area on July 9th then you have the opportunity to meet writer Nick Goode and illustrator Harry Hughes who will be signing copies of their collaborative effort Snow: The Dawn at pop culture and music store Retro Rebel.
Full details on Retro Rebel's Small Press Day here
For more on Small Press Day visit the official site here and you can also follow the Twitter account here.
For regular updates on all things small press follow Andy Oliver on Twitter here.