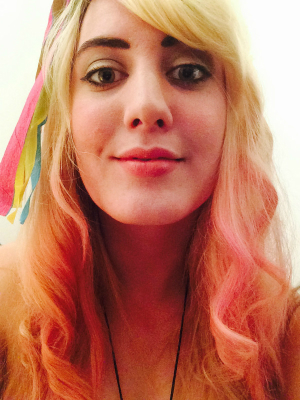 With her flowing visuals, ever inventive layouts and a chameleon-like ability to adapt her style to any number of genres, Jess Milton was always going to be a certainty for inclusion as one of my 'Six UK Small Press Creators to Watch in 2015'. I first discovered her work in the pages of small press anthologies To Arms! and Dirty Rotten Comics and was immediately taken by her remarkable sense of page design and vibrant, fluid panel-to-panel storytelling. Milton has also recently contributed to One Beat Zines' Not a New Wave, was part of the Webcomic Artist Swap Project this year and is a contributor to Julia Scheele's Pencilled Skirts blog. 
Today, in the latest of our Small Press Inside Looks Jess becomes the most recent small press creator to discuss their artistic process and behind-the-scenes working practice in this column. Read on to find out more about her major upcoming project The Flying Ship and Jason, her long-form webcomic LGBT re-imagining of Wuthering Heights, and her thoughts on character design. You can also read my full-length interview with Jess earlier this year at Broken Frontier here.
The Flying Ship
The Flying Ship is a story about a group of lost souls who come together on a journey to find the things they want out of life. Some of them know what that is. Some of them don't. Some of them think they know but they have completely the wrong idea of what that is. The world is full of mystery to all the main characters: they think they're living in Buttsville Nowhere. It's only when the story gets going that they start to realise there's magic and secrets they couldn't have dreamed of. 
I'll start off with The Flying Ship. This is my big project; I've been planning it for a few years and I'm hoping to be ready to go pretty soon. This short comic is a test to see how it might look in black and white with pencil lines. I later decided that I want to do the comic in full colour, so never mind. But it's a little glimpse into their world.
Margot and Jaira are crewmembers on the Flying Ship. They've been lumped together by their exasperated crewmates to work out their differences.
With all my comics, I like to write out a rough script before I start thinking about drawing. I don't plan the panels, just the dialogue and a vague idea of what's going on in the story. I then thumbnail – very roughly – before starting the final product.
I can't spend too long on one drawing. I kill it. I overwork it until it looks like four different people drew it at once. My mantra with any creative work seems to be "That'll have to do." It means things tend to look a bit janky (cars, perspective, feet) but as long as you get the feeling of what's going on and the atmosphere is there, that's the most important thing for me. I would love to make a really believable looking world, but for now I like things to be loose and free looking, so pencils and rough pens suit me just fine.  For this comic I used 6H pencil, scanned and toned in Photoshop.
You can read the full story on Jess's site here. 
Jason (webcomic)
The official tagline is: "A modern LGBTQ adaptation of Wuthering Heights." The story follows Jason; a young art student, moving to the city and failing to leave his weighty emotional baggage at home.  He meets Lon: a popular, mild mannered musician, and Elijah: an emotionally tumultuous, unpredictable grump. Jason is the Cathy to Elijah's Heathcliff and Lon's Edgar Linton.  It's a story of self-discovery, with plenty of heightened melodrama, sex, drugs and rock n' roll.

In this page, Jason and his dad are both reminiscing about the past, and 'the way things used to be.' I wanted to give a sense of things being very different now, despite them being the same people in the same place as before.
Jason is an exercise in storytelling for me. I wanted to try and take something I wrote when I was an angsty teen and give it some artistic merit. I can't tell you if I succeeded or failed… but I did learn a lot about my pitfalls and habits as a writer. Revisiting old work teaches you a lot about your traits as an artist, what you've gained and lost over time.
Trying to stay true to the materials I used back in the day of Jason's conception – I drew this with pencil, then inked over it in V5 Pilot pen which I washed over afterwards, before scanning and toning over the top.
You can read the full Jason webcomic here. 
Tomorrowland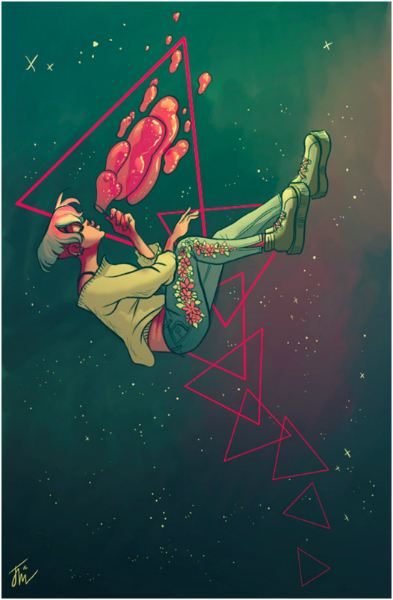 The title of this picture is nicked from a song sung by Deborah Kerr/Marnie Nixon's character Terry McKay in An Affair To Remember. She sings "your troubles, like bubbles, will vanish in air." I drew this sneakily, just after my physiotherapists told me that I was not allowed to draw outside of work for a few months. I wanted to remind myself of the sort of thing that would be waiting for me when I could draw again. I wanted the colours to be dreamlike and ethereal, and sort of comforting at the same time. The girl is posed so that if you rotate her back along the path of the triangles, she's sitting down flat. She's floating, but in reality she's probably sitting on the floor in some ordinary place. It's in her mind that she's escaped to this weird space place.
I drew and painted this all in Photoshop.
On Character Design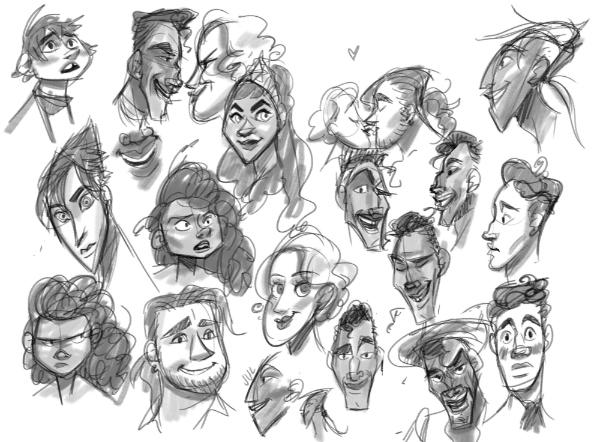 My favourite thing about drawing is the characters. I have always loved drawing faces – I have stacks of sketches of Flying Ship characters that I've been collecting for over 5 years, and they're only just starting to look the way I want them to. I feel like I'm starting to unlearn everything I learnt about drawing people growing up, and its freeing me to be really playful with the way I construct faces.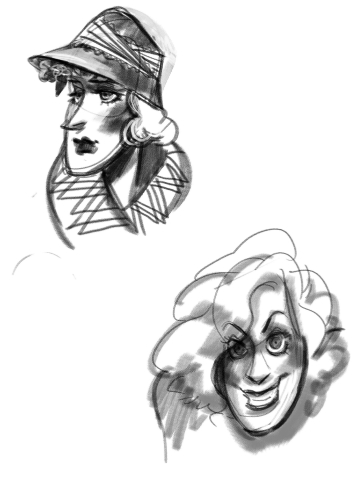 I love the idea that this guy's head is like a banana, this chick's shaped like a cashew (it's usually food based for me.)
When you let go of what you know about a face, you start looking for little eccentricities that make a person unique, and then when you draw a character who looks right it's like; "Oh! It's you! I've been looking for you everywhere!"
I always used mechanical pencils for sketching, you can be really clear about where you want lines to sit and you can see the skeleton of the shape underneath to retrace your steps for the next drawing.
Recently I've been using 'stumpy pencil' – it's the most realistic pencil brush for Photoshop I've found so far.
Peace! J xxx
For more on Jess Milton's work check out her site here and buy her minicomics Kentish Town, The Flying Ship: Pride in My Appearance, and The Magic Flute (story by Paula Albaneze) here. You can follow Jess on Twitter here.
For regular updates on all things small press follow Andy Oliver on Twitter here.