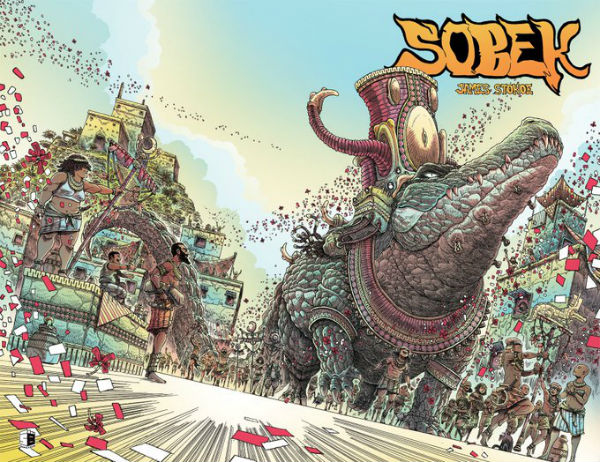 If you were reading US serial comics in the 1990s you'll remember the craze for "cover enhancements" during that period, when the major publishers became locked in an ever escalating game of fad-driven oneupmanship. Foil, plastic, lenticular and holographic covers of largely limited aesthetic appeal distracted from often mediocre interiors as narrative draw was forced to take a back seat to lurid presentation.
None of that can be levelled at James Stokoe's Sobek (published by Zainab Akhtar's acclaimed Shortbox) but I mention it now as a contrast to how effective those cover excesses of the 1990s could have been had they been toned down and more judiciously applied. Sobek – a one-shot tale of an ancient Egyptian crocodile god – makes gorgeous use of gold foil additions to its cover to emphasise the majesty and terrifying grandeur of its titular character. It's one of those tactile elements that could never be replicated in quite the same way digitally and it sets the tone of this account of humanity's interaction with the supernatural from the outset.
On the banks of the Nile, the rest of the crocodilian deity Sobek is interrupted by a deputation of worshippers. desperate for his aid. The jackal-like Cult of Set have overrun and taken over Sobek's patron city and they need his help to drive these nefarious forces out. What ensues is an epic conflict between the two gods. But will the events the priests have set in motion bring the liberation they have hoped for?
Stokoe's art was discussed earlier this year at Broken Frontier in Lindsay Pereira's review of his collection Grunt. Visually, Sobek isn't just a comic to pore over in awestruck wonder but an entire world to be transported to and lose oneself in. There's a level of detail here that is incredible not merely in its intricacy but in its perspective. It feels like there are narratives within narratives; the main story constantly opening up questions about this carefully realised locale and its history, and inviting us not merely to observe events but to explore its environment as well. It's undoubtedly the longest time you'll ever spend reading a 32-page comic, relishing the new details you find on every re-reading.
Colour and lettering play an integral part in the Sobek experience with the green and reddish brown hues rooting it in the verdant and the organic, and lettering/speech balloon presentation skilfully used to denote everything from plaintive despair to malevolent threat. The climactic confrontation between the two gods ranges from dramatic devastation to cleverly paced violent slapstick, with Sobek's laidback and anachronistically contemporary dialogue providing an incongruous line in wry humour.
This isn't a densely plotted affair but it is a gloriously crafted short that can be enjoyed on multiple levels. Whether you interpret it as a parable about unleashing forces we cannot control or as a knowing wink in the direction of traditional genre beat 'em ups, Sobek is undoubtedly a visual feast of a comic, and one you'll come back for more than one extra helping of.
James Stokoe (W/A) • Shortbox, £9.00
Review by Andy Oliver