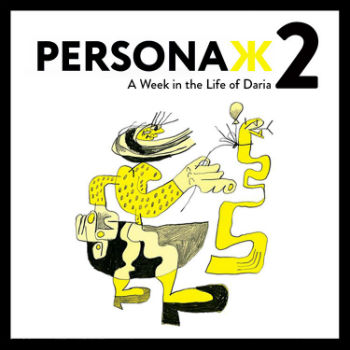 ELCAF FORTNIGHT!
There are echoes of Blank Slate's acclaimed graphic novel Nelson in the latest edition of Russian micropress Sputnikat's PersonaЖ, the second of a series of self-contained anthologies that explore the life of a single character over the course of a week with each day's story being created by a different artist. Think of it as a kind of narrative sidestep to the "exquisite corpse" conceit with a looser, more freeform approach to structure.
The previous volume focused on Moscow handyman Nikolai with this new PersonaЖ switching to the exploits of daring TV reporter Daria from St. Petersburg. We follow her adventures chasing stories, exposing corruption and encountering more paranormal elements, often accompanied by her much loved pet snake.
Unlike the aforementioned graphic novel Nelson, there's far less in the way of an overall vision for the character in the pages of PersonaЖ with each artist approaching Daria as something of a blank canvas. In the opener, set on a Monday, Russian creator Irina Troitskaya brings a childlike energy and an eloquent simplicity to her likeably bustling pages (below left) as Daria and her crew deal with an escaped tiger at the zoo. Fellow Russian Katya Dorokhina's visual style is very different (below right) with the wordless, elegant symmetry of her story of Daria breaking a scandal being a visual highlight of the issue. It's also a reminder that collective efforts like this are often an excellent opportunity to discover the work of international practitioners.
A name that is unlikely to be unfamiliar to Broken Frontier readers is that of Denmark's Mikkel Sommer who has been published by ELCAF founder Nobrow Press. Sommer's "midweek" story (below left) is more introspective, centring on the quieter moments in Daria's life which, in their inconsequentiality, actually oddly flesh out the character and make her all the more sympathetic. Italian artist Martoz's take is a direct contrast (below right) shifting from the down-to-earth slice-of-life of Sommer to an utterly bizarre episode that sees a plague of giant evil angelic flies bombarding the city. Martoz's art mirrors the weirdness of the story with its appropriately busy rawness.
Daria's week is rounded out with tales by Russians Andrey Petranin and Anton Mariinsky, and the UK's William Goldsmith. Petranin provides a fleeting sexual encounter for Daria in pages with a distorted realism that are noteworthy for their abandonment of traditional panel layouts (below left). Mariinsky is another name I'll be actively looking out for in future; an artist whose panels become almost building blocks of each page with text also being integrated into page structure in a humorous look at the working relationship of Daria and her colleague Grigory (below centre). Goldsmith's story is a more tangential affair (below right) with its allegorical account of Russian self-sufficiency but, regardless of its shift away from Daria's world, it's the finest paced account in the book.
Edited by Christopher Rainbow, PersonaЖ is a neat umbrella premise for showcasing the diverse styles of a number of creators and certainly marks Sputnikat out as an exhibitor to watch out for at ELCAF. A third volume is planned for 2018.
Sputnikat will be exhibiting at ELCAF. For more on Sputnikat visit their site here and their online store here. You can follow them on Twitter here.
For regular updates on all things small press follow Andy Oliver on Twitter here.
Catch up on all our ELCAF Fortnight articles to date here. ELCAF runs from June 22nd-24th. Full details on the ELCAF site here and you can also follow the festival on Twitter here.