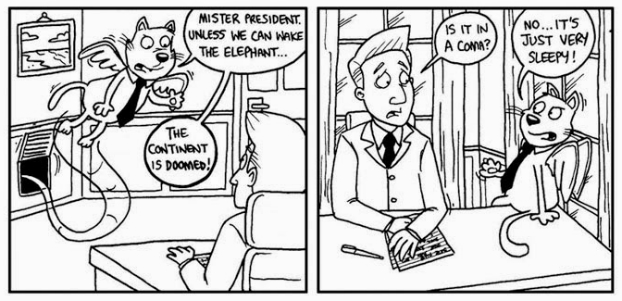 I think we're all aware that the standard complaint aimed at anthology comics is the old chestnut of them being "hit and miss" in terms of content and relative quality. It's a somewhat over-used accusation that in critical terms is sometimes a little lazy; the whole philosophy of disparate creative approaches to a given core theme should after all mean that those stories that appeal to a given reader's sensibilities are counterpointed by those that challenge their aesthetic standards and boundaries.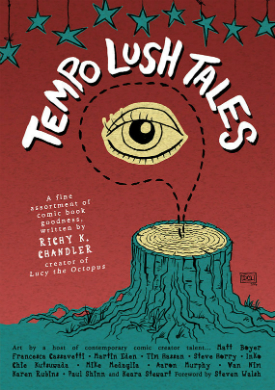 Richy K. Chandler – whose collected Lucy the Octopus strips have been a great favourite here in 'Small Pressganged' over the years – has a novel way around this oft-trumpeted complaint of inconsistency with his Tempo Lush Tales anthology. Fourteen creators are involved in this book but there's a stability throughout in that each and every story is written by Chandler himself, playing to the visual strengths of each of the individual artists teaming up with him.
Tempo Lush Tales is also a showcase for a section of the UK small press scene that probably don't get quite as much coverage in 'Small Pressganged' as others – those who work in the more obvious genre fiction fields. Indeed, there's a certain sense of community to what Chandler has compiled here with Steven Walsh of London's Gosh! Comics easing the audience into the proceedings with his celebratory foreword and Keara Stewart (editor of the excellent A Bit of Undigested Potato anthology reviewed here at Broken Frontier) providing welcoming introductory portraits of each creator involved.
To say there's a diversity in subject matter and style in Tempo Lush Tales would be a criminal understatement. In fact one of the greatest strengths of this collection is Chandler's creative generosity in partnership with his chosen artists. Each individual offering seems structured to emphasise first and foremost the artistic voices of his respective collaborators rather than his own authorial presence which is almost subsumed within each narrative.
Keara Stewart's portraits of Richy K. Chandler, herself, and Spandex creator Martin Eden
It's also something of a checklist of the storytelling possibilities inherent in the comics form. 'Smoky Digital Seahorse', illustrated by Steve Horry for example, playfully utilises comics' unique panel-to-panel relationship with the passage of time. It's a clever contemporary fantasy offering that focuses on a father who provides his daughter with the opportunity to travel in time that is nevertheless grounded in reality by Horry's slick visuals and clean line.
That same type of chronological manipulation is similarly exploited in a four-panel short 'Amy's Hat' tracing the cycle of fashion with some lovely and rather knowing pacing from Van Nim. And there's a further employment of time as narrative device in the manga-style pure sci-fi of 'Two Sons' (below) – art from Inko and Chie Kutsuwada – with its fractured use of flashbacks to explore its themes of dystopic future and familial loyalty.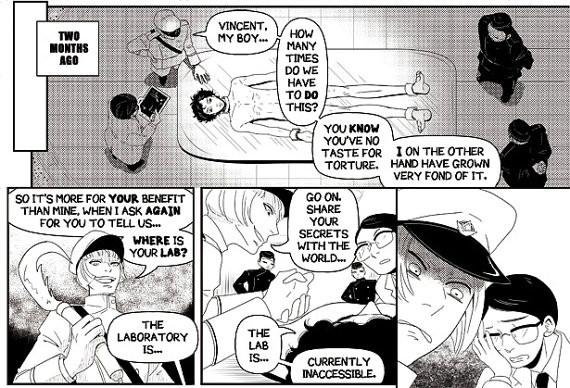 Some of the offerings are in that familiar Future Shock territory; essentially constructed to work up to a twist ending. 'Peacemaker John' (below) with moody and crisp visuals by Tim Hassan – a creator whose work we see far too little of – is a clever play on the super-soldier theme with a neat sting in its denouement. 'President of West Tibia' (top banner image) – a comedic look at a future where humankind has decreased dramatically in population and society is shared with cybernetically enhanced animals – is brought to punchy life by the always lively cartooning of Paul Shinn but suffers slightly from a more laboured build-up; the full potential of an intriguing premise never being fully developed and eventually giving way to a slapstick conclusion.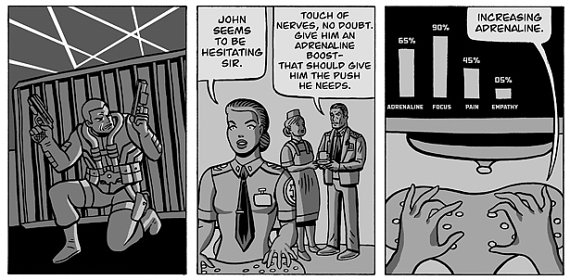 Francesca Cassavetti is one of the UK small press's most overlooked talents and her 'In the Bedroom' (below) with Chandler is a very adult re-interpretation of the idea of childhood toys having a life of their own, but with a distinctly voyeuristic slant – a wonderful visual juxtaposition of the child-like and the contemporary. 'Save Night-Time for My Dreams' brings Mike Medaglia into the mix with an evocation of the dreamscape which is simultaneously ethereal and bizarre, though this four-pager suffers somewhat from Medaglia's style being more suited to a page size that lets his art breathe more.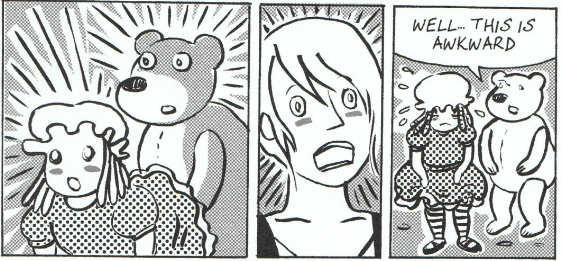 As ever with anthology offerings it's only possible in a limited word count to cover a certain proportion of Tempo Lush Tales's contents. What is so appealing about this title, however, is that in Richy K. Chandler it has a showrunner who has suppressed his own creative ego in deference to the talents and abilities of his co-creators. It's an approach that is refreshing and commendable, and one that yields admirable results here.
For more on the work of Richy K. Chandler visit his site here. Tempo Lush Tales is available to buy online here priced £7.00.
For regular updates on all things small press follow Andy Oliver on Twitter here.