Quirky, unusual and delightfully inventive, The Cigar That Fell in Love with a Pipe, an enchanting and ultimately tragic story by David Camus and Nick Abadzis, weaves together two romances – one doomed in Hollywood lights, and the other lingering desperately in curling cigar smoke or a faded handcrafted pipe shut up behind glass in the collection of an artistic genius.
The story is set around the end of the train-wreck marriage of screen legends Orson Welles and Rita Hayworth, at their Hollywood home, just prior to the release of his latest film.
Orson receives a box of six cigars – a congratulatory gift from an anonymous benefactor. However, rest assured: these are no ordinary cigars. In fact, as Orson puffs the first of the box, he realises that these were the last cigars ever rolled by Cuba's greatest torcedora, the queen of cigar-rolling, Conchita Marquez.
It's through his smoke-drenched, romanticised storytelling that we, the readers, learn of her surreal and strangely melancholy tale; of her journey from the tobacco factories of Cuba to a ship to Switzerland; of her skill in and love of cigar crafting; of her death from a sudden and unexplained tobacco allergy; and of her odd, ghostly love affair with a pipe-whittling sailor.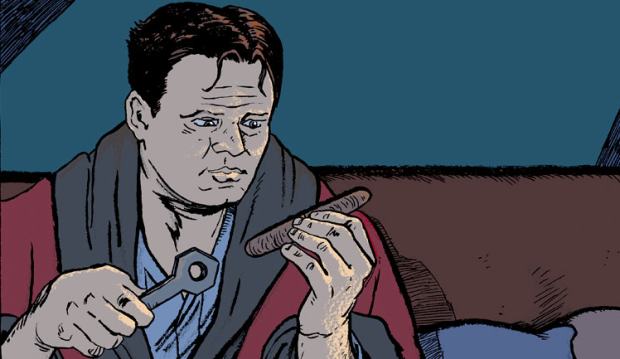 Throughout this account, the artwork of Nick Abadzis weaves together narrator and narration with clever and imaginative pages filled with charming, cheeky and richly expressive artwork. Characters past and present are brought to life (or afterlife) with a range of colours and a style that balances cartoon-like humour with elegant emotive storytelling.
From the dim gloom of Orson's study pours one particularly captivating dream sequence in the short and bewildering life of the famed Conchita; in a slightly more loose style, surrounded by sun and stars and billowing cigar smoke, she drifts over the land and sea in a gentle foreshadowing of her later smokey form.
For as Conchita dies, her soul remains behind, bound to the last cigar she ever rolled. It passes into the possession of the sailor she herself had fallen in love with. He dies at sea and, in much the same way as hers did, his soul passes into the last thing he ever created – a pipe carved and painted in his likeness. A pipe that, through fate or luck or perhaps just plain coincidence, finds itself in the private collection of one smoking aficionado – Orson Welles.
And so just when it seems that one bizarre tangled love story is about to meet a happy ending and two lovers will be united across time and space, another romance is set to get in the way. Hence the story reaches its real conclusion – the true reason why Orson Welles and Rita Hayworth could no longer make it work.
Rita gets a bit of a hard deal in this tale: her character doesn't have nearly as many dimensions as Orson is given and comes across as quite nasty. But then, neither Conchita nor her sailor are particular multi-faceted either; they are painted as figures in a rather unconventional fairytale. It's enjoyable and enthralling to watch their story unfold, but the depth of feeling for them and their romance isn't really there.
All in all, Orson is the only figure whom the reader is really called on to side with, and as such the story as a whole – while charming and fantastically different – is not one that will have you coming back time and time again. However, it's certainly worth at least one quiet sat-down read through; cigars optional.
David Camus (W), Nick Abadzis (A) •  SelfMadeHero, £14.99,  May 2014