In 2013 Oliver East's Swear Down saw one of our great pioneers of psychogeographical comics narratives add a poignant extra layer to his travelogues in a graphic novel that combined his usual perambulatory meanderings with an account of his difficulties coming to terms with his wife Clare's near death giving birth to their son. I described it as "poignant, witty and employing an admirable candour" here at Broken Frontier last year and Swear Down also gained a much deserved nomination for Best Original Graphic Novel in our Broken Frontier 2013 Awards.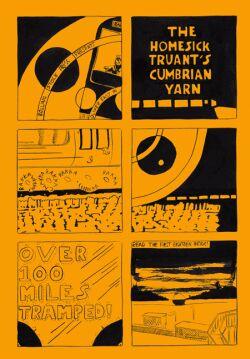 Since Blank Slate Books first collected his previously self-published Trains Are… Mint comics back in 2008 East's walking diaries and their deft but refreshingly unpretentious ability to capture snapshots of British provincial life have become a staple of the publisher's output. Comissioned by the Lakes Festival, in conjunction with the Brewery Arts Centre, The Homesick Truant's Cumbrian Yarn #1 – part of a series of A4 minicomics – recounts events on East's travels as he walks the railway lines between Arnside and Carlisle. The first leg of the journey from Arnside to Grange Over Sands is the subject of this inaugural offering which opens with a handy map of the diversionary route that is dictated by circumstances beyond his control (below left) and some visual signifiers of the adventures to come in the next near-twenty pages…
As narrator East is as engaging as ever with his inimitably dry, slightly dour manner bringing an often wry smile to the reader's face. Where Cumbrian Yarn diverges from his previous work is in the more noticeable presence of Oliver East the on-panel character which subtly shifts the way we view the work, giving us an East who instigates events rather than passively observes them. The storytelling is also more linear, employing a largely conventional panel-to-panel approach. (And is that a speech balloon I spot in one panel!?) As a result the comic feels less hazy, less dreamlike than we are perhaps used to experiencing from some of his previous walking diaries.
As is always the case with East's work we're more than one step back from the reality of what he portrays; his near abstract visuals stripping back events and landscapes to a core impression of their actuality, reducing them to their core essence but, at the same time, imbuing them with an intrinsic veracity that would be lost in the detail of any overly rendered image. Once again it's first and foremost a re-creation of his memory of the walk rather than the walk itself.
What's particularly intriguing in Cumbrian Yarn is his explicit use of the standards of the comics form to communicate a sense of space and time. Sound effects, for example, are noticeably played with. For example, on the page above right they are utilised to signify a shooting party's intrusion on his walking reverie as they punctuate an entire sequence of his trip with their "scattergun jollies" – their position to Oliver signified by the increasing or diminishing size of the on-panel "KRAK"s. The black and white visuals also provide some spectacularly effective images. This walk was undertaken in the height of the extreme weather that swept the UK earlier this year and that devastation is a recurring motif throughout this opening issue, with the inky splashes that represent storm-swept Britain in the opening pages being especially evocative.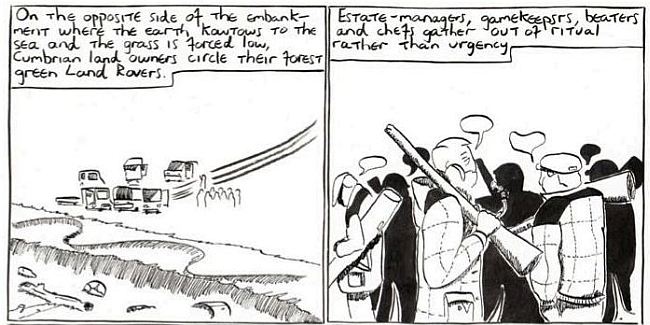 What remains an East staple, however, is that deadpan commentary on the people he encounters and the misadventures he has along the way. Drifting in and out of the pages of Cumbrian Yarn #1 – like transient supporting characters – are local residents engaged in flood repairs, the aforementioned hunting party and, quite memorably, a rather tenacious dog. The reductionist art in the scene wherein the latter chases our hiking hero perfectly captures the pure terror of the occasion far more effectively than any overtly elaborate depiction of the event ever could (below).

There's a constant back and forth throughout as the focus shifts between location and narrator, both vying for their place as the comic's "protagonist". Narration fading into silent snapshots of landscape before moving back again to a more garrulous perspective on the latest of the day's incidents. The Homesick Truant's Cumbrian Yarn is as honest, spontaneous and unaffected an offering as we have come to expect from one of British comics' true originals. The perfect complement to Swear Down or the first volume of Trains Are… Mint for those yet to sample Oliver East's refreshingly individualistic approach to the medium.
For more on the work of Oliver East check out his site here. The Homesick Truant's Cumbrian Yarn #1 can be bought online here priced £3.00 plus postage and packing. You can follow Oliver on Twitter here.