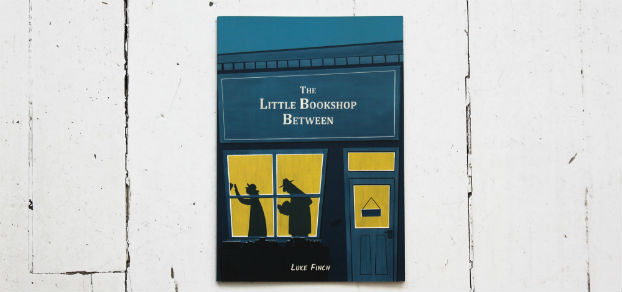 We've given significant coverage this summer to the projects of Baguette Trousers – the small creative collective who are made up of artists Chloe Elise Dennis, Sinae Carrotate Park and Luke Finch. That's included a full spotlight interview with the trio here and a look at their debut anthology Artificially Coloured here. I'm also still catching up with books I picked up at this year's ELCAF so today's review subject ticks both boxes, being both an ELCAF debut comic and also the first full-length comic by Baguette Trousers member Luke Finch.
The Little Bookshop Between showcases the strengths of Luke Finch's charming cartooning to great effect with its clean line, representational and expressive characterisation, and just a hint of animation design. It focuses on a frustrated young novelist whose style and approach has fallen out of favour not just with the public but with his publisher as well. After a tense meeting with his editor ("Dragons are trending at the moment… Have you thought about a dragon story?") he stops off at a coffee shop where he will make a most fateful discovery.
Noticing a crack in the wall of the shop, his tampering opens up a hole into a long walled-off adjacent building. Crawling through he discovers therein a forgotten bookstore and the skeleton of its former owner Elsie Winterton. Reading her journal he becomes privy to her final days in the book shop in a tale that takes in corporate greed and entrapment, and learns the horrible truth of how the bookstore was cut off from the world outside…
The immediate take-away from this debut solo comic is that, comics or otherwise, Finch is the most engaging of storytellers. His command of prose marks out his talent as a writer as well as a comics creator. While this is a particularly text-heavy comic, not one word is unnecessary or wasted, every paragraph works in perfect tandem with its accompanying imagery. In its study of Elsie's last years, confined inside a bookstore, shut away from the outside world with only the characters of great fiction to keep her company, The Little Bookshop Between is a love letter to literature and a reminder of the freedom it brings when we can't escape from the more immediate pressures of life.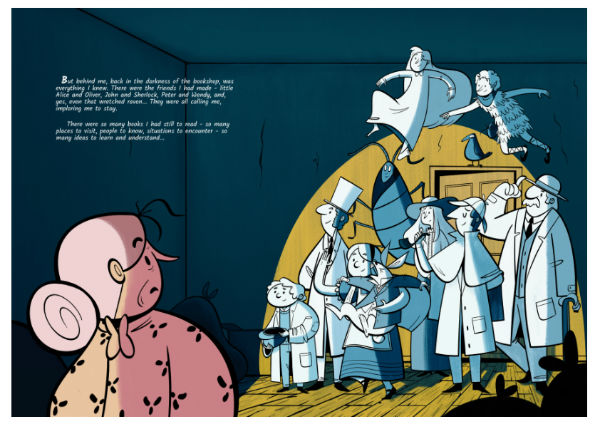 Finch's use of colour to mirror the themes of the comic and the mood of scenes is masterfully applied; dark colours signal oppression and confinement, lighter more vibrant ones speak of the release of the exterior world or a flight into the solace of story. But while The Little Bookshop Between speaks to us on an immediate level about the inspirational joy of reading and the magical distractions of story, Finch is still capable of throwing a suitably unpredictable twist into his tale. Keep the closest of eyes on the future output of Luke Finch, If this comic is anything to go by we will be hearing a lot more about this artist in the months and years to come.
For more on the work of Luke Finch visit his site here and follow him on Twitter here. You can order The Little Bookshop Between from his online store here.
For regular updates on all things small press follow Andy Oliver on Twitter here.
Review by Andy Oliver