Rob Jackson is a small press comics creator who could never be accused of falling into a genre-specific rut. The Storytellers and California for example – the two projects I'm looking at today – are worlds apart in subject matter. The former is a collection of vignettes from the lives of the Jackson clan bringing family history to the comics page while the latter is something altogether different; an ominous supernatural thriller set in Depression era America. Interestingly, there's also a major difference in terms of presentation between the two titles, with California embodying old school, no frills, small press production values and The Storytellers being handsomely squarebound with an attractive glossy cover.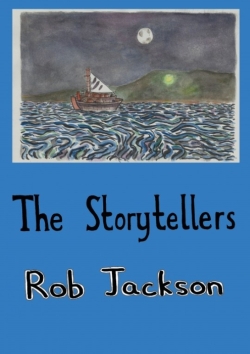 Longer-term 'Small Pressganged' readers certainly know of my love for all things "slice-of-life" by now but, with a new Broken Frontier, we have an expanded audience who may as yet be unaware that I have a marked penchant for the autobio strand that is particularly well represented in the self-published scene. The Storytellers is obviously an expansion of that idea – in that it's a family biography rather than a directly personal observational piece – but it's full of those moments of enduring humanity that make this line of comics work such a rich and rewarding reading experience. And the accompanying pages of vintage photographs of some of the Jackson clan that are featured at the back of this book also help foster a tangible connection between the reader and protagonists of the stories.
The Storytellers begins in 1853 with a young Robert Jackson (a recurring family name throughout!) moving in, after the death of his mother, to live with his grandfather at The Anchors Weighed pub in Preston. Attempting to console his distraught grandson, the elder Jackson starts telling him tales of his time as a young man when, for a short time, he was involved in the smuggling trade off the Isle of Man. From here, in a series of anecdotal episodes, we begin to learn more of the Jackson family going back a generation or two and, eventually, the history of this sprawling dynasty moves forwards all the way to the 1950s by the book's end.
While the narrative can be a little choppy at times, as the reader is dropped in and out of the cast's individual tales, there's something very engaging about this book. Some of the stories have a distinctly dark comedic value to them: the account of sailor Richard Jackson being mistaken and arrested as a revolutionary when taking shore leave in Chile, for example, has a literal gallows humour to it. And you get the feeling that the wonderful tale of a 1923 family funeral, where the deceased had insisted the mourners visited every single one of the seventeen pubs on the route to the cemetery and had a pint in each one in his memory, is one that has been retold with relish over the decades by the Jackson line!
Pages 1-3 of The Storytellers
Admittedly, Jackson's art has a certain naive, unsophisticated quality to it but that, for me, represents one of the guiding principles of the traditional small press's appeal; that the act of getting out there and making self-published comics is just as important as any perceived notions of technical ability. There are, however, some lovely landscapes realised here and something almost a little Tintin-esque in the way that the visual representations of the characters are so stripped back to their essential basics in an otherwise detailed world. The Storytellers is an immensely enjoyable romp through the traditions of familial oral history; sometimes poignant, sometimes dramatic, and sometimes very funny.
California is a very different kettle of fish in tone. This four-issue series is something akin to a The Waltons/H.P. Lovecraft hybrid; a historical horror piece with a little retro social commentary thrown in for good measure. Herein we have a family who have just lost their farm looking for a better life in the titular California. On their long journey there, an unplanned-for-stopover in a small rural town will change all their lives forever. Younger brother Jake comes under the influence of an ancient stone monolith in the local woods, giving him strange healing powers while his brother, the book's protagonist Billy, is forced to stay behind in order to pay off the repairs to the family car.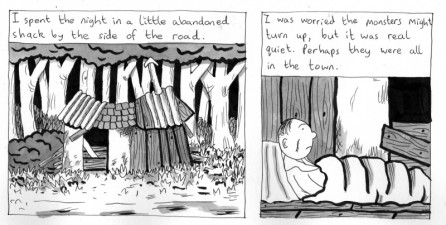 The eerie atmosphere of California…
As the story progresses, Jackson throws in a heady mix of tension-heightening ingredients as Jake's newfound abilities lead him into a cult-like religious life and it becomes more apparent that something darker is lurking in the shadows pulling the strings. Mass abductions, Cthulhu-like entities and surreal other-dimensional madness are the order of the day as Billy seeks to free his family from the supernatural menace that has enveloped them.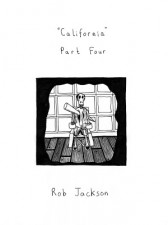 Normally when I 'm reading comics for review I'm constantly breaking off to scribble down thoughts for later elaboration. Of note with California is that I read the whole lot in one sitting without once stopping to jot anything down. I simply got lost in a cracking good yarn. Again, the art is a little unrefined but that almost seems to be part of the charm of Jackson's work. And, that said, I have to say I was reminded more than a little of those nightmarish "otherworlds" that populated the pages of Steve Ditko Doctor Strange comics by the time California had reached its mystical realm-hopping final couple of issues.
Of these two offerings I would suggest that The Storytellers is probably the more accessible introduction to Rob Jackson's work. It's 75 pages of Jackson genealogical gems that leave you feeling rather privileged that Rob chose to share them with you. But for those of you with a darker mindset then the sinister stirrings of California have a pulpy, disturbing atmosphere to them that may well be more to your tastes…
For more on Rob Jackson's comics check out his site here. California #1-4 and The Storytellers are available for purchase at his online store on the site.