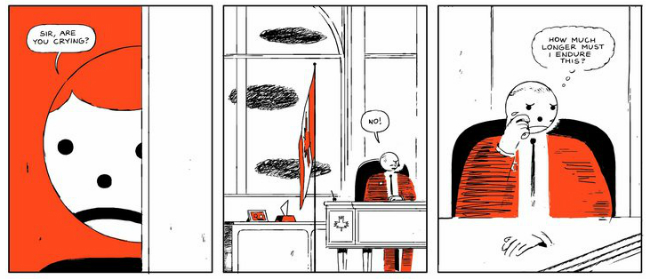 Comprised of the two short pieces 'The Prime Minister of Canada' and 'Talking Sweat', Michael DeForge's latest Risograph release via London's Breakdown Press sees the prolific comics artist operating within his signature sphere of existential, defiant, dissociative ideas, while deviating from his often anarchic approach to colour and form, and extracting new possibilities from the more restrained visual palette of the publisher's understated aesthetic.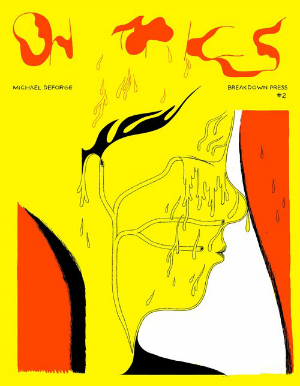 Adopting the round headed simplicity of fellow Toronto illustrator Aaron Leighton, and patriotically coloured in red, black and white, 'The Prime Minister of Canada' sees DeForge extrapolating the inner thoughts of a youthfully idealistic, yet ultimately unsuited, national leader. "I'm the Prime Minister of Canada, but I'm other stuff, too. I'm a drummer, a philosopher, a lover, an adventurer", the figure we might loosely associate with Justin Trudeau reassures himself after another nugatory day of making "bullshit speeches about some bullshit legislation".
We've seen DeForge's characters clawing at their lack of agency within a restrictive system before (2014's Ant Colony in particular springs to mind), however the more real world basis of this day-in-the-life story lends a special humour, and a certain measure of sympathy, to its potty-mouthed and adolescently recalcitrant subject.
With this second 'Prime Minister of Canada' reference in the comics world this year (the first being Trudeau's starring role on the Ramon Perez-illustrated variant cover of Marvel's Civil War II: Choosing Sides #5 last month), DeForge explores the viability of a relatable, humanistic, independently-minded individual 'keeping it real' whilst operating within the cold mechanisms of institutionalised power. The effect is an appropriately playful document of how Canada's liberal-leaning younger population might see itself and its endearing leader, which adroitly steers clear of any didactic political tenor.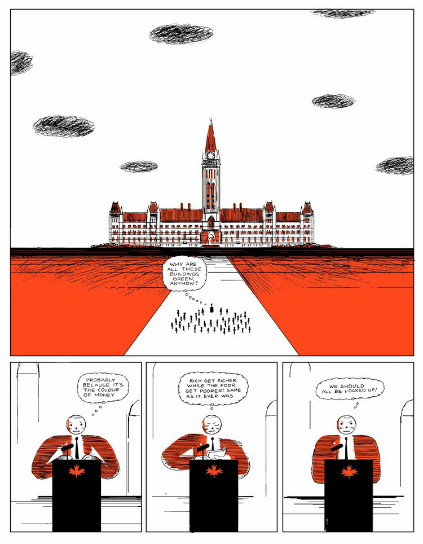 The book's second instalment, 'Talking Sweat', falls more thematically in line with 2015's On Topics #1. Building an atmosphere that is at best disquieting, and at worst verging on unreadable for the more squeamish among us, this pseudo-biological tract nevertheless manages to transcend the one-note, bodily functions-based grotesquerie that all too often obsesses the world of small press comics. Owing to DeForge's ever present emotional sensitivity and idiosyncratic sense of humour, this 11-page, mustard-hued treatise on the science of sweating unexpectedly evolves into something else entirely, demonstrating its writer's singular ability to take the bare bones of a topic and invent a world of meaning and mischief around them.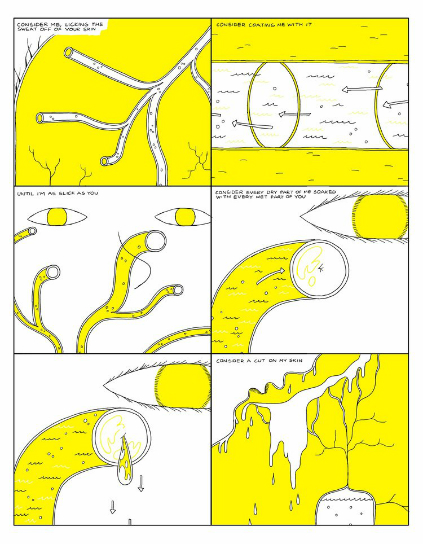 "You might have seen recent high-sodium diets in the news, or come across packaged saltwater drinks in health food stores, all advertised as ways to replenish sweat bladders", our unreliable narrator toys with his anatomical diagram, who demonstrates increasing agency and sentimental engagement from panel to panel. By the end of the piece, as commentary becomes conversation, and sweat becomes tears, we find our feelings of detached dualism and revulsion at the human body replaced by a surprising tenderness. DeForge can't resist the propensity to remind his readers that we are all mere bags of flesh and valves, whose only hope is to connect with and care for our fellow beings before shuffling off this mortal coil.
Where its two halves may have benefited from a greater congruity of tone and theme, the strength of the creator's personality secures On Topics #2 as a memorable addition to DeForge's ever increasing portfolio. As amusing as it is affecting, loyal followers and new readers alike will be surely charmed by this characteristically intelligent release from one of comics' most exciting young talents.
Michael DeForge (W/A) • Breakdown Press, £8.00, September 2016
You can order On Topics #2 from the Breakdown Press site here.