THOUGHT BUBBLE 2023! There's something alluringly unsettling about the art of Aled Lies, one of the creators who make up the Idiot Corpse collective. True Story, available at Thought Bubble this year, reprints his very first comic, originally created as part of Inktober a few years back. If you're familiar with his work from the first Idiot Corpse anthology, hedgehog horror story Marchog Draenog, or Other Truths you'll already be familiar with his particular brand of dark comedy-drama. If not True Story is an excellent starting point.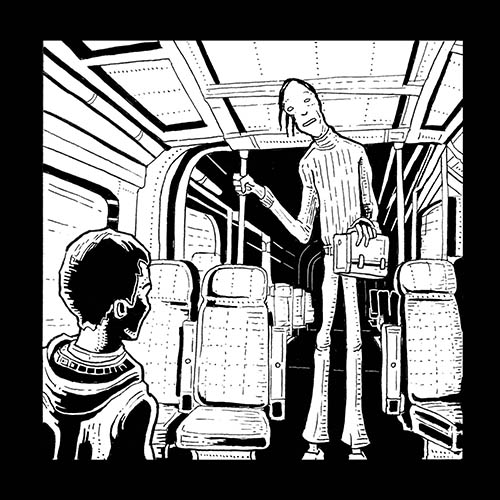 Set on a commuter train this 20-plus pager's main character is an ordinary young man simply minding his own business in his carriage. Before long however he is joined by a gangling fellow traveller with a strangely disproportionate physicality, and later by a distinctly avian humanoid. As the journey continues the weirdness escalates and we find ourselves taking a netherworldly trip to nightmare shadow realms inhabited by manipulative ethereal beings and ungraspable truths…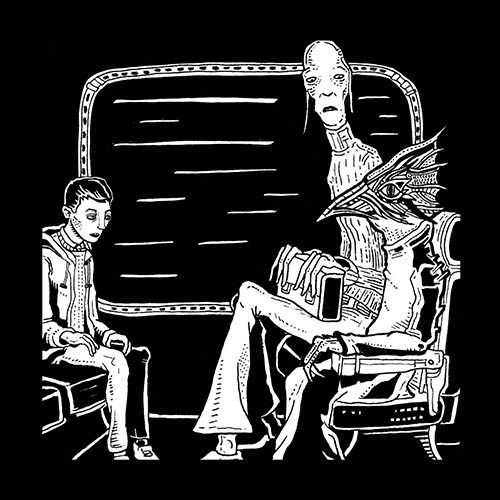 Like some of Aled Lies' previous work True Story asks the reader to make their own narrative interpretations. Each page is a single image and this is entirely "silent" storytelling with no dialogue, narration or exposition. That only adds to the eeriness of the story with the deep black and the contrast of light and shade intensifying this disturbing trip into the bizarre.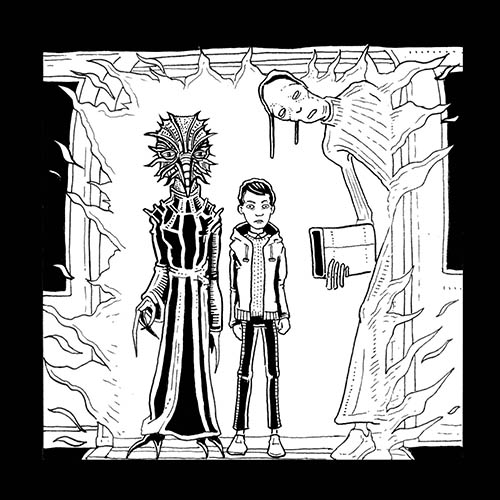 It doesn't matter how you choose to interpret True Story – a piece on identity, an examination of how we are often at the whims of forces completely out of our control, or simply an exercise in stream-of-consciousness surrealism – all takes seem equally valid. Another exercise in oddly appealing obliqueness from the mind of a UK small presser deserving of far more note.
Aled Lies (W/A) • Self-published
Visit the Idiot Corpse site here for more on the work of Aled Lies
Aled Lies is with Idiot Corpse at Table B68-A  in the Dstlry Hall at Thought Bubble 2023
Review by Andy Oliver