Riffing on the "Exquisite Corpse" storytelling set-up Idiot Corpse is an anthology exercise in narrative experimentation from Aled Lies, Dylan Wyn Owen and Shehzad Ahmad (with a striking cover by Katherine Durant). The trio each chose eight subjects which were then drawn at random and had to fashion a story around them. Some of those elements might be objects (a snow globe, an octopus, a robot), some might be actions (a French kiss, killing, experiencing the effects of psylocybin), and some may be a little more… shall we say… esoteric (Baphomet, a loose eyeball, a hand preserved in a jar of formaldehyde).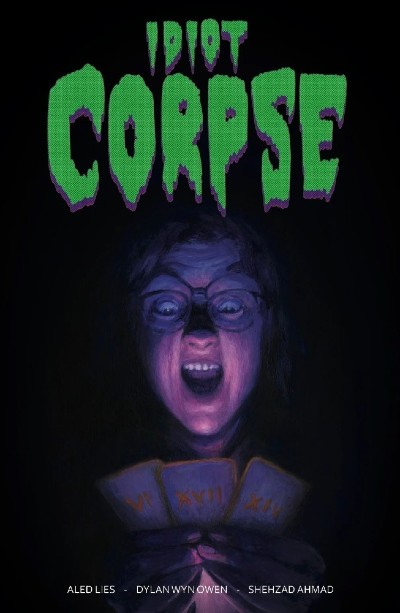 From there each creator wrote their stories in seclusion. But rather than drawing them themselves there was one final twist in the process. Once again at random the stories were shared out among them so that no one illustrated their own writing, leading to three tales built on a fascinating foundation of creative alchemy.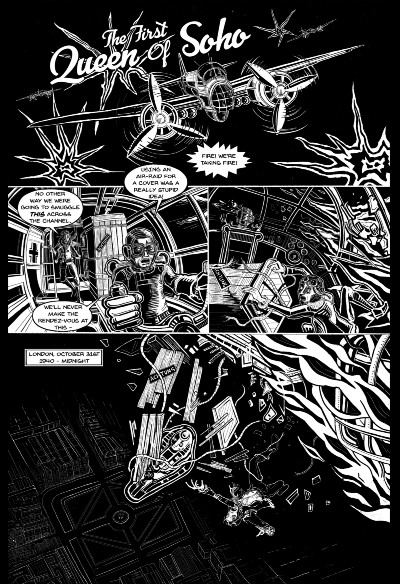 The opening story 'The First Queen of Soho' (above) written by Dylan Wyn Owen and illustrated by Aled Lies is a strong opener in terms of the way Owen takes the disparate elements he is required to include and moulds them not just into a cleverly crafted story but also ensures that as plot points their connections never feel awkward or clumsy in their inter-relationships. Aled Lies' deep black backgrounds and intricately crafted linework impress throughout, with every panel crammed with detail in this account of wartime smuggling, 1940s Soho nightlife and a mystical artefact from another long-gone era.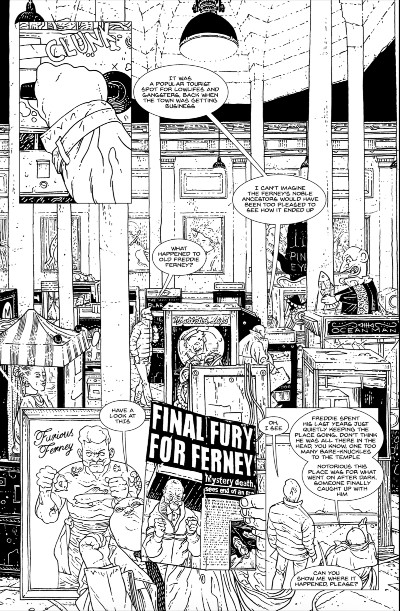 Aled Lies' tale 'The Centre of the Earth' (above) is visualised by Shehzad Ahmad who proves a particularly good fit for this creepy tale of supernatural family legacy and Lovecraftian horror, centring on the Ferney clan and the long history of Ferney Hall. Ahmad's fluid, sometimes almost organic style perfectly juxtaposes the fantastically ethereal and the grittily urban aspects of the story. Lies, meanwhile, pulls off one of the trickiest assignments in comics providing a short story that works as a discrete and fully realised entity in itself but also leaves the reader wanting to revisit this world and its characters.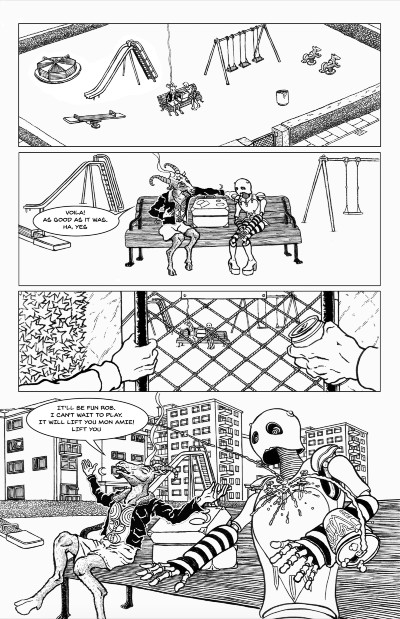 The final entry 'Foreign' (above) is written by Shehzad Ahmad with art by Dylan Wyn Owen, an effective allegorical piece of social commentary from Ahmad wrapped up in the trappings of demonic interaction with the mortal world. Owen's panel-to-panel storytelling opens up as the story progresses with some truly inventive and playful page structures that add a visceral frisson to the proceedings. UK indie comics fans may note some familiar faces appearing in cameo in this story…
Sometimes the components that each writer had to include in their story are major plot points, sometimes they are background details. Given that each story is, by definition, the sum of its structural contrivances, the spectacle of their assembly is as much a part of their draw as their narratives. In short, each tale shouldn't necessarily be analysed simply from the usual position of critical consideration because, to use a sporting analogy, as much evaluation needs to be given to how well each team can be said to have played the game as the final results thereof. Nevertheless, even without foreknowledge of the intriguing storytelling conceit that sits at the heart of Idiot Corpse this would be a much recommended collection of bleakly humorous misadventures.
Lies, Owen and Ahmad's first collaborative effort also provides inspiration for this week's edition of the Gosh! Comics and Broken Frontier Drink and Draw which you can find out more about here!
Review by Andy Oliver