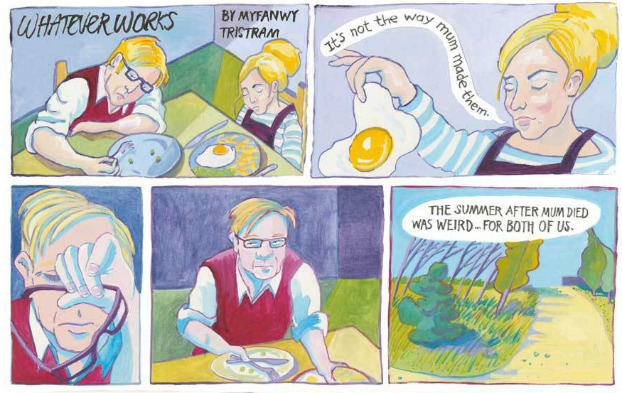 As a shared platform anthology space Two Birds is an intriguingly different offering. It brings together two Brighton-based creators – Myfanwy Tristram and Zara Slattery – whose subject coverage differs quite considerably and yet their experiments with the form, and playfully diverse approaches to storytelling, still complement each other surprisingly well.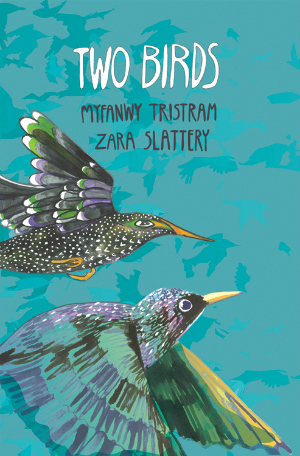 Tristram's comics in Two Birds are often reassuringly comforting – tales of family life, travel and parenthood with the occasional sidestep into whimsical material. Slattery excels in a purer use of the language of comics – dreamy visual metaphor that pulls us into the mindscapes of its protagonists with sporadic forays into darker, more haunting stories.
With their work largely alternating throughout the line-up of Two Birds the most notable unifying link between the two is their pronounced use of colour to heighten mood and build atmosphere. For Tristram that is often embodied in the vibrant hues she uses to denote a child's eye view of the world or a sense of discovery. Slattery's colouring is often of a more subdued variety and depicts a sense of the dramatic, the tense or a swirling otherworldliness.
Framing much of her material around the familial, Tristram kicks off the proceedings with two pages of 'Snippets of Conversation' between parents and offspring on the walk to school. It's a signifier from the outset of her ability to bring the smaller moments of life to the page in all their keenly observed splendour, inviting the reader to build entire narratives around the merest of throwaway lines.
'Underdog' (below left) follows that loose theme – a quiet but absorbing one-pager that emphasises the mother-daughter bond with a witty flourish that is nonetheless both subtle and layered for all its overt humour. A number of Tristram's pieces here invite the reader to investigate her work further online but two complete shorts are of particular note.
'Whatever Works' (sample, top banner image) provides an exploration of the parent-child relationship from a more flawed scenario but is no less heartwarming for that. 'Out of Sync' has a neat allegorical feel to it as a synchronised swimmer uses the rhythmic beat of her training to take control of her entire environment with magical results. It's the most ambitious piece in the book from Tristram and makes clever use of sound effect lettering to move the story forward.
Slattery's work in Two Birds is more introspective but it also asks the reader to play a greater role in each strip in terms of interpretation and interaction. 'Don't Pick the Flowers' is a mesmerisingly immersive piece on how we respond to art while her similarly themed 'Klimt Soup' (below left) is perhaps the highlight of the comic with its inspired contrast of colour and black & white art. It's a sumptuous visual feast that communicates the power of the Austrian painter's body of work in a unique and arresting way.
Similarly, 'The Last Flight of Amy Johnson' utilises a very subdued colour palette to give a feeling of impending doom in its account of the final hours of the famous aviatrix while 'The Beast of Levelling Moss' (above right) is similarly muted. Its near sepia layouts adding to the atmosphere in an eerie tale of country life.
Where Two Birds is less successful is in its format. The art is often restricted by the A5 page size and sometimes panels and sequences that need room to breathe and flow instead feel cramped in presentation. Despite that small note, however, this is still a rewarding introduction to a comics double act unafraid to both approach and explore the form from a series of constantly shifting perspectives.
For more on the work of Myfanwy Tristram visit her site here and follow her on Twitter here. You can visit Zara Slattery's site here and follow her on Twitter here. Two Birds is available to buy online here. 
For regular updates on all things small press follow Andy Oliver on Twitter here.