"Two stones, but one shape."
One of the hardest feats in comics is to meaningfully tell a story in a short and succinct page count. There's a need to hook the reader's interest immediately, to create something that is memorable rather than ephemeral, and to ensure audience investment in characters and events. To achieve just one of those objectives in four pages would be an achievement. To manage all three is the mark of a creator with an innate comprehension of pacing, story structure and page composition.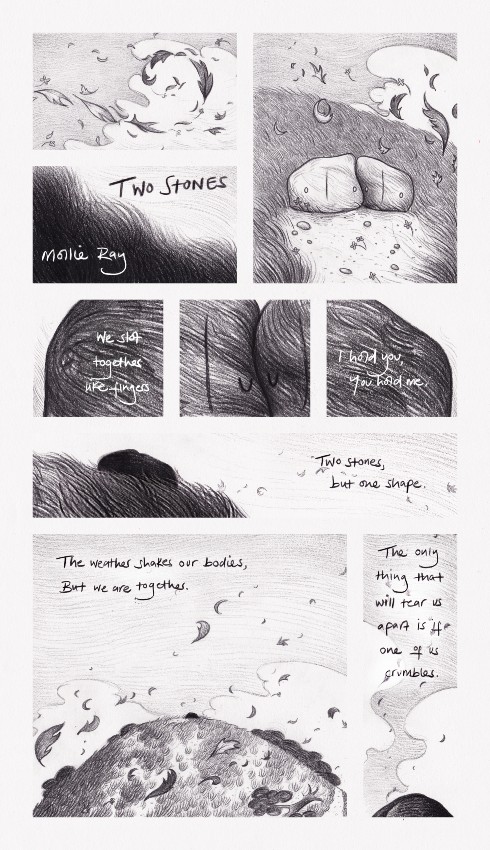 Mollie Ray, one of the artists we recommended you keep a close eye on as part of this year's Broken Frontier 'Six to Watch' line-up brings all those qualities to her capsule comic Two Stones. It explores ideas of love and companionship through an extended visual metaphor that considers how external factors can impact relationships. Centring on two nestling rocks on a hillside, and narrated by one half of that "partnership", we follow the story of these representational inanimate objects whose interdependency and intimacy is gradually eroded by the elements, their environment and human interference. But can love still find a way despite all the challenges and obstacles thrown in its way?

As is often the case with anthropomorphic storytelling devices, Ray's story is ironically all the more affecting for its translation of human fragilities to a non-human reality. But there's also a very poetic quality to this short. Ray's narration is haunting and lyrical with tight, immediate panels giving a sense of an alternative world existing unwitnessed within our own. This is similarly echoed in Ray's tool of breaking down one larger panel into component panels, and a handwritten lettering style that gives the story a very personal and connected feel that further elicits our empathy.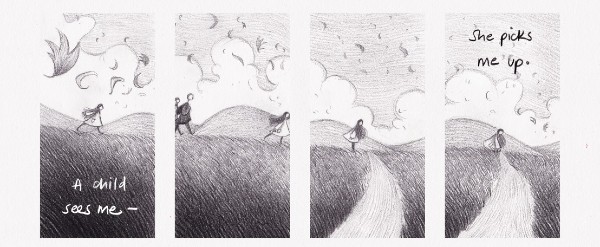 Created on cartridge paper in black pencil, Two Stones is also characteristic of Mollie Ray's beautiful use of light and shade. This is a perfect entry point into the work of this emerging talent in UK comics and those wanting that first introduction to her work can read Two Stones online for free here.
For more on the work of Mollie Ray follow her on Twitter here and on Instagram here. You can visit her site here and her online store here.
Review by Andy Oliver