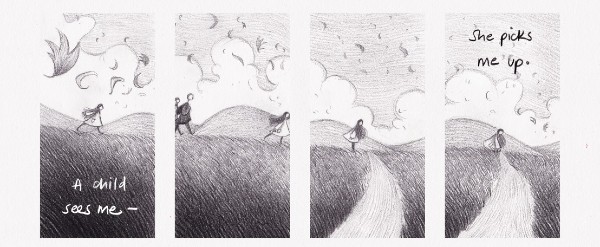 Mollie Ray was one of the many artists who submitted four pages of comics for our BF one-tweet reviews event on Twitter as part of last year's Small Press Day celebrations. From just that small handful of pages I immediately knew she was an creator I wanted to feature as part of 2021's Broken Frontier 'Six to Watch' coverage. Since the beginning of the year I've reviewed two of her shorter-form comics Two Stones and At Any Given Time, and been hugely impressed with what I have seen. It seems I am not the only one given the recent news that Mollie's first graphic novel Giant has been picked up by publisher Faber & Faber!
In the second of this year's 'Six to Watch' interviews I talk to Mollie about her distinctive use of visual metaphor, her creative process, and the power of graphic medicine…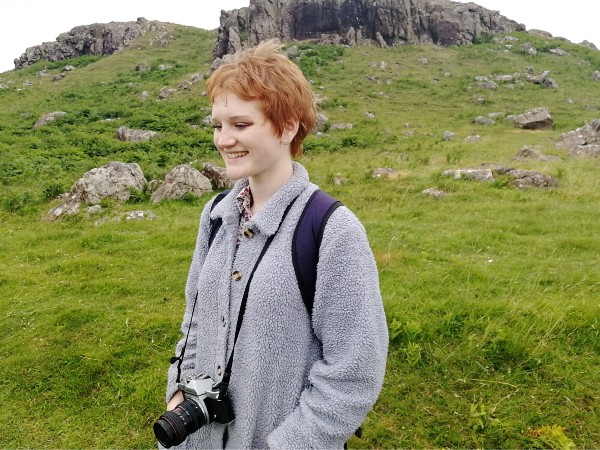 ANDY OLIVER: Let's begin with you introducing yourself to the BF readership. Can you tell us about your wider artistic background and your introduction to comics as a medium?
MOLLIE RAY: I am an illustrator and graphic novelist from Cumbria, based in Lancaster. I received a First in BA (Hons) Illustration from The University of Edinburgh, graduating in 2019. It's one of the biggest cliché's going, but I have been 'the art kid' my whole life. I realised along the way however, that it wasn't just about drawing for me – I've always been inspired to tell stories in some form. I was very interested in animation growing up, and would say a lot of my inspiration comes from stop motion films that I watched as a child.
I was first introduced to comics as a medium for telling stories when I was around 15, when I created the most horrifically gory graphic novel (inspired by my girlfriend's taste at the time), start to finish, in a similar vein to Batman: Arkham Asylum. Moody teenage Mollie then branched into reading some more grounded, but still nonetheless awe-inspiring graphic novels like The Arrival by Shaun Tan, and notably Lighter Than My Shadow by Katie Green, a graphic novel that played a huge part in my recovery from anorexia at age 17/18.
This really taught me the power of the genre, and I have since always strived to create comics and stories that make sense of something emotionally challenging for me – in a sense, it has been a kind of therapy. I've had some brilliant support along the way, including the librarian at my secondary school and good friend still today, who has found some amazing opportunities for me, such as LICAF enabling me to print and sell my first 'proper' comic at the festival when I was 18. And of course, not least, my mum, who has always pushed me to pursue my passions – I'm very grateful for that.
AO: I first discovered your work when we ran a Broken Frontier one-tweet review event on Twitter as part of Small Press Day 2020 and you submitted some pages from your graphic-novel-in-progress Giant (above and below). As a newer creative voice on the scene how important has engaging with the wider UK indie comics community been to you in taking your work to wider audiences and getting feedback and support from creative peers?
RAY: When you reached out to me to be one of Broken Frontier's '6 to Watch in 2021', it inspired a huge amount of confidence in me. Being acknowledged as a comic creator in the wider comics community gave me that little push to reach out to literary agents, and consequently I have just signed my first publishing deal with Faber & Faber.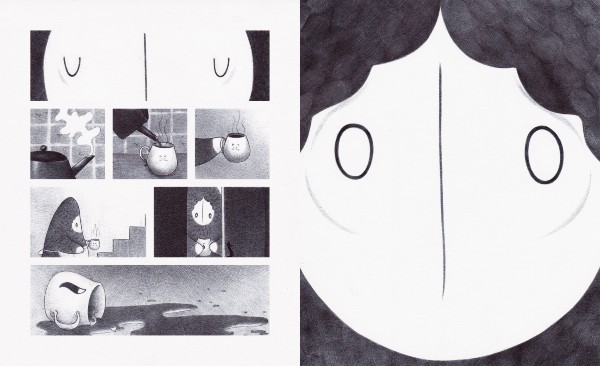 As mentioned in the previous question, I have also had opportunities presented to me thanks to my lovely friend Gemma, the librarian at my old secondary school, which not only gave me confidence in my work, but has enabled me to meet some really inspiring and talented comic book creators. I was also very lucky to be surrounded by very talented people at university; a greenhouse of constant creativity, bouncing ideas around and spurring each other on. This was huge in developing my practice, and I would argue the most valuable aspect of my course.
AO: The first full comic of yours that I reviewed at BF was Two Stones (below) which was notable not just for its poignant qualities but for the way it played with page and panel structure. It fits very much for me in that growing strand of graphic poetry being practised by innovative artists like Peony Gent. Would you say there was a poetic element to your shorter form comics?
RAY: I would say that was very accurate. I start the process for most of my stories by writing poems, or simply writing streams of consciousness, that capture the feeling that I'm trying to convey. I am a big fan of the Magical Realism genre, particularly for its poetic quality in mixing metaphors with reality as a storytelling technique. I would say this is a constant stylistic quality in my own work – I've always found analogies very helpful in trying to make sense of feelings that can often feel hard to pin down.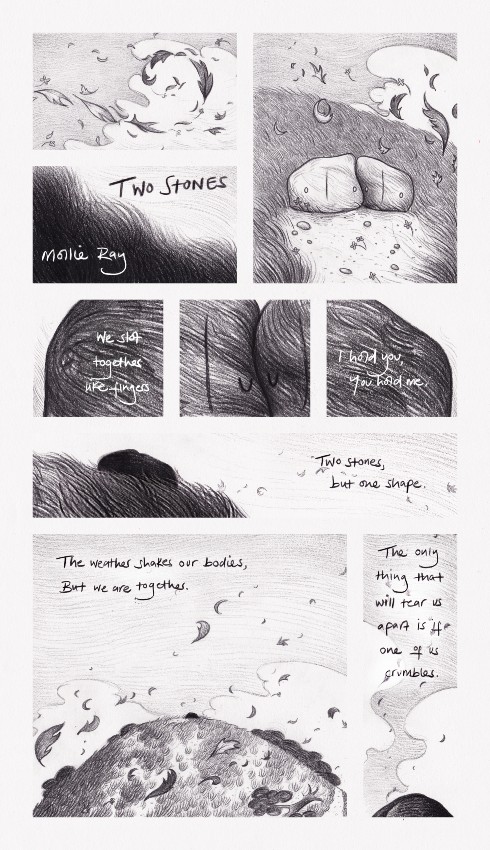 AO: Your art has a very distinctive style with an often haunting fragility and a very considered use of shading and light. Can you describe your artistic process and the mediums you work in?
RAY: Firstly, thank you – you always choose the most beautiful words when describing my work and it makes me feel very important! Interestingly, although my style is very intricate in shading, I tend to draw very simplistic line work. I love soft, round edges and simple faces, I find it almost comforting to look at, like children's book illustration. As I mentioned, the detail comes in the shading for me and how tone, light and shade can draw the eye to certain parts of an image. I have dabbled in digital colouring, and don't get me wrong, I'm not ashamed to admit that a lot of neatening up happens in Photoshop and InDesign, but I have always come back to simple mediums (I can't help it), such as ball point pen or coloured pencils.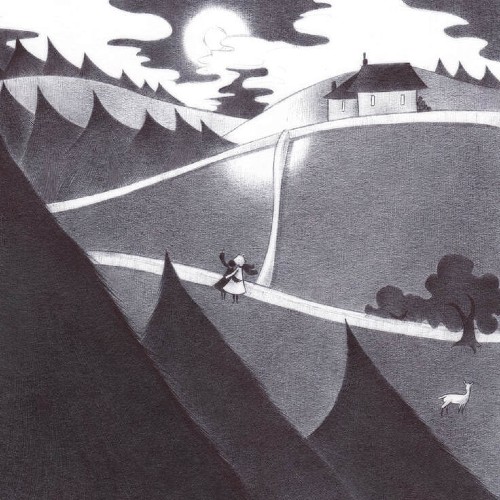 AO: Something that's very apparent in your short comics is a sense of place and environment. To what degree do your surroundings in a more rural locale inform your comics work?
RAY: Even when my stories delve into whimsical realms, they tend to be founded on real truths in my life. Being raised in Cumbria, most of my experiences have taken place in the countryside, which has massively informed my perspective of the world both visually and emotionally. It helps me to write a convincing story if I can picture it really happening, which is a lot easier if it has actually happened, and it will have almost always happened in a rural environment for me (apart from living in Manchester for two years, even Edinburgh was very green when I needed it to be).
On a more floaty note, I have always given myself a little 'mountain therapy' in tricky times. It's normally when I take myself off somewhere that I have an idea.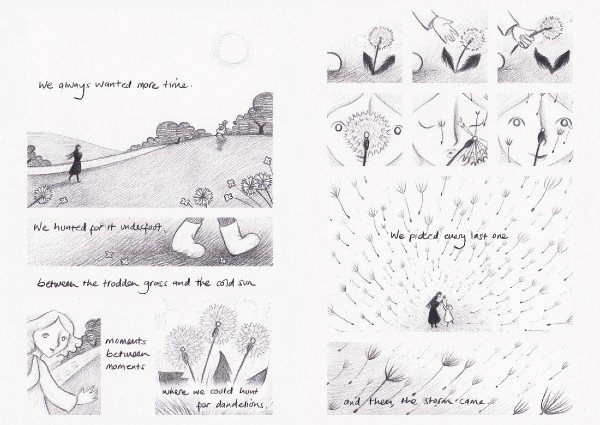 AO: At Any Given Time was your recent pandemic comic which I described as "one of the finest pieces of pure craft that the growing graphic medicine sub-genre of pandemic comics has produced" when I reviewed it at BF. Why did an allegorical approach to lockdown work for you in expressing your feelings about lockdown and the last year over a more literal one?
RAY: As previously mentioned, I have always found visual metaphors and analogies allow me to make sense of things more easily. The initial idea actually came from when I was wondering around the garden with my little brother during lockdown, hunting for dandelions. It was moments like these that allowed me to see a more beautiful interpretation of quite a difficult experience – as much as I enjoy tearing apart my own reality on the ground, sometimes it's kinder on the brain to imagine that really, it's all just dandelion seeds up there.
AO: Following on from that and the standard question of the moment, how has the pandemic affected your approach to your work? How have you been forced to adapt to the challenges of the last few months?
RAY: At the start of the pandemic, I (and the cat) moved back to my family home, in which my mum, stepdad and 7 siblings also lived during lockdown. I was sleeping on the sofa for the first three months (as you can imagine, there wasn't much space), so I often did a lot of creative stuff outside. I get very 'thinky' outside, and realised I hadn't focused on creating smaller projects for a long time, but always big graphic novel type projects. This is how I ended up producing three comics (At Any Given Time, Two Stones and I Didn't Notice [below]). Doing these smaller projects taught me a lot, as well as doing some free illustration work for Cancer Research UK, as it allowed me the time to experiment with panel structure, colour, medium and subject matter.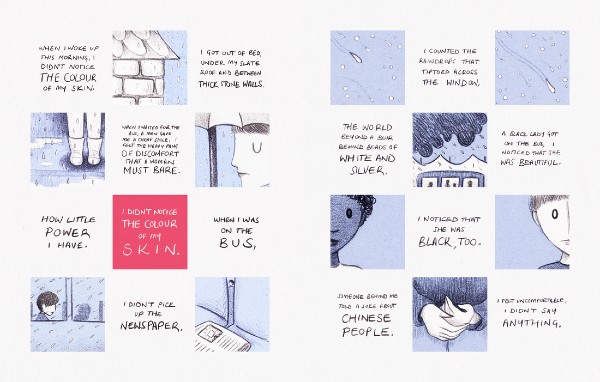 As I imagine it did for a lot of people, it also gave me the time to reassess, focus on my mental health and dig my way out of my overdraft. I would say if anything, it helped me a lot, as I now have a much happier, more stable day-to-day, and feel much more inspired since taking the time to rebuild my life after quite a traumatic year before the pandemic. One very important thing that I discovered, is that the 'starving artist', 'forget everything else, hate your part time job and just make art' mindset, doesn't really work for me. I needed to be happier generally to be inspired to make new work, and I found an amazing supporting job as a cook surrounded by wonderful people, which gave me the mental energy to get where I am now, with a very unexpected publishing deal (not to mention, a new flat in Lancaster with my partner and a very adorable new kitten).
AO: Let's talk about the exciting news that your graphic novel has been picked up for publication by Faber & Faber. Can you describe to us the premise of Giant? Who is it aimed at?
Giant is a graphic novel inspired by the journey my brother faced after being diagnosed with Hodgkin's Lymphoma and how our family were affected. The main character wakes up one morning to find he has grown to the size of a giant, which acts as three metaphors: the physical mutation of cancer; the idea of feeling like the 'elephant in the room'; but also, the 'giant' strength he takes away with him following his recovery.
Although of course, the graphic novel is aimed at those who have faced or are facing cancer, the book is largely for those whose loved one is facing or has faced cancer. It was important to me to get across the fact that having someone you love going through something so scary is terrifying in itself, and that you shouldn't disregard your own experience or mental turmoil if this is you, just because what your loved one is experiencing might seem worse.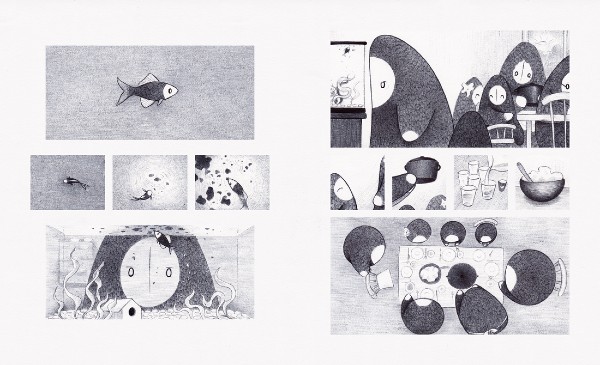 Despite my story being about cancer, I would hope that with the graphic novel being silent, that anyone who has experienced a traumatic illness or a loved one having a traumatic illness, would be able to relate to it and project their own story onto it. This is my favourite thing about silent visual narratives, the way they can connect with a much larger audience by telling a story that requires the reader to fill in the words from their own understanding.
AO: How did the book come to Faber & Faber?
RAY: I (in the dead of night) decided to find myself a literary agent, after much mental debate as it was a much-discussed topic at university as to whether it was worth getting one. I consequently found James, and it's safe to say if you find yourself the right one, it's absolutely worth it. James was a real godsend in taking this project forward, and wrote a glowing email to a variety of publishers containing the first chapter of my graphic novel. I had a few people interested, but Faber & Faber were the one I was particularly excited about.
I then received a very nonchalant text from James, whilst I was taking the bins out at work wearing a very filthy apron from a day's cooking, saying that Faber had offered me X amount of money and that details were in the email! It's safe to say I very much threw 'cool' out the window; I was completely gobsmacked.
AO: Giant employs some very distinctive use of visual metaphor. Why do you think that connects so well with readers when it comes to graphic medicine?
RAY: I think particularly with it being silent, the use of visual metaphor makes the specificities of the illness more ambiguous, leaving room for the reader to interpret the story in a way that best relates to their own experiences. There's also something to be said about the 'clinical-ness' of medicine, and I think a more poetic approach to depicting the hospital experience captures the more emotional, raw side of the whole journey.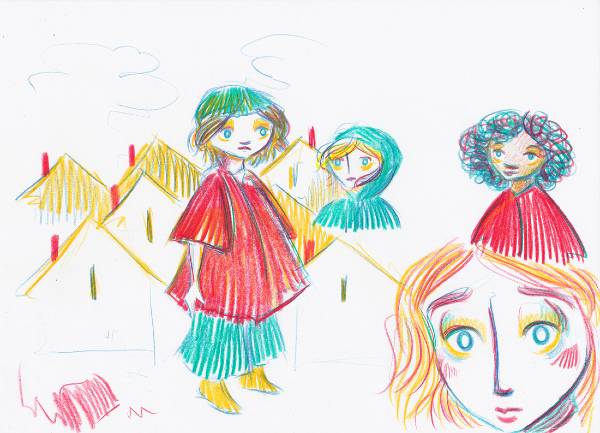 AO: Obviously you have an entire graphic novel to be concentrating on for the foreseeable future but are there any other projects you have planned in the near future? Have you thought beyond Giant?
RAY: Apart from some upcoming illustration commissions, for now, Giant will definitely be the centre of my comic creating world. I do however, always have a lot of future graphic novel ideas littering the notes on my phone. It's safe to say I don't think I'll run out of future comic plans anytime soon!
For more on the work of Mollie Ray follow her on Twitter here and on Instagram here. You can visit her site here and her online store here.
Interview by Andy Oliver