One of the most curious elements of our lockdown/pandemic existences has been the way it has forced us to examine the way we perceive the passing of time. Months merge indistinctly into each other. Time's passage takes on an elastic quality with days feeling like weeks, and weeks feeling like days. And the routine familiarity of those regular markers on the calendar has crumbled into something nebulous and ever more indefinable.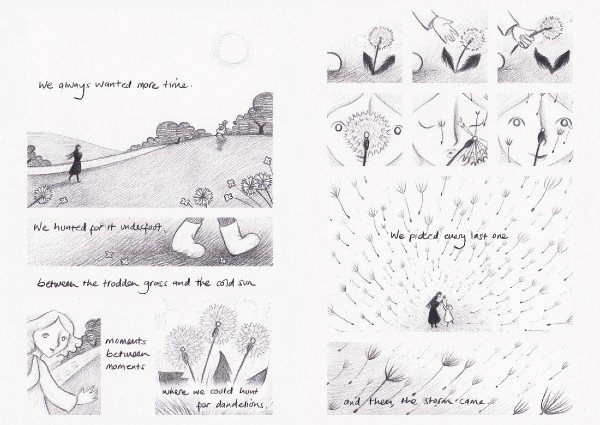 Broken Frontier 2021 'Six to Watch' artist Mollie Ray's At Any Given Time uses visual metaphor to explore this period in our lives, one "where time was once precious and has now suddenly been given to many of us in abundance, but not necessarily without harm." Ray's delicately constructed approach to the page has been covered before at Broken Frontier as part of our one-tweet reviews Small Press Day event last summer and via a review of her online comic Two Stones here earlier this year.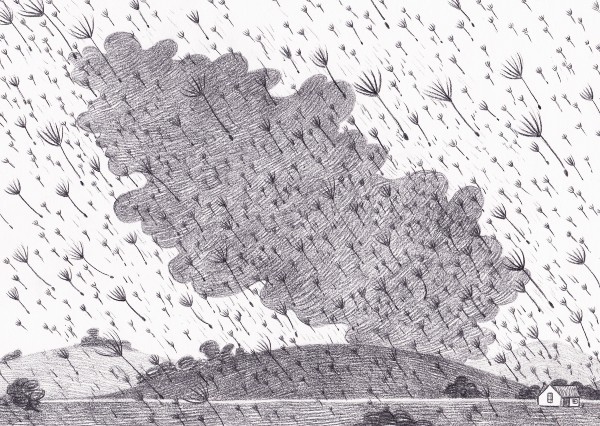 Many will remember that outdoors childhood game of "telling the time" by blowing on a dandelion, with the number of puffs it took to blow off all its seeds representing the time of day. At Any Given Time takes that as a starting point in a symbolic piece of storytelling that combines haunting, fractured visuals with a meditative, poetic accompaniment. Time for ourselves, as represented by fields of dandelions, is initially a precious treasure. Something to savour and relish and yearn for. A commodity of value simply because of its scarcity.
But then, as representative of that life-changing shift of March 2020, time becomes all. A storm of dandelions descends on the small cast of characters who suddenly find themselves sheltering indoors from the turmoil outside. That once precious and longed for ideal becomes something other, something corrupted by the storm. "It brought us more time than we ever could have asked for" underlines the narration, as if some kind of monkey's paw wish fulfilment had tainted asked-for opportunity with insecurity and uncertainty.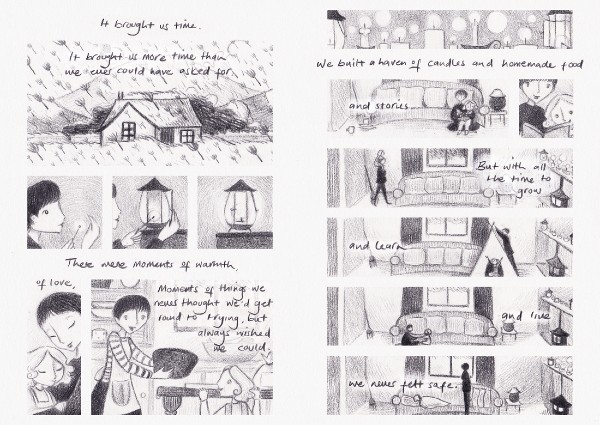 At Any Given Time allegorically echoes experiences we have all had over the course of the last year but also serves as a wider piece on how the desirability of our free time is ultimately defined by its brevity. Once again there's a fragility to Ray's visuals, each carefully arranged image, whether double-page spread or small fragmentary panel, feeding further into the strange paradoxical sensation of confined freedom the comic creates. As sequential art responses to lockdown go At Any Given Time is more an expression of experience rather than a direct account, and it's that quality that makes it one of the finest pieces of pure craft that the growing graphic medicine sub-genre of pandemic comics has produced in the last 15 months.
For more on the work of Mollie Ray follow her on Twitter here and on Instagram here. You can visit her site here and buy At Any Given Time from her online store here.
Review by Andy Oliver