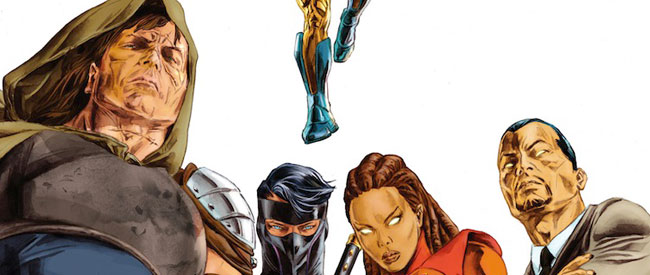 Matt Kindt and Doug Braithwaite bring a touch of class to Valiant's great leap forward into geopolitical super-action.
The Valiant universe isn't somewhere I'd ever imagined myself spending a lot of time, and the cover of Unity #1, with its line-up of glowering super bods, wouldn't normally have enticed me much – especially after my bruising encounter with Protectors Inc.
However, I'm easily distracted by shiny things – especially a couple of marquee names like Matt Kindt and Doug Braithwaite: Kindt's Mind MGMT (Dark Horse) is probably my favourite floppy at the moment, while Braithwaite's rich artwork on the recent Storm Dogs series (Image, written by David Hine) oozed alien exoticism.
So what are the lads up to at Valiant? Well, big plans are clearly afoot at the publisher, and Unity – the company's first team book, tying together concepts and characters from across the line – is at the heart of it.
I'm no expert on the Valiantoverse, but a helpful infographic page fills us in on the troubled history of X-O Manowar: Aric, a Visigoth prince captured by aliens disguised as Romans, who later manages to escape with one of their power suits. He ends up back on earth with his tribe 1,600 years later, and isn't happy to find that other people have got their mitts on his ancestral homeland – modern-day Romania.
Manowar's move to reclaim his 'inheritance' invites a violent response from Russia. However, when the Russian battalion is destroyed, it soon becomes apparent that the Kremlin is preparing a nuclear option that could plunge the world into cataclysm.
At this point squillionaire technocrat and all-round 'Mr Big' Toyo Harada is called in to help. His box-fresh superteam – known as Unity – and a tea-guzzling freelance agent, Ninjak, are tasked with disabling and capturing Manowar before the situation deteriorates further. Complications ensue.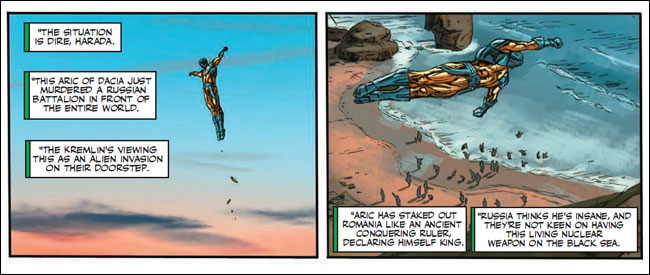 This is very much in that Stormwatch/Authority tradition of morally ambiguous super-action with a geopolitical angle. In fact, it's a sign of how much that kind of work is now rooted in the comics landscape that even though I'd never encountered any of these characters before, they carried enough generic familiarity that I instinctively 'knew' them. Even if you're not versed in the backstory here, there are enough archetypes to ease you in so you can sense what's going on – and what's gone before.
For all that, this is a very nicely executed action comic with a bit of edge. Kindt's intelligent script flows smoothly, providing a couple of surprises, some character beats and a bit of tension along the way. Meanwhile, Braithwaite's polished art provides the cinematic gloss you associate with this kind of comic. His figure work and design are immaculate: in action sequence after action sequence (and the main story runs to 30 pages), he makes it all look very easy.
I was pleasantly surprised by Unity #1. After last week's amateurish Protectors Inc, it was a relief to feel in safe creative hands again. I might nip back to keep an eye on things, but more than anything I hope it sells like gangbusters so that Matt Kindt and Doug Braithwaite can make a fortune, pack in the work-for-hire and get on with what I'm sure they really want to be doing.
PS. Sadly I didn't manage to get my hands on the Team USA Luge Variant.
Matt Kindt (W), Doug Braithwaite (A) • Valiant Entertainment, $3.99, November 13, 2013