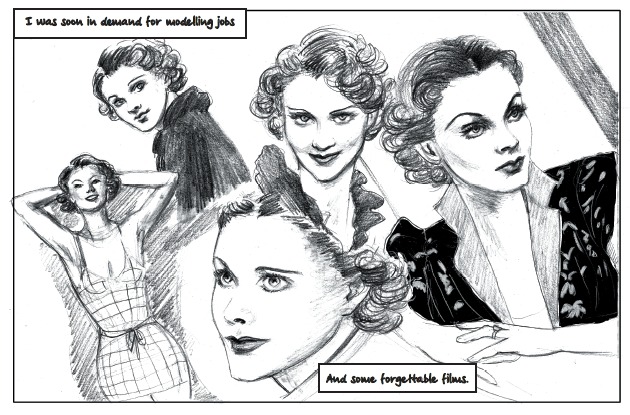 The rapid rise of Jessica Martin's profile in UK comics is an object lesson for anyone looking to push their own creative brand within the small press scene and beyond. In just over a year since she self-published her first comic It Girl – a short biography of largely forgotten silent cinema star Clara Bow – Martin has reached the final six on the shortlist of the prestigious Myriad First Graphic Novel Competition, been featured in critically-acclaimed anthologies like To End All Wars and To Arms!, and seen her debut graphic novel Elsie Harris Picture Palace picked up for 2015 release by Miwk Publishing. It's an astonishing achievement from someone who had not one page of comics work in print when I first met her 18 months ago at the BD & Comics Passion festival at the Institut Français in London.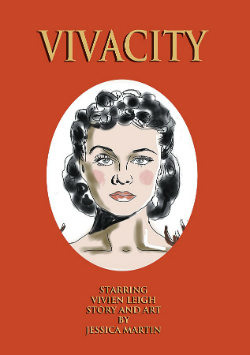 Martin's latest glossy entry into the world of self-publishing is another biographical short of sorts (or in her words in the book's introduction " a graphic vignette") that marries up her obvious love of classic cinema with her sumptuous and carefully observed illustrative style. Vivacity follows the life of Vivien Leigh – Gone with the Wind's Scarlett O'Hara – an actress with an upbringing that was in many ways the polar opposite of her previous subject Clara Bow, and yet both performers forged careers that broke Hollywood conventions on their journeys to becoming major stars.
Like It Girl before it, Vivacity is not attempting in any way, shape or form to provide a comprehensive biography of Leigh in its 17 pages but, rather, a visual flavour of the mystique and cinematic allure of its subject. Through the storytelling framework of a retrospective interview Martin traces Leigh's life beginning with a childhood that was simultaneously privileged and isolated. From there the audience is invited to observe as Leigh's ascension up the ranks of Hollywood's pantheon is slowly realised through a combination of gritty determination and careful patronage. Her relationship with Laurence Olivier is, unsurprisingly, a focal point of Vivacity which is given an added personal element by that first person narration, ensuring a solid empathic foundation to the connection between reader and subject matter.
The lives of iconic or inspirational women – rendered in an elegantly classic artistic style – have proven to be the backbone of Martin's non-collaborative work to date and Vivacity is very much in the mould of her previous short-form comics. As is to be expected, from what is essentially a minicomic account of a figure whose life has inspired numerous biographies, what we have here is a potted account of its protagonist's existence. But despite the necessity on never lingering too long on any single event, and the need to jump rapidly between scenes, it still leaves the reader feeling that the essence, the resolve and the character of Leigh have been fully imparted by issue's end.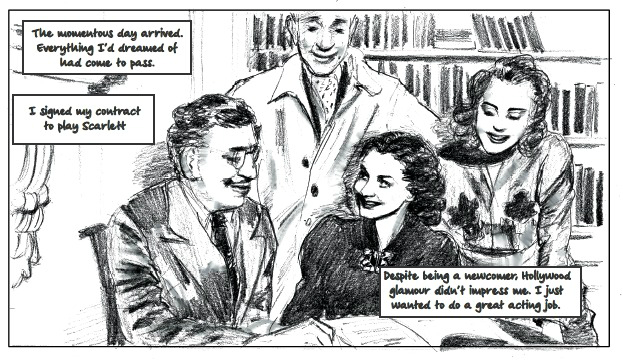 Where this comic truly shines, though, is in that gorgeous retro artwork that so effectively evokes an era of Hollywood splendour, the like of which we will never see again. In Vivacity Martin's fully pencilled art gives a dreamy vintage air to the proceedings; her delicate use of light and shadow bringing period life to a story that positively exudes wistful nostalgia. As with It Girl – and as a wider audience will discover when Elsie Harris Picture Palace is published next year – although Jessica employs a very traditional approach to the page in some respects, she also has an innate understanding of the storytelling tricks that can be employed in this medium that cannot be accomplished elsewhere.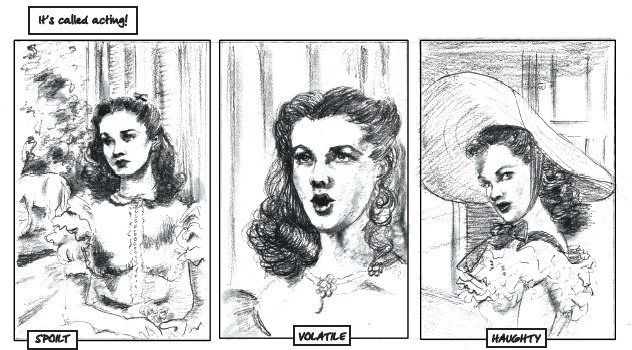 Vivacity deftly employs those unique transitions in time and place that only this form can pull off effectively, for example, and her re-creation of the leading players is stunningly realised. A full-page of shots of Vivien Leigh emoting to camera, to give one instance, should perhaps feel overly stage-managed. But if it is a contrivance then it's a welcome one, fully showcasing the artist's portraiture skills. Given the subject matter of much of her work, the ever growing popularity of Jessica Martin's publications with an audience who may not have traditionally considered themselves comics buyers is a refreshing reminder that there is a place for the medium in the real mainstream – the one that doesn't involve capes and tights. There's something fundamentally old school about her approach but it's that very same factor that ensures her material has true crossover appeal and, I have no doubt, will be a major draw when Elsie Harris Picture Palace hits stores next summer.
For more on the work of Jessica Martin visit her site here. Vivacity is available from her online store here priced £5.00. You can read a full interview with Jessica about her work at Broken Frontier here.
For regular updates on all things small press follow Andy Oliver on Twitter here.