Given the current cost-of-living crisis and the UK's imminent descent into a debilitating, Brexit-influenced recession, a graphic novel that touches on the housing crisis (the only thing we are not in short supply of right now seems to be socio-political and economic crises) feels most appropriate right now. Sisters Clarrie and Blanche Pope's Welcome Home was shortlisted for the Myriad First Graphic Novel Competition a few years back, and was published this year by Minor Compositions. It fits in with a rapidly growing trend of comics work that focuses on contemporary issues and themes of social justice. The book takes inspiration from the sisters' own experiences with squatting and housing problems.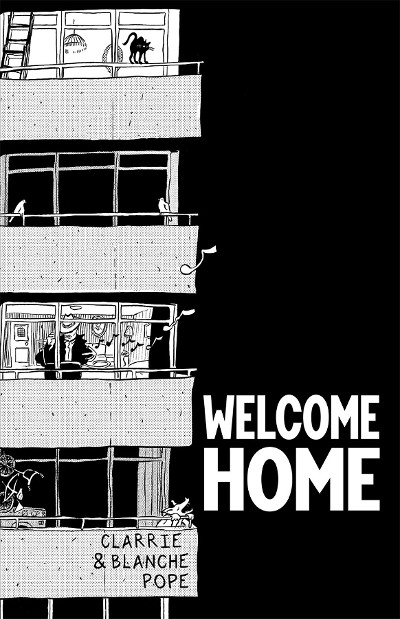 Set in a condemned tower block awaiting demolition, Welcome Home is the story of a small group of squatters and their attempts to stop the destruction of the property that is now their home. Our primary point of reference is Rain, one of the principal players whose lives and interweaving stories we follow in the book's 300-plus pages. Rain's story jumps between the flats the cast squat in (as they attempt to gain the support of soon-to-be-evicted residents to fight for their homes), and the care home that Rain works in. Here her friendship with Doris, an elderly woman with dementia, slowly provides us with more information about the tower's history.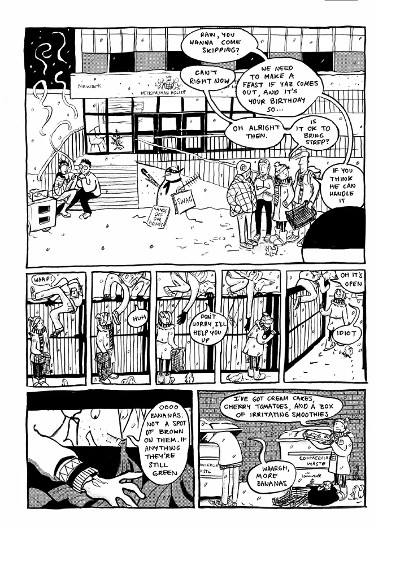 While these plot threads are at the forefront of Welcome Home there are more personal but no less important storylines running through its pages too. Primarily the developing feelings Rain has for her fellow squatter Eva; made all the more complicated for the fact that Eva's partner is Rain's friend Tomek. Other supporting characters include the subdued Luca, the intense Will, and Yaz with whom Rain shares a complex history…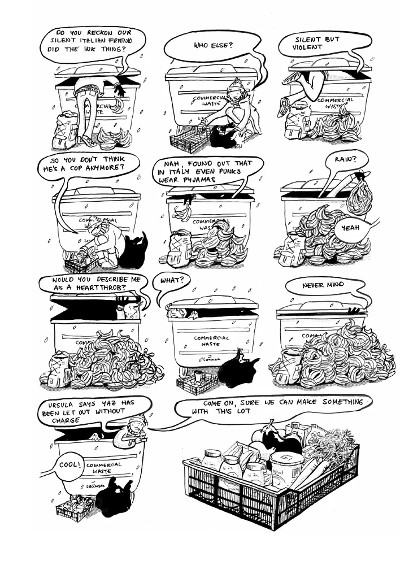 What is immediately noticeable about Welcome Home is the raw authenticity it embodies. From the initial scenes of our small cast breaking into abandoned flats in the block to the minutiae of everyday life squatting, the Popes' own experiences clearly add a veracity to the narrative that give events a greater intimacy. This is a graphic novel that combines incisive social commentary with intermittent moments of something approaching magic realism. The squatters' pet cat and dog, for example, give occasional assessments of ongoing events from polarised viewpoints, acting us windows onto the opinions of wider demographic groups, and providing us with humorous but telling asides. And the story is also punctuated with mock-ups of ephemeral print literature representing the various factions involved (flyers, brochures and the like) giving extra context from another vantage point.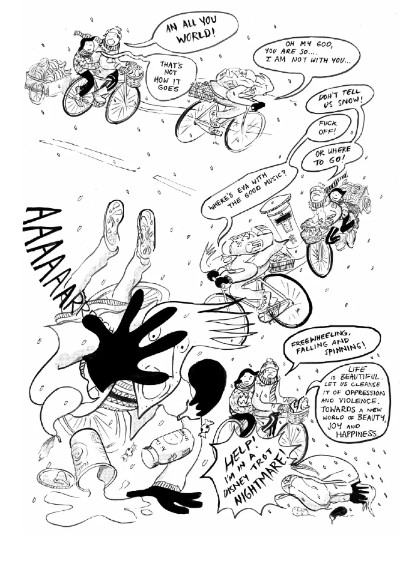 Visually Welcome Home employs a very loose realism with frequent sidesteps into more flowing, dream-like sequences when Rain reflects on her life in a stream-of-consciousness kind of way. Pages and panel structures are often designed to match the architectural ethos of the tower block which grounds environment in formal structure to great effect, and the stripped back visual characterisation of the cast ensures a deeper connection with the reader. There are moments where perhaps a firmer editorial hand might have given the book a tighter framework in terms of the multiple and sometimes sprawling plotlines. But, conversely, slice-of-life work can often benefit from a more relaxed approach in that regard; a structural informality that mirrors the unpredictable rhythm of the everyday. Regardless, this is a graphic novel that covers topical ground rarely explored in comics (Grace Wilson's Saving Grace being a rare other example) and a reminder of how the medium can communicate these stories with a humanity and urgency that few other forms can.  
Clarrie Pope & Blanche Pope • Minor Compositions, £20.00/$28.00
Review by Andy Oliver