ZeppelinMoon is part of a growing movement of irreverent Instagram cartoonists racking up serious numbers with content that is by turns relatable and ridiculous or often both. Our Jenny Robins caught up with her to talk sloths, manatees, work/life balance sandwiches and feeding the creativity beast.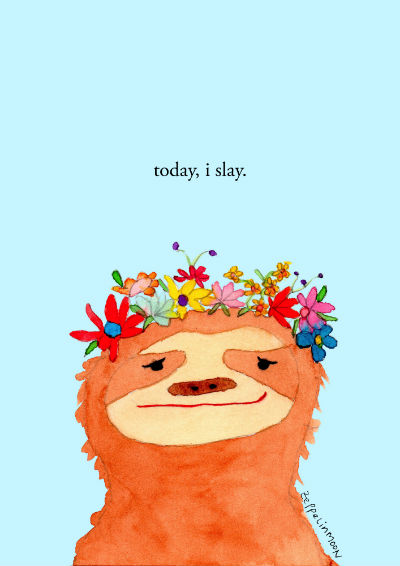 Self-taught and self-inspired, Amber aka @Zeppelinmoon produces a dizzying quantity of drawings, poems, sequential comics and musings on life, posting to both her feed and stories on Instagram practically every day. While certain themes are deducible (sloths, manatees, body positivity, feminism, conservation, gleeful, angry rejection of a variety of life's irritations and injustices, kindness and lots of swearing) she also riffs on pretty much anything. Sometimes her work is baldly sweet, straightforward and almost naïve; at other times it's bawdy, foul-mouthed and belligerent; and sometimes there's popular cultural references, sometimes puns and sometimes just poignant sad moments. It's a whole bunch of life in your face basically. Also a wilful disregard for the rules of punctuation that I wish MY editor would let me get away with.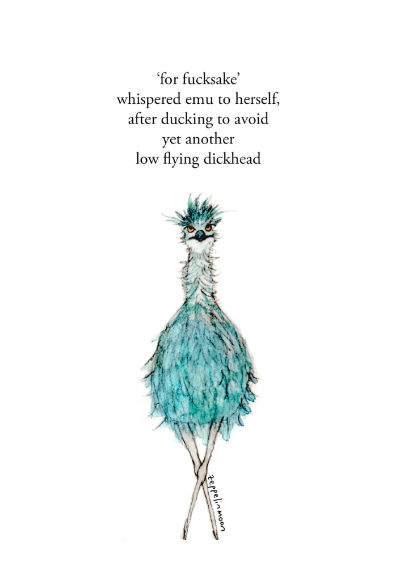 You know the internet and smartphones are turning us into different kinds of humans right? But also at the same time we're still basically animals? That's the thing. Instagram cartoonists like ZeppelinMoon, finding success in the world of swipe and like, they tap into our need for connection and relatability whilst also allowing us to laugh at ourselves for that. The old guard don't know whether to take it seriously or not. That's not the right question. On the one hand existing in this space means you can stick your middle finger up to all the old rules about honing a consistent style, sucking up to those industry types, or, you know, learning to draw before you start doing it in public. On the other hand it's still the same world and likes don't buy dinners.
I met Amber at the Laydeez do Comics masterclass she delivered on 'Online Marketing and Social Media' where I learned the not so surprising fact that it's hard work putting out that much content.  That building numbers takes consistent engagement. And that the bits that make money are pretty much the same bits that make money for a lot of comic artists that work in more traditional ways – biggest profit to be made on prints btw. She also sells awesome pins and bunch of other stuff which you can see on her shop here. I like the human animalness and the animal humanness of Amber's work, and while it's worth remembering that what she makes look easy is really hard work, you also have to give her credit for some really genuinely hilarious word and picture combos. So the secret of success is work hard and also be good I guess. Do both. Oh, and be lucky. Enough from me, let's hear from her.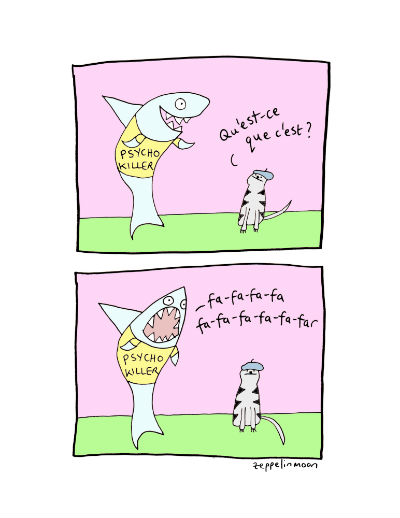 BROKEN FRONTIER: Briefly, how would you sum up your artistic output?                               
ZEPPELINMOON: Badly drawn animals.
BF: How did all of this start?
ZEPPELINMOON: I used to draw terrible stick men cartoons on little bits of paper about funny things that happened to me, so I wouldn't forget them. And I painted floating heads that no one wanted on the wall except me haha! When I had my first baby 3 years ago and had the gift of maternity leave from my 9 to 5 job in mental health, I started an Instagram art account for a hobby and began drawing every day. I absolutely love it. I have zero skill or training and never even dreamt anyone would ever call me an artist.
BF: I definitely wouldn't say zero skill!  What physical zines and comics have you made over the years? Are they available to purchase? (I personally would really like to get my hands on the fly zine you mentioned).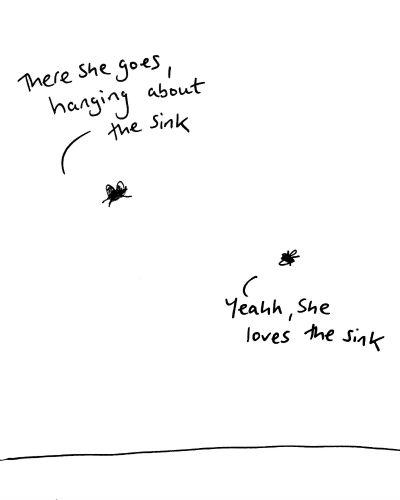 ZEPPELINMOON: Yass! I made a flies on the wall zine about some flies who live in my house and give a bit of a running commentary on the shit that goes down. I did sell a few but mainly gave them away to people who probably didn't want them lol. The flies are very dear to me. Perhaps I will bring them back. Some things never change right? I still hang about the sink a lot.
BF: What is it with you and sloths?
ZEPPELINMOON: I mean what is not to like? You can't look at a sloth and not smile. They're sort of naughty. Santa if you're listening, please, just a small real one, in my stocking. I've been so good.
BF: How do you feel about the irony that the sloth is your emblem, yet getting your creative career to the point it's at took a lot of hustle and hard work? 
ZEPPELINMOON: Sloths are total hustlers, they're just really good at looking innocent.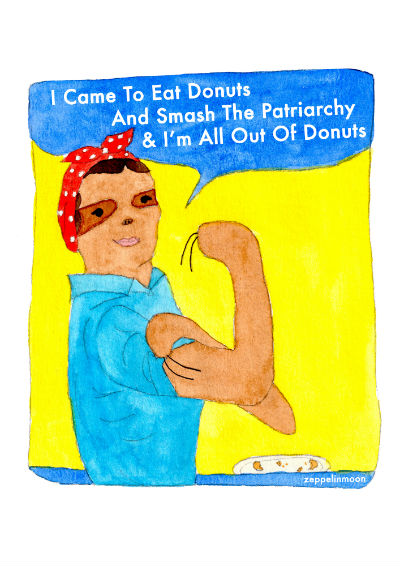 BF: Other than sloths, what are your favourite animals to draw and why?
ZEPPELINMOON: I like manatees because they're freakin' gorgeous and big and blue.
BF: At your LDC workshop, you talked about the delicious sandwich that could be made by combining creativity and business, how do you envisage this sandwich? What are the fillings?
ZEPPELINMOON: Hahahaaaa. Did I say that? What a wally. Well yes I do think that being paid for your art is a real, legitimate and achievable reality and not an impossible dream like we are led to believe. I think the impossible dream narrative can put people off believing in themselves and it doesn't have to quash your creativity if you are working for commissioners or commercial entities. I feel like creativity is not finite and if you think you don't have enough to feed a whole career, you do and you will. Once you open the cage, and feed the beast, it grows stronger and braver every day.
BF: What do you think are the most common mistakes artists make when trying to find a following on Instagram?
ZEPPELINMOON: We will all make mistakes as there are loads of enticing traps and depressing disappointments when putting your art babies out there, 'tis the nature of the internet. Just keep going anyway.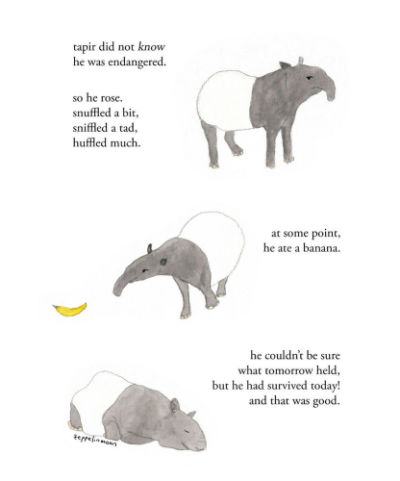 BF:I know that taking maternity was a turning point for you in your business, can you speak to how you manage that balance and give advice for other wannabe parentrepreneurs? 
ZEPPELINMOON: Don't ask me coz I have no balance and am basically permanently exhausted haha. But it's for things I love. That gives my heart energy.
BF: The consistency of your output is astonishing – do you have tricks for finding inspiration on those days when the mind is a little blanker? 
ZEPPELINMOON: When I feel a rush of emotion about something I pop a note on my phone. So there's always a long list of *feelings* and when I have time to draw I go back and root around the list.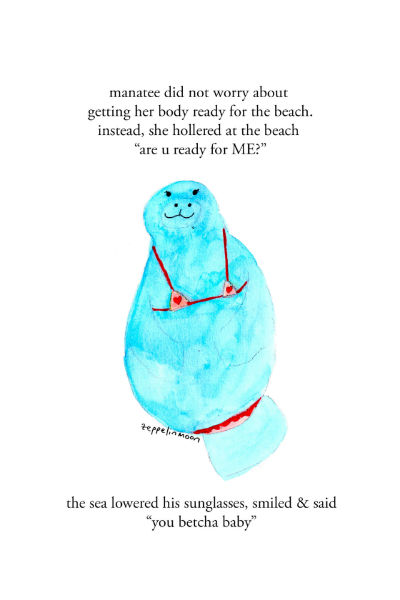 BF: What pieces have surprised you the most with the connection they've found?
ZEPPELINMOON: Ah there is a manatee I drew so badly and painted messily as I was tired late at night. Then she went a bit viral and has been my biggest star to date. That's sod's law for you. But people connected with her I think as they related to that feeling of body insecurity on the beach, and enjoyed how the sea loved her just as she was.
BF: What pieces that you thought would do really well have totally not?
ZEPPELINMOON: The art you spend hours and hours labouring over is always the one that bombs!
BF: Oh yeah, Alex Norris has a great strip on that truism. Do unicorns exist?
ZEPPELINMOON: Er yes, but probably in 2017.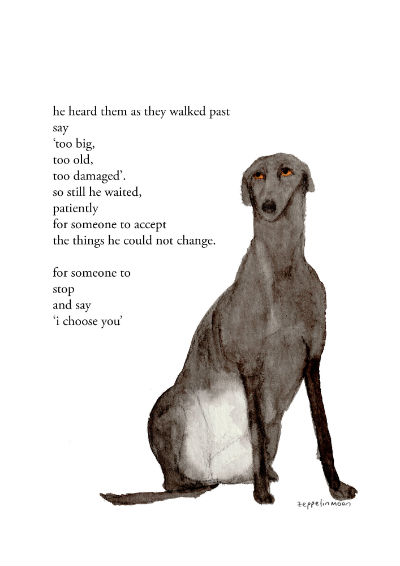 BF: What is your favourite colour?
ZEPPELINMOON: RAINBOW BABY.
BF: What do you think it is about cartoons and comics that makes them so good? And so now?
ZEPPELINMOON: Are they now? Oh good! They're timeless I think. Everyone remembers getting comics as a treat as a kid, or flicking through a newspaper all the way to the back just to read the cartoons. The fact you can be made to smile or giggle or cry in just a few words and images is a human speciality. It's a huge thanks to people committed to publishing new work and old work and great work from comic artists that we can continue to enjoy this art form, the UK small and indie press scene is a powerhouse.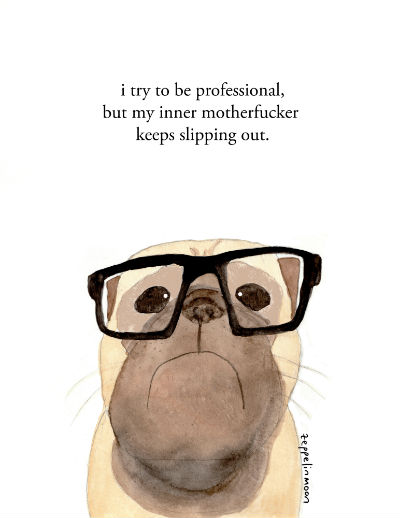 BF: Anything else you'd really like our readers to know?
ZEPPELINMOON: I hope we can be kinder to all the animals we share this planet with, because one day we will come to learn who are the truly intelligent species on this little old planet. And it won't be us.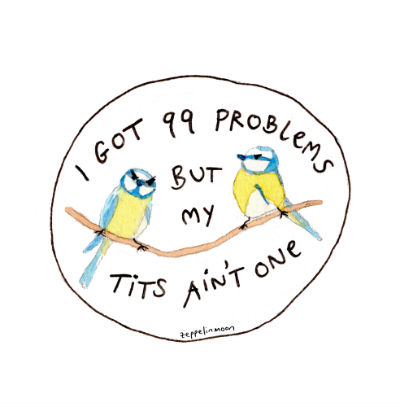 Check out Amber Zepellin's Instagram here and visit her online store here.
Interview by Jenny Robins