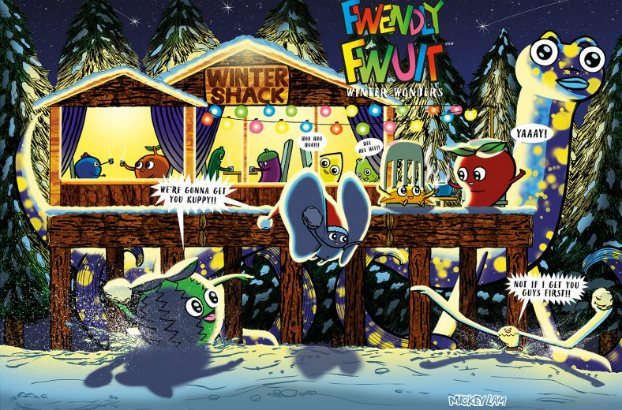 For someone who enjoys the (admittedly often twee) sentiments of Christmas comics as much as I have over the years I've still ended up specialising in an area of publishing that rarely, if ever, tackles the holiday season. The reasons for that are obvious of course. Small press publishing doesn't have the luxury of holiday-themed topicality when it comes to earning that hard-to-get shop shelf space and Christmas (or an approximation thereof) is a hard sell at shows throughout the rest of the year.
Mickey Lam is an artist, however, whose work to date has been notably diverse in delivery and subject matter. That's evident from the martial arts/sci-fi combo of Mr. Yang Fights Aliens to the graphic journalism of his Annie Yang biography through to the social commentary of Please Save Our Rainforests!. His Fwendly Fwuit comics for kids seem to be the project most dear to his heart though and the most recent instalment of their adventures sees the characters embark on an adventure full of unlikely festive frolics.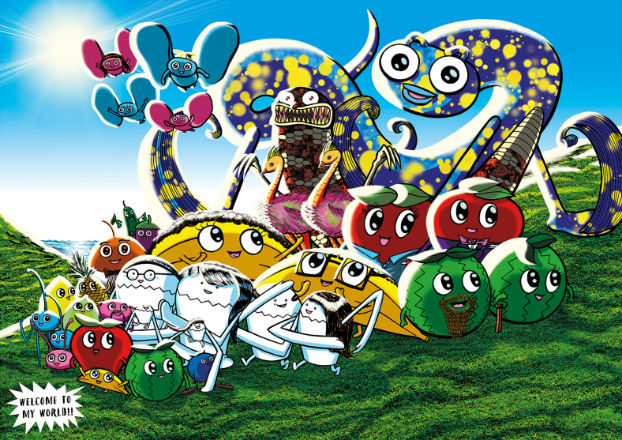 On the planet of Fwuity World in an alternate universe, sentient fruit live in their own communities where every winter they celebrate something akin to our Yuletide – Wonder Day. Best pals Stawberry and Bawana are enjoying their new presents when their chum Pip Squeak enlists them in to help the mysterious and lost Kuppy find his parents. With the aid of their friend Melon, this unlikely group must embark on a quest to a forbidding desert land full of terrifying creatures in order to return their newfound companion to his family…
While Fwendly Fwuit: Winter Wonders is unsophisticated and even slight in terms of plot – it's a familiar story of friendship and teamwork – its target audience is obviously not one likely to be fixated on whether the book is popping with originality or innovation. For younger readers this is a visually captivating A4 comic that will capture its demographic's attention with its larger format A4 pages that positively burst with colour. There's something almost Kirby-esque as well about the positioning of cartoony characters on more realistic photo-inspired backgrounds that adds an added entrancing layer to the art.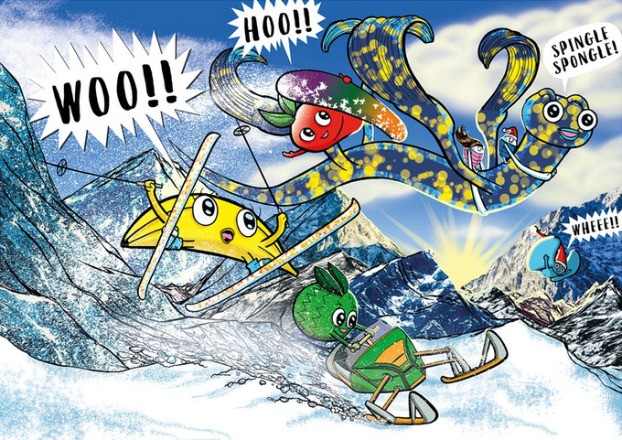 The book also shows a marked level of evolution in Lam's style from the cruder earlier Fwendly Fwuit strips and there's a triumphantly dynamic action sequence towards the end as our heroes face their final confrontation with the monstrous inhabitants of the desert that underlines Lam's growing confidence in his page construction.
Where Fwendly Fwuit is somewhat weaker in presentation is in terms of characterisation. While the protagonists give the aimed-for readership a likeable duo to root for their depiction is still just too self-consciously cutesy. Stawberry and Bawana's defining characteristics are their naivety and their speech impediments which seem too little a hook for even a younger audience to relate to. Still, the sense of fast-paced adventure in Fwendly Fwuit: Winter Wonders remains a great strength and, as ever with his work, Lam's enthusiasm for his characters and their world shines on every page.
For more on Mickey Lam's Fwendly Fwuit check out his site here and follow him on Twitter here.
For regular updates on all things small press follow Andy Oliver on Twitter here.