Earlier this year I spoke to artist Lucy Sullivan here at Broken Frontier about her work-in-progress graphic novel Barking, an allegorical examination of loss and depression (currently crowdfunding through Unbound Books). She spoke then in open terms about the complexities of grief and how it affects us all in very individual ways, concluding with the hope that the book would "open up the conversation around mental health and help to diminish the stigma."
Sullivan's 4in1 Zines is a collection of minicomics that act as a companion to Barking. Exploring depression, trichotillomania (a hair-pulling anxiety disorder), the grief trigger and excoriation it gives insights into the themes of the wider work while also acting as a series of standalone representations that fall directly into the category of graphic medicine.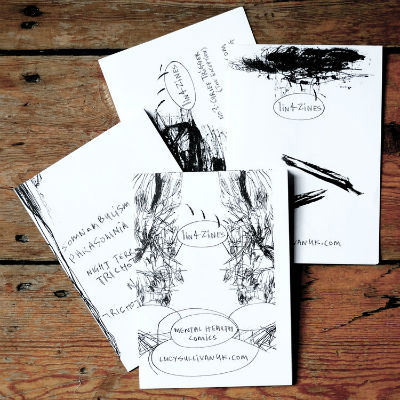 Each zine comprises a series of briefer images that, when unfolded, become an A4 main visual on that publication's subject matter. That tactile nature adds an extra level to the reading experience; the act of opening up the zine gradually revealing new layers of dark introspection and further insights into the thought processes of their narrator.
In the first part depression is portrayed in terms of the organic in tree-like form, but with a foreboding, stark and almost decaying edge to it. Random thoughts are scattered across the page in one of the finest examples of the uses of lettering to project emotional state you are ever likely to see in comics form. Speech balloons merge and overlap symbolising a fractured and distressed mindscape. Some are left empty while others contain suitably raw, scratchy lettering and crossings out, as cycles of behaviour and anxiety repeat themselves.
In the trichotillomania zine a swirling, tangling, engulfing mass of hair entraps Sullivan's on-page avatar as she pushes through it, while the one dealing with excoriation is full of movement in one busy, intense image. The third issue, titled 'Grief Trigger (The Exception)' is a truly powerful study of sudden bereavement, taking us directly into the sensations of inescapable helplessness and consuming despair that overwhelms you when you suddenly find the very foundations of your world have collapsed and your life is suddenly in freefall.
For a set of zines that eschew panels this is still a project that embodies the purest form of comics, the perfect union of words, imagery and the tools unique to the form, even if the sequential element is largely within the confines of a single illustration. An undeniably visceral experience, 1in4 Zines should have every reader heading off to the Unbound site to back Sullivan's Barking project with the greatest of haste.
For more on Lucy Sullivan's work visit here site here and follow her on Twitter here. You can buy 1in4 Zines from her online store here and back Barking at Unbound here.
For regular updates on all things small press follow Andy Oliver on Twitter here.
Review by Andy Oliver