In the first of our series of interviews with Broken Frontier's 2022 'Six to Watch' artists I chat today with Spanish artist Alba Ceide, whose 'Earth Blues' series of ecologically-focussed and socially conscious comics have had much coverage here at BF in recent months. Ceide's latest project Salamanca Blues – a comic I described as "the perfect showcase for her work for the uninitiated" – is currently crowdfunding here. I caught up with Alba to talk about comics and social justice, her creative process, and the indie comics scene in Spain…
ANDY OLIVER: The 'Six to Watch' initiative is about introducing new artists to wider readerships so let's start by asking you about your wider artistic practice and endeavours, and your background?
ALBA CEIDE: Most of the things I like to do are related to visual storytelling. I love comics, creating stories and designing characters and environments. I'm fascinated by storyboarding and concept art. I love sketching, I draw with pencils on paper, digitally, I make mixed-media illustrations, some 3D and also short animations when I can.
I was drawing and writing short stories when I was a kid, but never put them together. My parents encouraged me to draw and I went to drawing lessons in my home city A Coruña (in Galicia, Spain). My older brother Fernando is a singer-songwriter, his lyrics and passion for writing were a big influence on me. My dad draws very well and taught me a lot about art history, my mum loves literature, so I grew up in a stimulating environment where drawing and writing were natural things for me to do at home, and I just carried on doing them.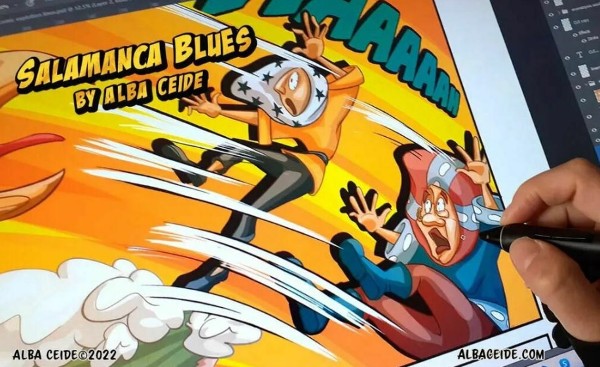 I went to Art college, then I moved to Salamanca and Valencia to study Fine Arts. In Valencia I started exhibiting my illustrations and I discovered my passion for visual storytelling when developing my final project at Uni, a sci-fi illustrated book called Xx Valkyrie Project. I moved to Madrid to study Art Education and then on to London where I worked as a graphic designer, printing technician, drawing teacher, illustrator and now digital printing instructor. But despite any day job I never stopped drawing or writing, and I started making comics around 2017.
AO: What is it about comics as a form that appeals to you in your storytelling? When did you first discover the medium?
CEIDE: It's the mix of writing and drawing that I like, and also the creative process of making comics: writing and developing a story, designing characters and environments, creating movement, panel composition… I also like comics because they stimulate the imagination of the readers. Comics give a lot of visual information but they need active cooperation to understand and enjoy the story. There's also the pure pleasure of making art and experimenting with visual language. It's a very honest art form.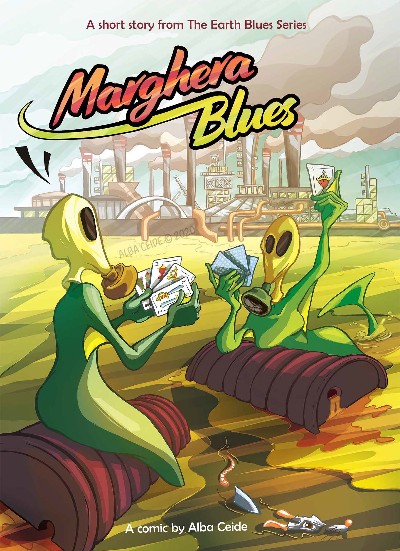 There's an important comic festival in my hometown A Coruña, "Viñetas dende o Atlántico" and my parents used to take me every year to the exhibitions where I saw incredible original artwork and inked pages. I grew up reading Superlópez comics by Jan which were my favourites, Conan the Barbarian classic black and white, some Disney comics and Mortadelo and Filemón by Ibáñez. But it was at Uni that I became a serious reader thanks to the large comics collection of Salamanca's library, Casa de las Conchas, where I discovered the work of Katsuhiro Otomo, Marjane Satrapi, Art Spiegelman, Will Eisner, Tsutomu Nihei, Juanjo Guarnido and Alan Moore among others.
AO: You've been working on a number of comics in your 'Earth Blues' series. Can you tell us about the premise and inspirations for Marghera Blues and Forehead Blues?
CEIDE: I sometimes visit Venice in Italy and I was intrigued by the massive chemical plant of Porto Marghera which is facing the lagoon. I thought about how mermaids and underwater life could be in this scenario… I researched about the environmental issues caused by the chemical plant: in the '70s there was so much air pollution that the locals developed serious breathing problems, and even the sculptures and architecture of Venice were affected by the contamination. I thought that if there were mermaids in those waters, they might be wearing gas masks! I wrote Marghera Blues during the first Covid lockdown in 2020, when the news reported how clear the waters of the Venice canals became after human activities stopped abruptly for a few months.
Art from Marghera Blues
Forehead Blues started as a short story around the same time, but I'm now developing it in a long-form comic with more characters and further twists and developments in the plot. I got inspired by climate change issues, raising sea levels and air pollution. In this sci-fi story I present a futuristic Venice as an exaggeration of neoliberalism where all citizens are first class consumers in a sinking city that has abolished poverty by outlawing it, and the main protagonist loses all his money in the casino, starting a crazy chain of events for him and other characters that cross his path. I got inspired by the current social inequality crisis, the manipulation of public opinion by populist leaders, and the lack of critical thinking of their followers. But all of this with humour and fantasy!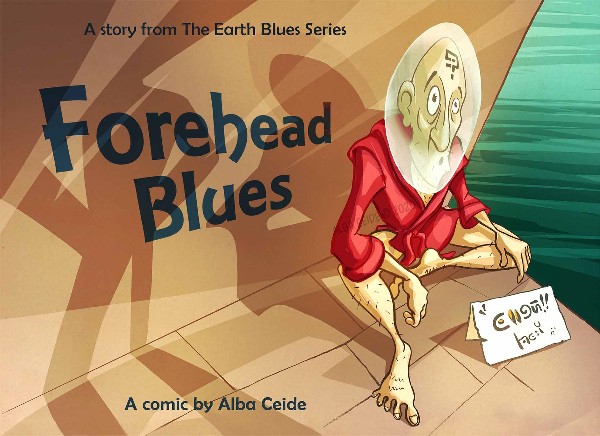 AO: A lot of your work does have a socially conscious element to it. What is it for you about comics that makes them such an effective medium for connecting with readers about these important issues?
CEIDE: Comics are an accessible medium, for the artists who make them and for the people who read them so there's huge diversity in their content; although there's a lot of work and effort involved with making a comic, it's not as complex and costly as, say, making a film or a video game, so the creators have more freedom. Comics are usually read in solitude so readers have their own time and space to reflect on them and this makes them an effective medium to comment on contemporary and social topics, which could be also affecting the reader's life. Comics can touch us on different levels, and their visual language can be used to expose situations or events for which a combination of text and drawings is more powerful and more direct than just words. I think many mediums can be effective to comment on social or ecological issues; I use drawing as it's my natural medium, but if I was a guitar player I would probably be singing about the same issues, as my brother does with his lyrics.
AO: Salamanca Blues is your latest comic, currently crowdfunding on IndieGoGo. What themes are you exploring in this particular entry in the Earth Blues series, and who are some of the characters we can expect to meet in its pages?
CEIDE: My new comic is influenced by climate change and I explore an extreme, fictional desertification of central Spain and how all living creatures variously adapt, change, survive or try to take advantage of the situation. A sunny Spanish landscape transformed in a large desert wasn't hard to imagine! While I was drawing some pages in 2021, the Ricobayo reservoir (in Zamora, Spain) was largely drained by the electricity company Iberdrola to take advantage of high energy prices and maximise their profits. At the time I was actually drawing the characters heading towards that area..! So I drew the ruins of the hydroelectric power station on the path of my characters.
The lack of urgency and appropriate response from governments to tackle the climate crisis triggered my thoughts about a collapse of civilization. I comment on how vulnerable a society without critical thinking can be. In my comic, the ruins of Salamanca are ruled by a group of corrupt leaders who encourage ignorance and appeal to people's raw emotions like fear to force them into a poor lifestyle which is feeding the powerful while keeping the wider population subjugated.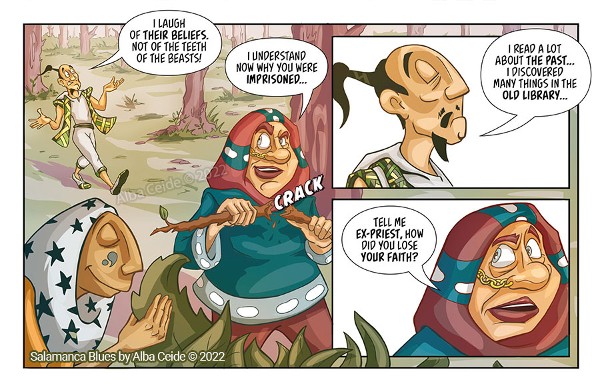 Art from Salamanca Blues
In real life the city of Salamanca has an impressive cultural heritage and a very important University, the oldest in Spain. This is one of the reasons why I choose this city for my story (also because I lived and studied there!). In the comic most of the knowledge and books are buried in the ruins and the desert, but there's a character who has an interest in learning: the ex-priest is a curious man who questions the dogmas of his religious order. Another main character is the Hunter, an independent woman with strong morals who finds it difficult to keep quiet when faced with an injustice. Then there is Mimo, a foreigner who speaks in an unknown language and does magic… These are three main characters who are forced to flee Salamanca's ruins and cross the dangerous desert to escape from Captain Álvarez, his guards, and the priests behind them, the authorities who control Salamanca's ruins and the people living in them.
AO: Apart from the print/digital versions of the comic what other rewards are on offer for people backing Salamanca Blues?
In the starting perk the digital comic costs £5 and the printed version £8. The next perk for £16 includes one Fine Art Print with the printed comic. Backers can choose from a selection of six. These Fine Art Prints, also known as Glicée or Pigment, are printed on Hahnemühle Fiber Matt paper which is an archive 200gsm substrate that gives a natural and warm look to my work and translates accurately my colour palette to paper. If someone likes the six prints, there's another reward that includes them all!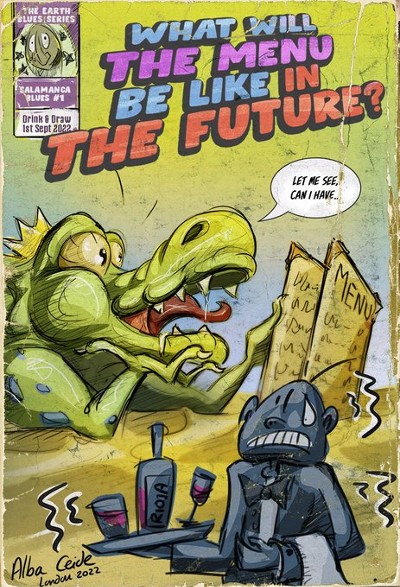 I designed a set of 8 vinyl stickers that can be added to any reward of the campaign during the checkout. The whole set costs £4. These are sharp and colourful designs taken from panels of Salamanca Blues.
As an additional reward to thank all my supporters, anyone who orders or has already ordered a reward with a printed copy will also receive a complimentary Risograph print of the illustration that I made for the Gosh! Comics and Broken Frontier Drink & Draw Salamanca Blues edition. I printed it myself using a halftone texture that resembles the lo-fi vibes of underground comics.
AO: You have a very distinctive, high energy style of cartooning. Who do you count among your artistic inspirations?
CEIDE: Uderzo is one of my favourite artists, I often read Asterix comics to learn more about how to draw movement and action lines. Jan, the artist of Superlópez is also one of my classic references. I hugely admire the work of Juanjo Guarnido, particularly his character expressions and movement in Blacksad and El Buscón. I like Albert Monteys and how he uses colour and negative space in Universe and the comic adaptation of Slaughterhouse Five. I also like Brett Parson's line work, James Harren's energy in Rumble, Frank Quitely and Will Eisner.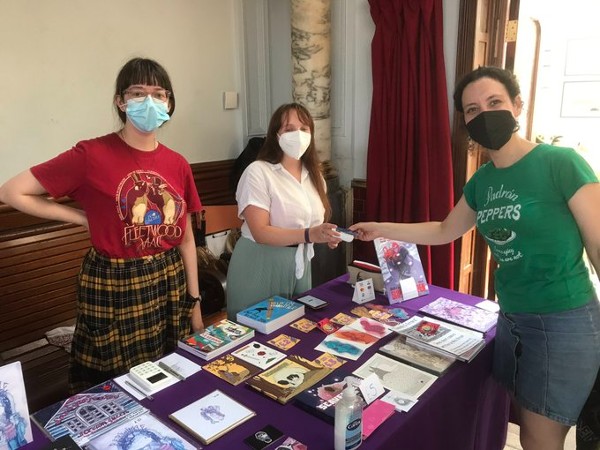 Alba (far right) on the Broken Frontier 'Six to Watch' table at the South London Comics and Zine Fair in July with (left to right) Beatrice Mossman and Sammy Ward
I also admire storyboard and concept artists like Marcos Mateu-Mestre, Pablo Buratti and Jean Fraisse. These are a big font of inspiration, especially in terms of composition and staging. I love animation and the work of Hayao Miyazaki, Pixar and Satoshi Kon, who was also a brilliant comic artist. I'm a regular reader of El Jueves, a Spanish satirical magazine, and I like the style of many of its artists such as Ricardo Peregrina, Manel Fontdevila, Kim and Salazar among others. I'm also a big fan of the Dylan Dog comics, Tanino Liberatore, Paco Roca, Emma Ríos, Guy Delisle, Azpirri, Jeff Smith, Satrapi… so many… I'm going to stop!
AO: Can you tell us a little about your artistic process and the media you work in?
CEIDE: Once I have an idea for a story I write down notes, sketch characters, possible locations and research about the subject by reading related news and articles. I do most of this early stage on paper because I sometimes do it on the tube, coffee shops, at lunch breaks… When I have an idea in mind I write it down or sketch it, it doesn't matter where I am. When I have enough material, I glue myself to the chair of my studio and put all those notes together to write a basic script, refine sketches, filter or discard early ideas, and yet more character and environment studies. When I have the script and the designs of the main characters and scenarios, I storyboard all the pages with rough drawings and I do thumbnail studies of the panels to design the composition. I use very simple shapes in greyscale to position characters and other graphic elements including the balloons and visually relevant onomatopoeia. At this stage I also draft the dialogue to make sure that everything fits in place.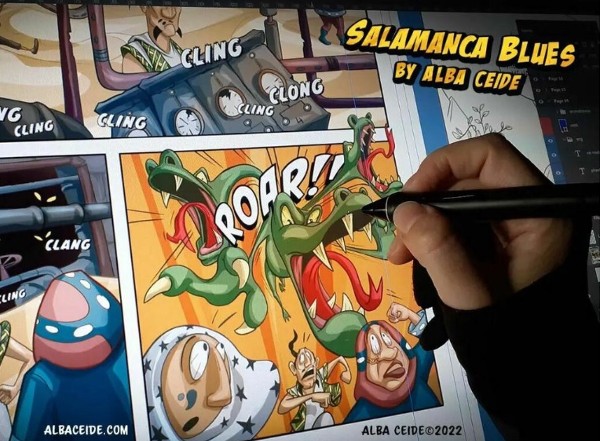 Sometimes I draw the pages on paper but lately I've been doing it digitally because it allows me to improve my work and change things without feeling too attached to the actual drawing. When drawing pages on paper I use blue mechanical pencils, while digitally I sketch and draw in Photoshop.
Once the drawing stage is done, I do the line art. If I do it on paper, I ink with thin brushes. Lately I've been doing it digitally on Sketchbook Pro, a software that replicates quite well the feel of a brush. Once the line art of the pages is done, I colour in Photoshop. I fill in areas with flat colours and use cell shading for shadowing.
AO: You're a member of the UK comics community group WIP Comics. How has that helped in the development of your work and in finding your place on the UK scene?
CEIDE: Through WIP Comics I realized that there's a lot of people like me passionate about visual storytelling. I cherish the support, encouragement, tips and cultural enrichment of meeting such a variety of artists with so many different backgrounds, styles and stories.
Many people in the group have years of experience in the self-publishing scene and they are happy to share their advice to make a bigger and stronger community. Participating in last year's WIP anthology has definitely pushed my comics-making further. On the one hand it has put my work in front of readers that otherwise I wouldn't have reached, and now some of these readers follow my projects with interest; on the other hand the unusual format chosen for the anthology forced me to think out of the box, experiment with different formats and discover new approaches.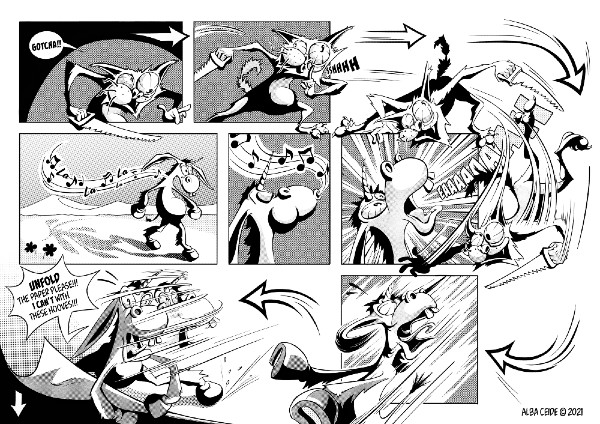 Art from Alba's 'The Lucky Horn' from the 2021 WIP Comics anthology Lucky WIP, collecting together 30-plus zines
AO: Is there a big small press comics scene in Spain? How does it compare to the UK?
CEIDE: I started making comics when I was already settled in London and I wasn't fully aware of the Spanish small press, but there's a strong independent industry. There're comic festivals in almost every community of the country and there're also specific festivals that celebrate the small press industry like Autoban in my city A Coruña or Graf in Barcelona. There're also publishing companies for independent creators like Demo Editorial, Grafito, Diablo and places like Sandwitch Mixto in Madrid that also runs creative workshops. Galicia, where I'm from, is rich in comics and creators, and there're great  artists like Inés Vazquez, Dani Xove, Xulia Pisón, Altar Mutante, Lidia Cao, Bento Carroña, Luis Sendón, Emma Rios, Xulia Vicente and David Rubin.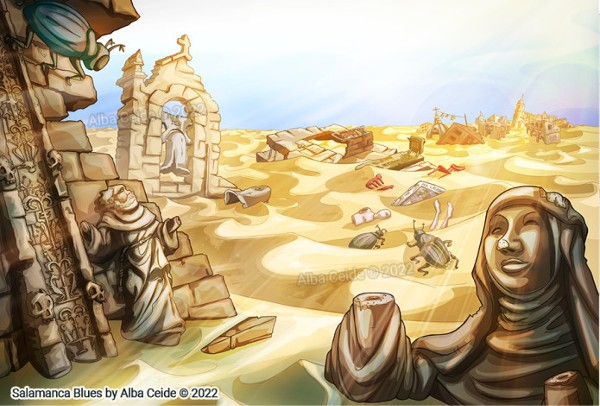 Art from Salamanca Blues
AO: And, finally, outside of Salamanca Blues are there any other comics projects you're currently working on that you can tell us about?
CEIDE: Yes! I'm working on my entry for this year's WIP Comics anthology. My story is about the moon: one day it suddenly falls on Earth!
I'm developing Forehead Blues as a long-form comic: the script, most character designs and environments are all developed and some pages are already finished! I still have a lot of work ahead but I'll be posting some sneak peeks on social media soon 😉 Forehead Blues continues the story of the 5-page introduction which people can read on my website. What will happen to the protagonist? In this new volume I'll introduce a new set of characters, underwater action, futuristic food and more fantasy!
Back the Salamanca Blues crowdfunder here!
You can visit Alba's website here and online store here. Follow Alba on Twitter here and Instagram here
Interview by Andy Oliver