THOUGHT BUBBLE 2022! Sometimes we don't need the sequential part of sequential art to find whole narrratives bound up in a single image. Sammy Ward's All Ghosts: A Slice of the Afterlife has its origins in the supernaturally themed drawing event #AuGhost on social media. One of a now seemingly uncountable number of hashtags that seem to have been spawned by the success of #Inktober. Throughout August Ward's daily drawings on a ghostly theme were essential viewing, and in September she launched a successful crowdfunding campaign to compile them into one compact volume. A collection that makes its festival debut at Thought Bubble this weekend.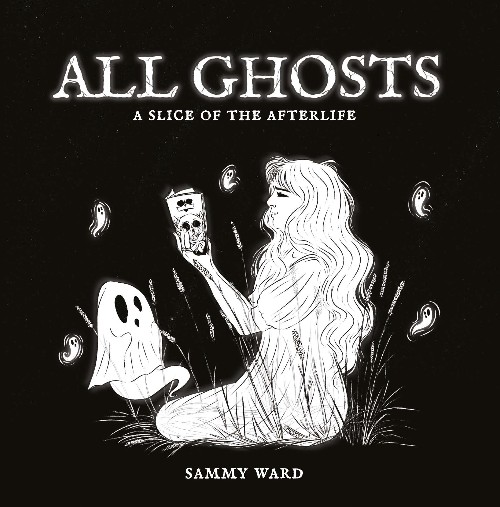 Ward has proven form, of course, with the eerie and the spooky, with her minicomic The Deeper You Go Into the King's Wood being one of the tensest, most unsettling supernatural comics you will ever read despite its relatively short page count. In All Ghosts she approaches the genre from a different perspective, interpreting a series of drawing prompts with an often morbidly compelling imagination and creating one-sentence stories around them.
And that's perhaps the greatest fun of All Ghosts to the casual reader. That combination of illustration and description not so much asking us to apply comics' "between the panels" reading comprehension but rather a kind of "outside the panel" one instead. Not to fill in the gaps as we usually would but to instead create our own wider narrative around each entry on the page. From doomed spectral entities waiting for lost love to malicious ghosts letting the household's kids get the blame for their behaviour, through to mysterious portals to the afterlife, All Ghosts is in turns melancholic, funny, mystifying, and poignant.
Ward's delicate line and the humanity of her visual characterisation is an excellent fit for work that by definition often needs to place the everyday and the mundane next to the ethereal and the otherworldly but without incongruity. For this edition a judicious use of colour has been carefully applied to emphasise mood and theme.
Sammy Ward is one of this year's Broken Frontier 'Six to Watch' artists, many of whom from across the years are tabling at Thought Bubble this weekend. Make sure she's on your list of creators to check out in Harrogate because she really is an emerging talent to keep very close tabs on.
Sammy Ward • Self-published
Review by Andy Oliver
Sammy Ward is at Table 90B in the ComiXology Hall at Thought Bubble 2022