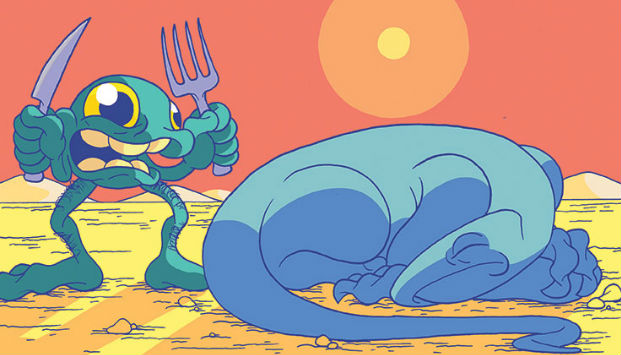 ELCAF FORTNIGHT!
Andy Barron is no stranger to the East London Comics & Arts Festival and regular festival attendees will no doubt be very pleased to see him there again this year with a new bumper anthology of stories set in the bizarre world inhabited by his protagonist OM. Barron's largely silent tales take place in that disquieting alien environment and follow the title character as he travels through a realm of strange evolutionary cycles, odd rituals and warped rules of reality.
Barron is another of our 2018 'Six Small Press Creators to Watch' and I recently reviewed his ELCAF debut book Sutra: Songs from the World of OM here at Broken Frontier for those wanting to learn more about this eerie, otherworldly landscape and its bizarre cast of characters. Today I chat with Andy about the book's distinctive narrative structure, letting the reader find their own truths, and the inspirations for the series…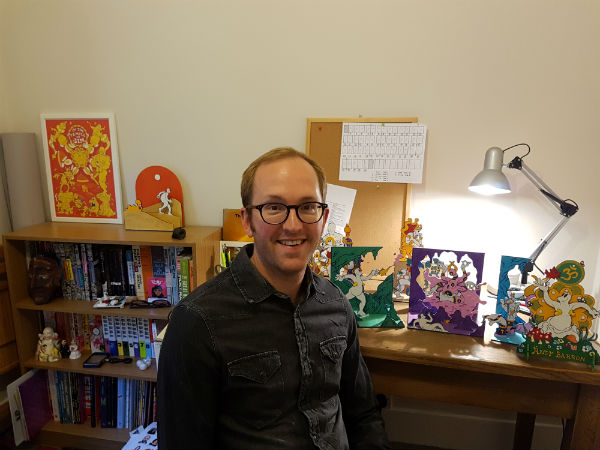 ANDY OLIVER: Could you talk a little to begin with about your wider art background and the different mediums you've worked in?
ANDY BARRON: I moved down to London 10 years ago to study Illustration at Camberwell. I've been reading comics my whole life but only really started drawing them in earnest about 5 years ago. I've dabbled in illustration and graphic design, but comics have always been the constant I've come back to.
AO: How would you describe your OM comics and the fantasy landscape they depict? Who are some of the key players who roam its environs?
BARRON: OM is a desert world inhabited by a menagerie of strange creatures. The stories are a mix of  psychedelia, horror and stripped down emotion.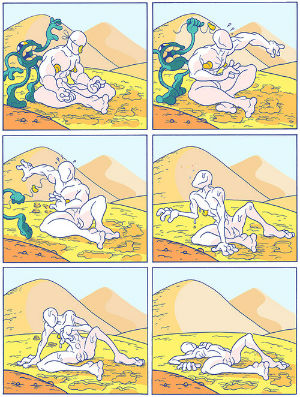 The main character is Om – identified by his well rounded figure and his yellow nipples (most people notice these first). The other two key characters are Pea and Um. Pea is a hopeless wretch who always comes out worst in any situation he finds himself in and Um is a cosmic muscle man, whose role in the overarching story is still unclear.
AO: The world of OM appears beguilingly entrancing at first but that fantasy element can quickly evaporate as a harsher and quite brutal reality is revealed. What was the genesis of the comics? How did the concept for them originally evolve?
BARRON: It all started with the character of Om – I first drew him in a sketchbook almost 12 years ago. (I think I still have that first half formed squiggle lying around somewhere).  I hadn't really done anything with the character, but a few years ago I started jotting down little scenarios featuring Om. Just bullet points, more than stories at that stage. I started  small, with short strips, and then gradually over time it's moved into something bigger. I've always liked that with comics you can build an entirely new world; most of my favourite comic artists are people who have created those fully realised worlds you can just get lost in. I never thought I'd be able to do something like that, but you kind of realise once you've started that all of those things were built up from small beginnings.
AO: You present a realm in the comics that is full of odd rituals and cycles of life and death. Does it have its own established natural rules in your mind or do you see it more as a freeform environment where an internal logic is unimportant to the tales you tell?
BARRON: It's a bit of both – the great thing about OM is I feel like I can write about absolutely anything but the characters have set things that they would and wouldn't do. If I'm writing a story, it will feel 'right' to make it an 'Om' story or a 'Pea' story, or in some cases maybe I'll need to invent a whole new character to be able to tell that story. I'm finding out more about the world the more that I write. That's what keeps it exciting and keeps me drawing these comics.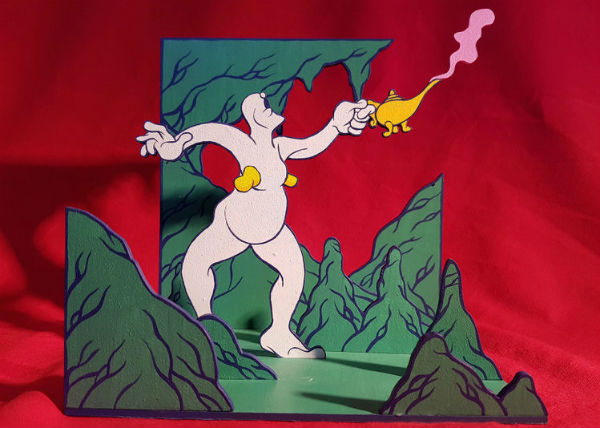 AO: Given that there are recurring characters and scenarios and yet each story seems a discrete entity with no real overarching continuity in the strictest sense, how have readers reacted to that fascinating sense of "non-narrative narrative" to the OM comics?
BARRON: This came about more by accident than design. When I started self-publishing my first books were only 6-10 pages, printed on office supplies and bound by hand.
Doing those first comics helped shaped the way I write. If you've only got a couple of pages to tell a story, maybe you don't need a traditional 'beginning' – you can throw readers right into the action and let them fill in the gaps.
I hope readers can build up their own picture of Om's world the more comics they read.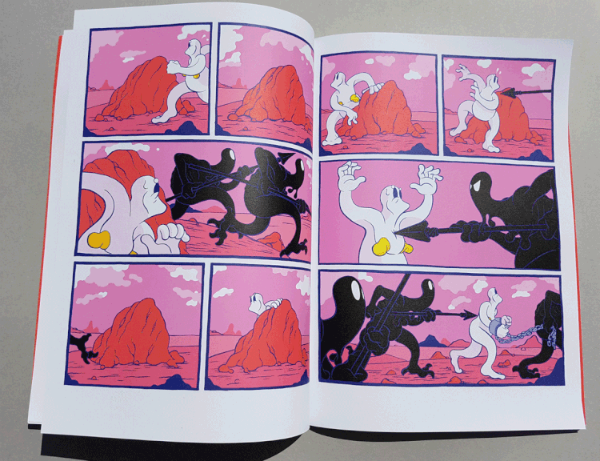 AO: One of the things that strikes me about the OM stories is that there's an element of apparent visual metaphor to them that we feel might be more apparent to their creator but that they also invite the reader to find their own meaning in events. Would that be a fair assessment?
BARRON: Definitely. They're all drawn from my experiences but I might not have a really clear idea of what I'm trying to say as I'm drawing them. They tend to reveal what they're all about to me some time after the fact.
I like to leave a gap in a story and not reveal everything. I don't like things that are fully resolved; I like leaving an element of ambiguity. I want the actions in the comic to be clear, but when it comes to the meaning of each story that's entirely up to the reader.
AO: You've taken OM into other media including a diorama scene that you exhibited at ELCAF last year and played with physical formats as well like a riso printed comic (Tantra, above). How important is that sense of constant experimentation with form to you?
BARRON: I've been doing this a long time now and the variation of media keeps it fun. Comics are time-consuming  so it's helpful to have something you can dip into. I want to remain inside that world and work with the characters but present them in a different way. The dioramas started a couple of years ago as table displays at conventions to attract people's attention but I've become more interested in telling stories through these dioramas. In my new book I've incorporated them into the comics.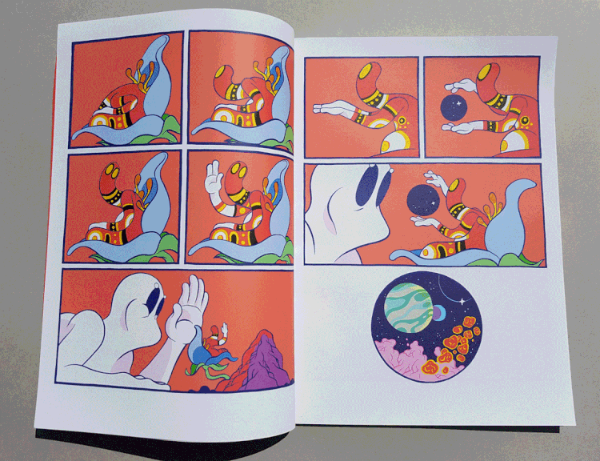 AO: Your use of colour is an integral storytelling element of the series. Can you elaborate on your creative process on the comics and the mediums you work in?
BARRON: It all starts with sketchbooks; I've got lots of snippets of parts of stories, beginnings, middles and ends which aren't really connected. Something about these scenarios usually suggests itself for one of the characters and I'll just see how the story builds up from there.
When it comes to the actual drawing, it's all by hand at the beginning; pencils followed by brush and ink. Tantra was the first book I inked completely using a brush and I've done the same for my new book Sutra. All of the colours are added in PhotoShop. I'm thinking about the colours even at the early stage of designing the characters, and they definitely help set the mood for each story.
AO: Do you have more plans for non-OM comics stories in the near future?
BARRON: I'd never say never, but I'm focusing on OM for the time being!
AO: You have a new comic out for ELCAF. Can you give us the lowdown on that?
BARRON: My new book is Sutra: Songs from the World of OM – it's a collection of new short stories digging deeper into the world of OM and the relationships between the characters. For people who have read Mantra and Tantra, it will give you a better understanding; for people who are new to the series, it's a perfect introduction into the world of OM.

OLIVER: This is something I'm asking all our 'Six to Watch' creators this year. What would be your one soundbite of advice to newer creators in getting their work seen by wider audiences?
BARRON: Don't worry about your work being perfect before getting it out there – just start making and learn as you go.
OLIVER: And, finally, what's up next for Andy Barron? Are there any other comics projects you're working on or planning at the moment?
BARRON: I'll be debuting Sutra at ELCAF, and I'll be at Thought Bubble in September. I'd love to do more with my 3D work – I'm playing with the idea of telling a longer form story using dioramas and sculpture.
Andy Barron is exhibiting at ELCAF. For more on his work visit his site here and follow him on Twitter here. You can find his online store here. 
For regular updates on all things small press follow Andy Oliver on Twitter here.
Catch up on all our ELCAF Fortnight articles to date here. ELCAF runs from June 22nd-24th. Full details on the ELCAF site here and you can also follow the festival on Twitter here.