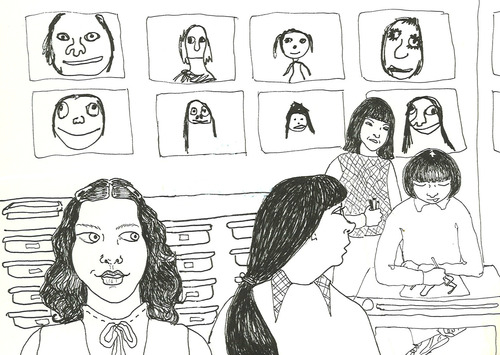 If memory could ever be described as a medium to work in then Wallis Eates is one of UK comics' most accomplished practitioners in the field. Mumoirs, her graphic novel in progress, was shortlisted for the Myriad Editions First Graphic Novel Competition in 2014, and earlier this year I reviewed her Fleeting Faces zines in this column here. What I always find so remarkable about her comics is their deft ability to connect with the readership on the most fundamental emotional level; bringing the audience in to the very heart of her dark, poignant, and yet often oddly comedic narratives.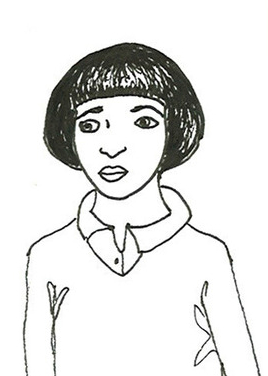 While Mumoirs is Eates's autobiographical account of living in a single parent family in the '80s her interest in bringing personal remembrance to the comics page is not just limited to her own past. One of the side projects on her site is You Chew I Spew where she crafts graphic stories around the recollections of others. One of those tales is 'Richard's Memory: Richard's Vic-hair-ious' Revenge' which will also be available as a printed zine at the Alternative Press Takeover this coming weekend on May 9th.
Last month when I interviewed Wallis Eates as part of my 'Small Press Spotlight on…' interviews she spoke about the author's responsibility when approaching biographical work, saying "I like to think that the voice of my narrator is on some level being emotionally truthful, and that using the visuals and the text in this way allows enough space for the reader to draw their own conclusions." These are words that seem even more pertinent in regards to You Chew I Spew with its collaborative approach between artist and subject.
'Richard's Memory' is a wistful visual reinterpretation of childhood events that will be familiar to many. It's a reminder of the social hierarchy of the playground – one that never really disappears as we get older – and the sense of being an outsider in a group, of being barely tolerated by the ruling clique but never being an actual part of it. Richard is ostracised by a section of his bullying peers for his bowl-cut hairstyle but one fitting moment of classroom chaos will bring an element of schoolyard justice to his life when one of his chief tormentors gets a most ironic comeuppance…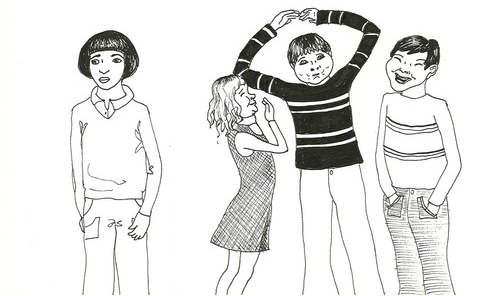 Having such a pronounced bowl-cut was a source of much amusement for many in my class at school…
Eates's style is, as always, so evocative of that innocent yet often utterly terrifying period of our lives when something as simple wearing the wrong clothes to school – or in this case a mocked hairstyle – could be reason enough to be shunned by the movers and shakers of the group. The composition of the image above is an excellent example of this. There's an illusory unfussiness to an illustration that nevertheless articulately speaks volumes about the pecking order in this world of seven-year-olds; a resonant re-creation of kiddie politics that is apparent throughout this short.
On a similar theme, but with a more autobiographical bent, The Tales of a Trichotillomaniac is an account of living with trichotillomania – the compulsion to pull strands of one's hair out – that has a strange, almost celebratory, zeal to it. It details the origins of this obsessive behaviour as Eates gives an unsettling level of detail about the condition that echoes some of the morbidly humorous elements of her other work, ensuring the audience feel almost complicitly voyeuristic in their relationship with the zine.
The tactile nature of The Tales of a Trichotillomaniac adds a whole other dimension to the experience of engaging with this narrative. Folding out in strips that are tied together with threads that engender a sensation of tangled hirsuteness, it has a playful tangibility that mirrors its subject matter with an intelligently constructed physicality. Longer-term 'Small Pressganged' readers will be aware that I rarely review work that is not available for sale via an online store but sometimes there are occasions when the material is just far too interesting not to give greater exposure to. If you're in London this Saturday 9th May you can pick up copies of both of these self-published books from Wallis Eates in person at the Alternative Press Takeover.
For more on the work of Wallis Eates visit her site here. You can also follow Wallis on Twitter here. UPDATE: you can now buy both zines from her new online store here.
For regular updates on all things small press follow Andy Oliver on Twitter here.