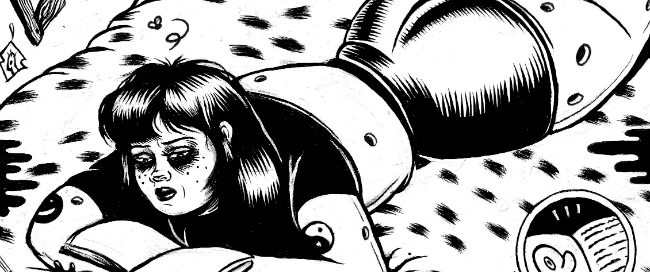 Brigid Deacon's work has cropped up in a number of anthologies lately – from Eyeball Comix to the second issue of Donya Todd's Bimba – and has immediately grabbed my attention for its visually arresting presentation and oblique storytelling style. Coma Deep is her first solo full-length comics offering, published by the Eyeball team, and described by them in the somewhat vague but rather appropriate terms of "a delirious fever dream interrupted by occasional intervals of matriarchal eye gouging".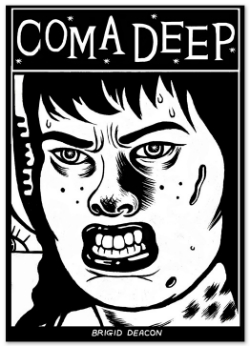 Indeed, Coma Deep falls very firmly in that category of comic that puts a responsibility on the individual reader to take their own meaning from its pages. It has a nightmarish stream-of-consciousness quality to it in which the author invites us to take a tour of a fractured mindscape – narrative cogency sacrificed to a procession of disquieting images, sequential intensity, and eerily hypnotic symbolism. Comics exist within comics in this meta environment as characters and situations slip in and out of themselves creating a dizzy, smothering and stiflingly claustrophobic world.
More straightforward sequences – graphic retribution on a voyeur, for example, or reflections on banishing an intrusive, unwelcome presence (below left) – sit side by side with far more abstract representational pages giving Coma Deep the sensation of being a disjointed and splintered read and yet oddly, considering its interlinked and cyclical nature, also simultaneously an organic and flowing one; the whole experience stapled together by a bookended framing sequence and the formidable recurring presence of Deacon's She Bitch Stink Pants character.
The obvious, and perhaps far too easy, artistic comparison to Deacon's striking use of deep black contrasts would be to the work of Charles Burns. What interests me more about her pages, though, is the panel-to-panel transitions of time and location that show an exemplary understanding of the vocabulary of the form. Likewise, the dreamlike flow of shapes across panels as they metamorphose into different scenarios is mesmerising in places. What the book may lack in immediate clarity it more than compensates for in visual invention.
I'm not going to pretend that Coma Deep is an accessible piece of comics because its deliberate obscurity clearly won't appeal to every reader. If casual narrative ambiguity is not something you wish to engage with you're probably best steering clear. But for the more adventurous reader there's something inescapably entrancing about the experimental approach of these 32 A4 pages and the reactions they elicit in their audience. I'll be keeping a close eye on Brigid Deacon's output in 2015…
For more on the work of Brigid Deacon visit her site here. Coma Deep is available from her online store here priced £6.00.
For regular updates on all things small press follow Andy Oliver on Twitter here.