New at Thought Bubble! Fantasy role-playing meets retro video gaming meets anarchic fairy tales in Bell and Slorance's witty all-ages offering.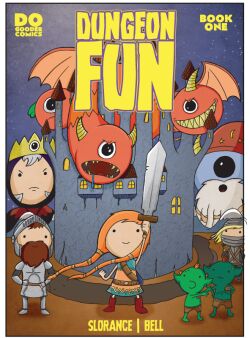 The first release from the Dogooder Comics stable, Dungeon Fun takes us to the fantastic but gloriously silly world of Fun Mudlifter, a spirited little girl who was brought up by a loving pair of trolls after she was mysteriously dropped as a baby into their town at the bottom of a great castle's semi-dried up moat.
Years later, our plucky heroine and her neighbours have finally had enough of the falling objects thrown down into the moat by the bridge trolls above. Declaring revenge she grabs the latest discarded object – a knight's cursed sword – and resolves to get her revenge on those lofty littering malefactors. Can Fun fight her way up through the castle's dungeon levels though? Is she ready for the three-headed dreadfulness of the monstrous Wurstest? And just who is Sir Barnabus Games, the ghostly knight who comes as part and parcel of her mystical weapon?
The first thing that needs underscoring about this immensely entertaining and really jolly droll series is that it embodies the true spirit of all-ages comics. This is a story that will truly appeal on different levels to different generations of readers. Kids will love the madcap nature of Bell and Slorance's magnificently ridiculous world while the adult audience will appreciate elements like the jobsworth pedantry of the bridge trolls, or the denizens of the moat engaging in flipchart presentations on the pros and cons of dungeon questing, from a whole different perspective. What would be most splendid indeed, of course, is if they enjoy those things concurrently because Dungeon Fun is the ideal comic offering for parents to read with their offspring.
 The characters are enormously good value throughout. For the younger audience we have a protagonist doing that wish-fulfilment thing that children identify the most with in their reading matter: wresting authority from the adults and taking charge of the situation. But the entire cast are top fun, each having their own running gag for Bell and Slorance to play with. There's Sir Barnabus who never gets to quite finish the rhyming resumé he spouts each time to introduce himself; the giant Bronan whose head is never seen in a Police Squad-style visual joke; the prophet Elliseye whose predictions all seem fortuitously self-serving; and the Cerberus-like monster the Wurstest whose three heads aren't exactly all on board with its malevolent mission statement.
As for the visual side of the partnership, Neil Slorance keeps the humour bouncing along with his clear, accessible cartooning, playing a vital role in the comic timing of the sight humour. What I love about Slorance's depiction of the cast is that while the characters may be stripped back to their essential recognisable attributes they are still incredibly expressive. Shades of the energy of Jamie Smart here; that same chaotic feel to the layouts and sense that you're reading something akin to animation on the printed page.
A splendid package combining fantasy farce with knowing winks at its readership, Dungeon Fun unashamedly revels in its own absurdity. Not just one to watch, this is one to own and one to treasure.
Dungeon Fun Book One is available from Dogooder Comics and can be bought from their online store here priced £4.00. It's also available at Thought Bubble this weekend.